Hello, friends and fellow degenerates, it's your old pal Tony for Football Absurdity! This is our first weekly session where I look at some of my favorite lines to play this week on your local sports book! The lines that I use are unfortunately going to be mostly on FanDuel since Illinois allows sports betting but for some reason wants me to drive to a casino to register in-person for DraftKings…? Go figure. Before we get started, I have to be the guy that tells you that this is for fun, and on my public educator's salary I can't throw much at these bets, and I'd encourage you to exercise caution in your betting to make sure you don't show up at my house demanding restitution because I told you to bet your life savings on something that doesn't hit.
Okay, the boring stuff is out of the way: let's get weird!
Week 1 is a tough week to parse since trends are non-existent. For the first week of the season, I want to play it safe and bank on games I feel the most confident in. Betting is really just noticing trends and exploits, and with no real data, it's mostly a crapshoot. So, let's throw five bets at the wall and see what sticks.
Miami Dolphins vs. New England Patriots: Under 46.5 (-115)
This is absolutely a Joe Judge/Matt Patricia indictment. What do you get when two terrible coaches are running an offense? We're going to find out. Per Warren Sharp's 2022 NFL Preview guide, the Patriots scored at the highest rate last year when they had no plays for negative yards or penalties against them on a given drive. When they had negative plays like a sack, they dropped to an almost absurdly low scoring rate. The shift to an outside zone running attack, along with multiple new starters on the line, leads me to believe the Patriots will be facing a lot of thirds and long, not Mac Jones' strong suit. Take the under and enjoy not watching Tua and Mac battle to put even the most excited football fans to sleep on Sunday.
Travis Etienne: Over 20.5 Receiving Yards (-114)
James Robinson is back, and that's pretty cool! Of course, there's still no concrete evidence that he's ready to be the every-down starter. Travis Etienne is the fun new toy for coach Doug Peterson. In his 5 years in Philly, RBs averaged 100 catches a year. My angle on this is the potential for a negative game script for Jacksonville gives Etienne more pass-catching reps over Robinson, making this an absolute smash play for me.
Derrick Henry: Over 98.5 Rushing Yards (-108)
The only game last year where Derrick Henry had less than 20 carries last year was week 1 against Arizona, in a game where turnovers led to a negative game script. The Titans most likely will not face a negative game script against the Giants. First-round pick Kayvon Thibodeaux is a strong run stopper, but his injury has cost him valuable reps, and his lack of polish as a professional makes him susceptible to counters. Henry will get his touches and go well over the century mark in week 1.
T.J. Hockenson: Under 47.5 Receiving Yards (-114)
T.J. Hockenson is about as mid as it comes when it comes to putting together consistent performances. For every 10-catch, 90-yards performance there are just as many games where he is shut down completely. I'm bullish on the Lions' offense as a whole, but I honestly believe Hockenson has now become his team's 3rd option on a given passing play. Goff's putrid sub-7 yards per attempt last year means his intermediate option is Amon-Ra St. Brown, and D'Andre Swift will be the garbage time option (32% of his receiving output last year was in the 4th quarter with Detroit down by more than one score). The Philly secondary is extremely formidable, and I expect CJ Gardner-Johnson to lock down Hockenson on any man coverage assignments. I think there's a chance Josh Reynolds outperforms Hock this week, and because of this, I'm hammering the under.
LONG SHOT PLAY OF THE WEEK:
Bears Moneyline over San Francisco: +250
As of this writing, it looks like George Kittle is not going to be available for the season opener in Chicago. The Bears' offense is going to look a lot like San Francisco's this year, with a wide zone running attack and a QB with dual-threat ability, which means I think these teams will be doing a lot of things that the other is familiar with and somewhat prepared for. I think there's a chance Lance still puts together a strong game for fantasy purposes, but I also think this game is a close one. In a close game, like I project this one to be, I like going with the QB that has an offense tailored to his strengths, compared to the QB that has an offense that was tailored to noted Subway spokesman Jimmy G.
Season Total: 0-0
Want more 2022 fantasy football draft discussion? Check out these links!
Discord!
Podcast!
Patreon!
Twitch!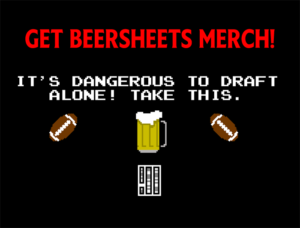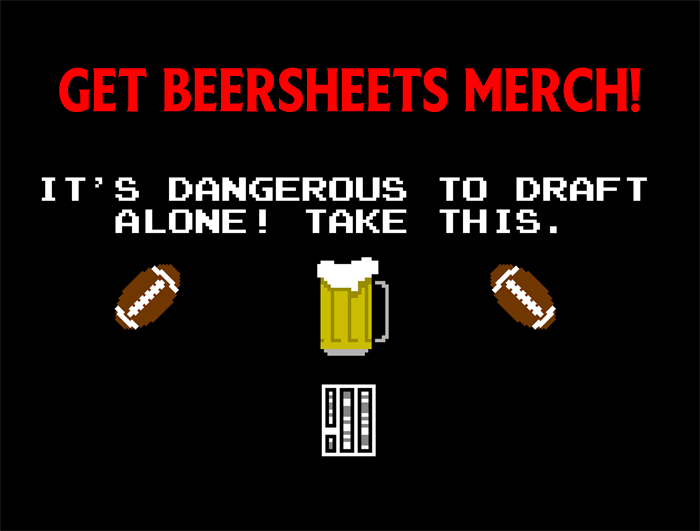 All content, materials, programs, services, and software contained on or made available by this site are for entertainment, educational, and informational purposes only. Any use of the foregoing in violation of local, state, federal, provincial, or national law is strictly prohibited. FootballAbsurdity.com does not warrant the legality of any particular gambling activities in any user's specific location. Gambling carries risk, only gamble what you can afford to lose. If you or anyone you love struggles with a gambling addiction, please visit gamblersanonymous.org.
Image Source: TJ Hockenson on Twitter