Now that we've completed the bulk of our player profiles, where we look at fantasy football drafts on a player-by-player basis. Now that that's completed (and you can purchase all 230+ pages of our draft kit for just $7 by sending that to football absurdity at gmail dot com on PayPal), we can turn our attention to the draft itself. I've taken 4for4.com's composite average draft position (ADP) data, which looks at the ADP data for the major sites, crams 'em all together, and gives you an idea of where the overall drafting populace wants to take players. We can then take that data and create reasonable tiers from it, and start to sort out our draft strategy.
Today, we take a look at the ADP data at tight end and try to sort out what people are thinking when they take players and when and where they take them. Tiering is extremely important, and you should decide which tier of player you like, then try to get in on that tier of player. We've already sorted out the quarterbacks and running backs, so let's continue today with the tight ends.
Tier 1: The Studs
| | | | |
| --- | --- | --- | --- |
| TE# | Player | Team | 12-Team |
| TE1 | Travis Kelce | KC | 2.01 |
| TE2 | Mark Andrews | BAL | 2.06 |
Last year, this tier was just Travis Kelce, but Mark Andrews took full advantage of the Ravens needing to pass a lot more last year than they had passed in recent seasons. Kelce took a corresponding step back and still finished top-two at the position, but since he was a first-rounder, that disappointed a lot of people. While Kelce fell back to the pack, the idea that the remainder of the position got closer is one that doesn't make sense. While Andrews' 17.5 PPR points per game was a new high for him, it isn't appreciably different than the top non-Travis Kelce in 2020 (Darren Waller, 17.4 PPR PPG) and 2018 (Zach Ertz, 17.5 PPR PPG). 2019 saw depressed TE scoring across the board, so that was omitted, though Kelce still sat atop the ranks.
So, the idea that the pack caught up to Kelce doesn't make much sense. He just didn't average 20+ PPR points per game anymore and scored more points per game in 2021 than in 2019. But, if you thought that scoring 11 touchdowns per season were Kelce's new normal, then you set yourself up for disappointment.
Then there's the Mark Andrews of it all. People think he took a massive step forward, and he did from an overall productivity perspective, but the Ravens used Mark Andrews virtually the same way they did in 2020, they just passed a ton more last season than the year prior. He had virtually the same share of the team's targets (25.4% target share and 28% air yard share in 2020, versus 26.6% and 29.6% in 2021). The Ravens just passed a ton more thanks to the Ravens' running back room collapsing down to Devonta Freeman and passed-washed Le'Veon Bell. So, it was borne out of necessity.
Personally, I am going to take Travis Kelce in this tier if I take one of these two. I feel better about Kelce and his track record of finishing top-two for more than a half-decade than Andrews' sudden jump up into the TE1 overall discussion thanks to a team changing its philosophy overnight.
Tier 2: The Man Who Would Be King
| | | | |
| --- | --- | --- | --- |
| TE# | Player | Team | 12-Team |
| TE3 | Kyle Pitts | ATL | 3.06 |
Before I start this discussion of Kyle Pitts, and the K-Hive comes for me, I want to say that I believe in the man's talent. He's incredibly good! If he just keeps doing what he's doing, he's headed to the Hall of Fame. Okay, are you sated, K-Hive? Because here we go.
Don't draft Kyle Pitts at this spot. Please, don't do it. While TE1 is his overall upside, his realistic upside is… TE3. So, you're taking him in the third round, at the TE3 slot, with the hopes that he returns value as the TE3. And a lot of people want to point out that if he just had gotten the number of touchdowns that they decided he should have (on a bad team, in a bad offense). Well, despite his massive rookie year, even if he had led the league in tight end touchdowns (with ten), then he still would have finished as TE4 in fantasy points per game last season, in PPR.
This has nothing to do with Kyle Pitts, but rather the fact that a touchdown is worth the same as sixty yards, and in our stupid game, that gives touchdowns outsized impact in fantasy rankings, especially at tight end. And, honestly, I don't know how much of an upgrade on offense the Falcons will have this season, if at all. They will be without Calvin Ridley's services yet again this season, they downgraded from Matt Ryan to Marcus Mariota, their running back room is two career part-timers and a fifth-round rookie, and rookie Drake London might just be a lateral move from Russell Gage.
So, things are mostly going to stay the same for Pitts, which means that I am not interested in him at this price. But if he was a fourth-rounder, I would be all-in. Speaking of fourth-rounders…
Tier 3: The Studs With Question Marks
| | | | |
| --- | --- | --- | --- |
| TE# | Player | Team | 12-Team |
| TE4 | Darren Waller | LV | 4.03 |
| TE5 | George Kittle | SF | 4.06 |
Last year by the end of the fantasy draft process, Kyle Pitts ended up above one or both of these guys as TE3, depending on whose ranks you looked at. Then, despite not paying that off, Kyle Pitts now reigns supreme over both of these guys… and maybe with good reason? To be clear, both Waller and Kittle are immense talents, but there are a lot of question marks about what their offenses might look like in 2022. Waller because of the Davante Adams addition, and Kittle because of the Niners swapping Jimmy Garoppolo for Trey Lance.
We've done this before with Darren Waller, and it seems like we didn't learn our lesson from when we decided that Hunter Renfrow would be a problem for Darren Waller getting targets. Now that the Raiders added Davante Adams this offseason, the Fantasy Football Illuminati worry about how the Raiders will fit targets to Renfrow, Adams, and Waller together. They're forgetting that the Raiders had a ton of flotsam and jetsam (Henry Ruggs, Zay Jones, Bryan Edwards, and others) that we can just chunk off targets to Davante Adams, instead. There's also that Darren Waller is a better player than Hunter Renfrow and the Raiders know that, too. Don't worry about the Raiders chunking off targets from Renfrow to Waller. We did this before, don't do it again.
As for Kittle, he will need a massive consistency boost to be able to never make you mad. But, by ADP, he's your last chance to get a stud tight end before the drop-off down to Dalton Schultz, and then The Blob.
2021 was once again the best of times for George Kittle, and the worst of times for George Kittle. He missed three games with an injury, disappeared in two different stints, and didn't get enough playing time with incoming quarterback Trey Lance to make a difference (his 1 catch, 29-yard effort with Lance came between 2/21 and 5/10 games with Garoppolo).
But, then there was the best of times with Kittle, where we saw the how and why we draft him where we draft him. From weeks 9 through 14, Kittle averaged 6 catches, 88 yards, and one touchdown per game. So, we have the yin and yang of George Kittle. This has been true of all his time in the league, except for his record-breaking 2019 campaign. The key difference between that campaign and the others? Health. Health… and Jimmy Garoppolo. While Kittle & Garoppolo are buddies, it stands to reason that the 49ers protected their passing game by running the ball a ton, considering they didn't trust Garoppolo to throw his way out of a paper bag, unless the paper bag was short of the line of scrimmage.
So, you can get George Kittle, but know that he will give you as many frustrating weeks as he does absolute smash #1 tight end weeks. So, if you have a solid squad that you can use to build around an inconsistent tight end, then Kittle is your man.
Tier 4: The Precipice
| | | | |
| --- | --- | --- | --- |
| TE# | Player | Team | 12-Team |
| TE6 | Dalton Schultz | DAL | 5.09 |
Dalton Schultz might be my favorite intersection of tight end value and upside outside of The Blob. He gets his own tier because he's not quite a stud, but he's definitely not part of The Blob. Things got even better for Schultz as James Washington broke his foot and will miss at least half of the season. That makes the valid receivers for Dak Prescott CeeDee Lamb and Schultz until Michael Gallup returns from his ACL tear. This comes on the heels of a season where a crowded wide receiver room with Lamb, Gallup, and Amari Cooper still gave way to Schultz enough for him to end the year with 104 targets (sixth among tight ends). Now, with just Lamb and Schultz standing tall as established pass catchers, he is a great bet to end the year with 120+ targets, and to start hotter than Hades with no James Washington and no Michael Gallup to start the year. If you skip out on him, it's time to enter… The Blob.
Tier 5: The Top of the Blob
| | | | |
| --- | --- | --- | --- |
| TE# | Player | Team | 12-Team |
| TE7 | T.J. Hockenson | DET | 6.01 |
| TE8 | Dallas Goedert | PHI | 7.03 |
I'm not drafting T.J. Hockenson anywhere this season, and neither should you. Hock almost got his own tier, but I couldn't justify three one-player tiers in the top five, so I'll lump the Top of the Blob together. I will never take the very top of The Tight End Blob, and that's Hockenson this season. There's not a ton that's appreciably different between Hockenson and Goedert, who goes a full round later, or even Zach Ertz, who goes two rounds later. Such is the nature of The Blob. The differences are minute, and analysis mostly gets wiped out by someone having a weird outlier touchdown season (but we'll talk about him in the next tier). So, don't get Hockenson, not because he's going to be particularly bad, but because the value is so terrible for him there. If you want Hockenson, just take Schultz, instead.
As for Goedert, I like his value nearly smack-dab in the middle of the thirteen players you take before your kicker and defense. And, he's pretty good there. After the Eagles traded Ertz, Goedert finally bloomed (as we said for years he would). He finished with 11.9 PPR points per game without Ertz, garnering an extra catch for 20 yards per game, on two extra targets. He's a good value where you'll look at him every week and give him a nice little smile that he just continued to chug along all season. While the A.J. Brown of it all complicates matters, I still like Goedert more than Hockenson. Though, I like his old running mate a bit more…
Tier 6: The Upper-Middle Blob
| | | | |
| --- | --- | --- | --- |
| TE# | Player | Team | 12-Team |
| TE9 | Dawson Knox | BUF | 8.07 |
| TE10 | Zach Ertz | ARI | 8.08 |
If I'm staying out of the bottom of the blob, or the sub-blob, this is where I dive in, with Zach Ertz. I don't trust Dawson Knox at all. Knox finished with 49 receptions for 587 yards, on 71 targets. This was the fifteenth, eighteenth, and twentieth ranked player among tight ends. However, he scored touchdowns at a highly unsustainable rate (which was about twice the rate of everyone else, on a per-target rate), and his nine touchdowns carried his TE8 finish last year. Now, the Bills have O.J. Howard, James Cook, and an ascendant Gabriel Davis. Knox is the easy odd man out in the TE7-TE12 ranks.
Zach Ertz will start off the season hotter than the Arizona sun (jury's out if that is hotter than Hades or not). The Cardinals will be without DeAndre Hopkins' services for six weeks due to his PED suspension, and Marquise Brown will replace Christian Kirk nearly 1:1. But, last year, we saw Zach Ertz without DeAndre Hopkins thanks to Hopkins' injury, and Ertz took it to a whole new level, averaging 9 targets, 6 catches, and 59 yards per game. His 0.3 touchdowns per contest made that all 13.8 fantasy points per game. If he had 13.8 PPR fantasy points all season long, that would have been good for TE5 (the 2021 TE5, Dalton Schultz, averaged 12.28 PPR points).
So, if you're diving in here, diving in on Ertz is an easy call.
Tier 7: The Middle Blob
| | | | |
| --- | --- | --- | --- |
| TE# | Player | Team | 12-Team |
| TE11 | Pat Freiermuth | PIT | 9.07 |
| TE12 | Mike Gesicki | MIA | 9.12 |
I find myself whistling past this pair of tight ends, mostly because round nine is Melvin Gordon Time, and if he's gone, I'm jumping into the Chase Clay-pool instead. So, I don't find myself getting either Freiermuth or Gesicki. And, honestly, I am fine with that. Freiermuth is a part of the massive question marks surrounding the Pittsburgh Steelers, so him scoring an abnormally high number of touchdowns last year for his targets doesn't make me feel good about a repeat. Then, the Gesicki of it all. Gesicki quietly had the fourth-most tight end targets last year, with 111 targets. And, the Dolphins are importing a (theoretically) tight end friendly system with Mike McDaniel from San Francisco. Still, given everything else going on there with Chase Edmonds and Tyreek Hill, and not being entirely certain that Tua Tagovailoa is good yet, I don't find myself targeting him. Still, he has Titans Delanie Walker well within his range of outcomes, where his sheer target load finds him ending up inside the top-five in PPR leagues.
You can snag Gesicki in the tenth and I won't get mad, but he's my third-favorite player to draft in the ninth round, so I'm finding myself without a lot of Gesicki unless he falls.
Tier 8: The Bottom Blob
| | | | |
| --- | --- | --- | --- |
| TE# | Player | Team | 12-Team |
| TE13 | Hunter Henry | NE | 10.11 |
| TE14 | Cole Kmet | CHI | 11.09 |
| TE15 | Irv Smith Jr. | MIN | 11.11 |
| TE16 | Noah Fant | SEA | 12.05 |
| TE17 | Albert Okwuegbunam | DEN | 12.10 |
Now, this is where things get interesting. And by interesting I mean, you can see whatever you want to see in these guys. Keep in mind here that Irv Smith Jr. is dealing with a broken bone in his hand (and wasn't really a great pick to begin with), so swerving away from Irv Smith is the easy place to start, here. Hunter Henry is quietly one of the most consistent and steady tight ends in the league, and he's a cheap pickup here for a guy with top-eight upside. But, Cole Kmet and Albert Okwuegbunam are the guys with true top-five upside here.
Kmet is a virtual lock to finish in the top-three in tight end targets, as he's clearly the second-best pass catcher on the Bears behind Darnell Mooney. And that's the soup-to-nuts of his appeal. He's a young guy who hasn't shown a ton (though he was great in college), but the real appeal for Kmet is the absolute deluge of targets he is going to get fed every week.
Things changed drastically for Albert Okwuegbunam this week, as Tim Patrick's ACL tear elevated him to the #3 passing option on any given play, behind at least one guy who might have the dreaded Inj*ry Pron* label slapped on him already (Jerry Jeudy). Albert O has struggled so far in the league, but a torn ACL and an iffy recovery have made his first two seasons a wash. The offseason saw A-OK getting a situation upgrade, going from Drew Lock & Teddy Bridgewater to Russell Wilson, and saw him go from the #5 weapon in the passing game to the #3 weapon. Things are looking up for Okwuegbunam, who is Wilson's biggest red zone weapon this year.
As for Noah Fant, he failed to be great on a run-first, strong-defense team with Drew Lock and two stud receivers in Denver, why would he be great with that setup in Seattle?
Tier 9: Sub-Blob
| | | | |
| --- | --- | --- | --- |
| TE# | Player | Team | 12-Team |
| TE18 | David Njoku | CLE | 13.06 |
| TE19 | Tyler Higbee | LAR | 13.08 |
| TE20 | Evan Engram | JAX | 13.09 |
| TE21 | Gerald Everett | LAC | 14.02 |
| TE22 | Robert Tonyan | GB | 14.1 |
| TE23 | Austin Hooper | TEN | 14.11 |
This tier is also wobbly, and there are two guys I would draft in it. Let's start off with the guys I won't draft. David Njoku has an iffy situation, and taking a guy at TE18 who finishes at TE12 isn't particularly helpful. Tyler Higbee is a bad football player and a worse person (he did a hate crime! And we just ignore that!), and Robert Tonyan will again be touchdown-or-bust, and someone you can snag off the waiver wire. I have an eye out for Evan Engram, but ultimately, I lack the cajones to pull the trigger on him in a normal draft, especially since he's had a case of The Bobbles in training camp.
So, that leaves us with Gerald Everett and Austin Hooper. And honestly, if I have Austin Hooper on my team in a 12-team, 15-round draft, things have gone horribly wrong. Gerald Everett is the prize jewel of this group, as he is an athletic tight end who languished in a Rams system that mismanaged tight ends and a Seattle system that straight up doesn't use them. Despite his misuse last season, Everett finished as a top-12 tight end five times, thanks in part to his #1 tight end juke rate and #3 contested catch rate (both per playerprofiler.com). He also goes to a Chargers team that has Twitter favorite Donald Parham, who couldn't put away dusty Jared Cook last season. Cook and Everett had very similar 48/564/4 and 48/478/4 lines. The major difference, and why I'm so exited? Cook had 20 extra targets, and twice as many air yards (342 for Everett and 680 for Cook). Cook had the fourteenth-most targets and eleventh-most air yards among tight ends, and he did virtually the same thing that Everett did last year, on the 21st-most targets and 24th-most air yards.
Gerald Everett is the final tight end you want to draft, and you want him as your TE2, because if you whiff on him… oh boy, it's scary down here.
Tier 10: Desperation
| | | | |
| --- | --- | --- | --- |
| TE# | Player | Team | 12-Team |
| TE24 | Hayden Hurst | CIN | 15.05 |
| TE25 | Cameron Brate | TB | 15.08 |
| TE26 | Logan Thomas | WAS | 15.10 |
If you're down here, things have gone horribly, terribly wrong for you. Do not end up down here. Hayden Hurst inherits the #5 pass option on any given play in Cincinnati (Chase/Boyd/Higgins and Joe Mixon as the one through four). Brate is part of the Tight End Hell that now exists in Tampa Bay (which will get absorbed into Mike Evans anyway). That leaves Logan Thomas, whose hallmark was consistent targets, and who is unlikely to find consistent targets in 2022. Stay out of this tier in your standard leagues, please.
Want more 2022 fantasy football draft discussion? Check out these links!
Discord!
Podcast!
Patreon!
Twitch!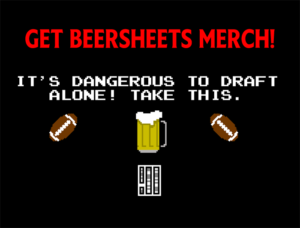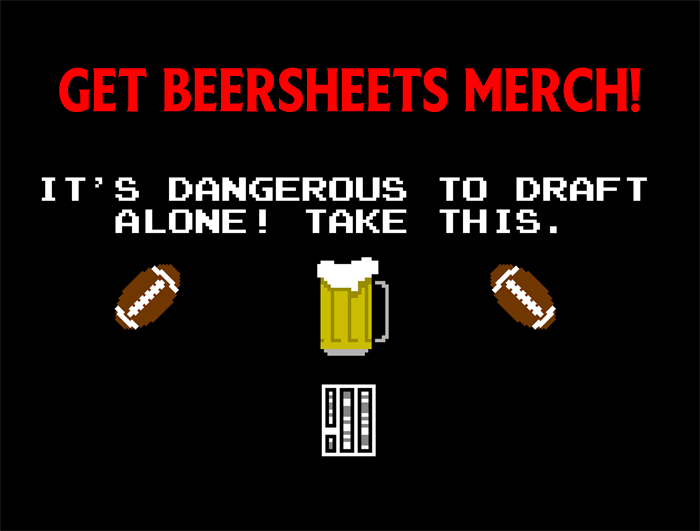 [Image Source: https://commons.wikimedia.org/wiki/File:Cole_Holcomb_chasing_Travis_Kelce_OCT2021_%28cropped%29.jpg, cropped under CC BY SA 2.0]