Now that we've completed the bulk of our player profiles, where we look at fantasy football drafts on a player-by-player basis. Now that that's completed (and you can purchase all 230+ pages of our draft kit for just $7 by sending that to football absurdity at gmail dot com on PayPal), we can turn our attention to the draft itself. I've taken 4for4.com's composite average draft position (ADP) data, which looks at the ADP data for the major sites, crams 'em all together, and gives you an idea of where the overall drafting populace wants to take players. We can then take that data and create reasonable tiers from it, and start to sort out our draft strategy.
Today, we take a look at the ADP data for wide receiver and try to sort out what people are thinking when they take players and when and where they take them. Tiering is extremely important, and you should decide which tier of player you like, then try to get in on that tier of player. We've already sorted out the quarterbacks and running backs, so let's continue today with the wide receivers.
Tier 1: The Uber Studs
| | | | | |
| --- | --- | --- | --- | --- |
| WR# | Player | Team | ADP | 12-Team |
| WR1 | Cooper Kupp | LAR | 2 | 1.02 |
| WR2 | Justin Jefferson | MIN | 5 | 1.05 |
There's no reason to take any player but these two as your first wide receiver off the board. And, if we are being clear, there's no reason to take Justin Jefferson over Cooper Kupp… but there is a definite case that Justin Jefferson finishes above Cooper Kupp in 2022 fantasy points. While Kupp had an absolutely out-of-control 2021, the finish screams potential regression. Kupp averaged 114 receiving yards per game last season, and he could possibly do it again, but it took him 145 receptions to get there. If you account for the extra game, let's call the cutoff 130 receptions. No player in NFL history has multiple 130+ reception seasons. Kupp joined an elite list of players with just one season that high: Michael Thomas, Julio Jones, Marvin Harrison, and Antonio Brown.
So, regression is one case where Justin Jefferson could shoot up. And the other case? Well, what if we gave Justin Jefferson a Cooper Kupp workload? That's in the cards for 2022, as Kevin O'Connell goes from coordinating the Rams' offense to Minnesota, where he can get Justin Jefferson, the only player in NFL history with over 3,000 receiving yards in his first two seasons, a Cooper Kupp workload. He would absolutely run roughshod over the league, should Kirk Cousins get him the ball (and Kirk Cousins will get him the ball).
Like I said, I wouldn't take Jefferson over Kupp… but there's definitely a case to be made there.
Tier 2: The Regular Studs
| | | | | |
| --- | --- | --- | --- | --- |
| WR# | Player | Team | ADP | 12-Team |
| WR3 | Ja'Marr Chase | CIN | 7 | 1.07 |
| WR4 | Davante Adams | LV | 10 | 1.10 |
| WR5 | Stefon Diggs | BUF | 12 | 1.12 |
These three guys all have a shot at finishing as the WR1, though I doubt that they unseat both Kupp and Jefferson. Still, these are three of the most talented receivers in the NFL and all are tied to (at worst) highly competent quarterbacks. These three also finished third (Adams), fourth (Chase), and seventh (Diggs) in yardage last year. While Adams has a downgrade from the Packers and Aaron Rodgers to the Raiders and Derek Carr, the other two are still in great positions on ascendant offenses with two of the best young slingers in the league. Still, the Raiders aren't a bad position for Adams. Derek Carr ranked fifth in passing yards last season, indicating a desire to push the ball downfield.
I'd prefer Stefon Diggs in this group, but only because his price indicates I could potentially get him in the early second round. If I had to take a guy straight up here, it would be Ja'Marr Chase with Joe Burrow.
Tier 3: The Top-Five Upsides
| | | | | |
| --- | --- | --- | --- | --- |
| WR# | Player | Team | ADP | 12-Team |
| WR6 | CeeDee Lamb | DAL | 15 | 2.03 |
| WR7 | Deebo Samuel | SF | 16 | 2.04 |
| WR8 | Tyreek Hill | MIA | 20 | 2.08 |
| WR9 | Mike Evans | TB | 22 | 2.10 |
There's a case for all of these receivers to finish inside the top-five at the position, and that's why they go in the second round. Usually, these get paired with a first-round running back, and that team is off to the races.
To be honest, CeeDee Lamb's inclusion on this list confuses me. He hasn't shown that he has that kind of ability yet in the NFL, finishing inside the top-six at the position just twice in his career so far. Sure, he had Amari Cooper to contend with, but losing Amari Cooper, Michael Gallup to start the year, and now James Washington, will leave him with a ton of targets… but also not a lot to distract his opponents. That one feels like a time bomb.
Deebo Samuel will not rush the ball as much as he did last year; he can't, he will die. Luckily, the 49ers' newest richest player averaged 110 yards receiving in the first eight games of the year, with just six carries in those eight games. He will be fine with Trey Lance, too. He's as solid as this group gets (other than Mike Evans).
I'm also not touching Tyreek Hill here, either. We don't know what Miami is going to look like on offense, and Tyreek took a step back from both consistency and efficiency angles last season, and moving from Patrick Mahomes & Andy Reid to Tua Tagovailoa & Mike McDaniel can't bode well for him recovering in either of those areas.
Then we get to Mike Evans. Mike Evans is my WR4 this season, though that is likely to change with the decimation along the Buccaneers' offensive line. Still, as of right now, Tom Brady has one healthy returning wide receiver or tight end who was a significant part of their passing game last year, and that guy is Mike Evans. Evans is on a hall of fame trajectory and will have a top-two all-time quarterback throwing him the football this year. 1,500 and 15 are inside the reasonable range of outcomes.
Tier 4: The Rest of the WR1s
| | | | | |
| --- | --- | --- | --- | --- |
| WR# | Player | Team | ADP | 12-Team |
| WR10 | Keenan Allen | LAC | 27 | 3.03 |
| WR11 | Tee Higgins | CIN | 28 | 3.04 |
| WR12 | A.J. Brown | PHI | 29 | 3.05 |
These three guys represent your last chance at getting a WR1 you can feel good about, so it makes sense why they go after the one-two turn. They're likely the WR1 for someone who started with Christian McCaffrey, Jonathan Taylor, or Derrick Henry, and who potentially came back with Josh Allen or Mark Andrews in the second. Keenan Allen is the jewel of this tier, as in PPR leagues he's the paragon of consistency, acting as a metronome of fantasy football production (about 95 catches, 1,100 yards, and 6-8 touchdowns per season, every season, in perpetuity). He's also tied to one of the best young quarterbacks in the league in an up-tempo offense that prioritizes passing.
This is where things get rough for the other two guys. A.J. Brown went from a Tennessee squad that threw the ball just 535 times last year, and Brown was the only game in town. He moves to Philly, where they threw the ball 494 times, and he has to contend with DeVonta Smith and Dallas Goedert for targets. It's a bit of a wobbly play for Brown, despite having all the talent in the league.
Speaking of all the talent in the league but being held back by his squad… Tee Higgins is on the second-slowest team in the league by the pace of play metrics and is the WR2 on his own team. But, Higgins is one of the better (and most utilized) WR2s in the league and is deserving of his top-fifteen spot. Just… maybe not this high. If it were up to me, he would be in Michael Pittman's spot in the next tier.
Tier 5: High-Volume, Limited Upside
| | | | | |
| --- | --- | --- | --- | --- |
| WR# | Player | Team | ADP | 12-Team |
| WR13 | Michael Pittman Jr. | IND | 33 | 3.09 |
| WR14 | Jaylen Waddle | MIA | 36 | 3.12 |
| WR15 | D.J. Moore | CAR | 38 | 4.02 |
| WR16 | Diontae Johnson | PIT | 40 | 4.04 |
| WR17 | Terry McLaurin | WAS | 43 | 4.07 |
| WR18 | Mike Williams | LAC | 45 | 4.09 |
| WR19 | D.K. Metcalf | SEA | 47 | 4.11 |
If anyone on this list ended 2022 with fewer than 7 targets per game (120 target pace), I would honestly be shocked. Unfortunately, they are all on teams that will struggle to give them the upside to produce as a top-twelve quarterback. Fortunately, by definition, there are only 12 of those guys, so finishing outside the top-12 but in this group is nothing to scoff at. Pittman, Moore, and Diontaeare the focal point of their teams' respective passing games, and will represent the most solid shot at production in this tier. If you want to get a safe guy, get one of them.
If you want to know who I am avoiding in this tier, it's Jaylen Waddle, D.K. Metcalf, and Terry McLaurin, who are all held back by circumstance. Waddle was barely top-fifteen last season, gained a top-12 wide receiver, and went… up a spot? That doesn't make sense, to me. Metcalf makes even less sense, as he was WR23 last season while playing a part of his year with Russell Wilson. Is the Geno Smith & Drew Lock brain trust really going to vault him from WR23 to WR19? I don't think so.
As for Scary Terry, his highest finish so far in his career was WR20. So, we are projecting forward the best season of his career with Carson Wentz, notoriously uneven passer, under center, and with Curtis Samuel and Jahan Dotson to steal targets? No thanks.
Mike Williams famously has 1,000 yards and 10 touchdown upside, but he is the biggest risk-reward play here. He finished as a top-fifteen wide receiver in all formats last year, but his consistency left a lot to be desired. Still, if the Chargers give him the same workload they gave him last year in the first five games, he averaged 94 yards and a touchdown per game… but 46 yards per game the next six games, with just one touchdown. I love him as my second or third wide receiver, but I would go full Matthew McConaughey if he was my first WR.
Tier 6: The Disrespected
| | | | | |
| --- | --- | --- | --- | --- |
| WR# | Player | Team | ADP | 12-Team |
| WR20 | Brandin Cooks | HOU | 54 | 5.06 |
| WR21 | Courtland Sutton | DEN | 55 | 5.07 |
I don't know what Brandin Cooks has to do to get respect, but you should just draft him. He's one of four active wide receivers to have six or more 1,000 receiving yards seasons in the eight years since Cooks entered the league. The others? Mike Evans with 8, and Julio Jones & DeAndre Hopkins with six. He's the best weapon in Houston, he did it last year, and Davis Mills should be even better this year.
Courtland Sutton is going to be the preferred wide receiver for Russell Wilson and is the only wide receiver who has done anything in Denver so far in his career. Literally, as I am writing this paragraph, the Broncos announced that Tim Patrick had to get carted out of practice with a leg injury, and the scuttlebutt is that he is out for the year. Patrick should vault up the ranks because Jerry Jeudy has all the talent in the world but hasn't put anything together yet.
Tier 7: MEGA-TIER ONE
| | | | | |
| --- | --- | --- | --- | --- |
| WR# | Player | Team | ADP | 12-Team |
| WR22 | Marquise Brown | ARI | 58 | 5.10 |
| WR23 | Jerry Jeudy | DEN | 60 | 5.12 |
| WR24 | Amari Cooper | CLE | 62 | 6.02 |
| WR25 | Chris Godwin | TB | 63 | 6.03 |
| WR26 | Allen Robinson | LAR | 64 | 6.04 |
| WR27 | Amon-Ra St. Brown | DET | 65 | 6.05 |
| WR28 | Gabriel Davis | BUF | 66 | 6.06 |
| WR29 | Darnell Mooney | CHI | 69 | 6.09 |
| WR30 | JuJu Smith-Schuster | KC | 70 | 6.10 |
| WR31 | Adam Thielen | MIN | 74 | 7.02 |
| WR32 | DeAndre Hopkins | ARI | 76 | 7.04 |
I wanted to break this tier up, but in 24 picks, eleven wide receivers come off the board. I'm not entirely sure there is an appropriate tier break in there. But, this group of receivers… what a mixed bag! Literally, every player in this tier has some sort of a change in their situation that has their 2022 productivity up in the air. Hollywood Brown went from Baltimore to Arizona, Jeudy got a massive QB upgrade, Amari Cooper went to Cleveland, and… everything that is going on there, Chris Godwin has an ACL tear, Allen Robinson went from Chicago to the Rams, Amon-Ra St. Brown will have to contend with T.J. Hockenson & D'Andre Swift, Gabriel Davis is the WR2 now after the Bills lost Emmanuel Sanders, Darnell Mooney is the only WR left in town worth his salt, JuJu Smith-Schuster switched from Ben Roethlisberger to Patrick Mahomes, Adam Thielen has a new head coach and offensive scheme, and DeAndre Hopkins will miss six games from a suspension. Woo!
In this tier, I prefer JuJu Smith-Schuster the most, he has the most upside out of all these guys, as he has already shown the highest upside of them all (1,426 yards and seven touchdowns in 2018).
But it isn't one-and-done for wide receivers in this tier, as the Amon-Ra St. Brown, Darnell Mooney & Gabriel Davis Trio have all been three of the most discussed players this offseason as guys who could have massive breakout campaigns in 2022. I prefer those three in that order.
DeAndre Hopkins gets hype here as a guy where you have to just wait out his suspension and you have a top-ten wide receiver. Unfortunately, Hopkins' targets dropped from about ten per game to about six per game last season, and with Zach Ertz, Marquise Brown, Rondale Moore, and the running backs all proving they deserve targets, it's more likely that the number stays low rather than bounces back to ten touchdowns.
Phew, that was a tough tier! Luckily it was the last mega-ti…
Tier 8: MEGA-TIER TWO
| | | | | |
| --- | --- | --- | --- | --- |
| WR# | Player | Team | ADP | 12-Team |
| WR33 | Hunter Renfrow | LV | 79 | 7.07 |
| WR34 | Rashod Bateman | BAL | 80 | 7.08 |
| WR35 | Elijah Moore | NYJ | 81 | 7.09 |
| WR36 | DeVonta Smith | PHI | 82 | 7.10 |
| WR37 | Michael Thomas | NO | 86 | 8.02 |
| WR38 | Tyler Lockett | SEA | 90 | 8.06 |
| WR39 | Drake London | ATL | 94 | 8.10 |
| WR40 | Brandon Aiyuk | SF | 96 | 8.12 |
| WR41 | Russell Gage | TB | 99 | 9.03 |
| WR42 | Christian Kirk | JAX | 100 | 9.04 |
This is a group of receivers who are likely to be the second option on their respective squads in the passing game, but also, they're still good enough to finish in the top-24 at the position. But, like the other receivers, there are question marks up-and-down this list. This stems from massive roster changes surrounding the players that have ripple effects that might impact their overall upside. But, this list has some talented guys.
Unfortunately, Hunter Renfrow, Elijah Moore, Michael Thomas, and DeVonta Smith added either an established stud wide receiver or a first-round pick to their wide receiver room. While Renfrow and Smith have the most to lose with the Raiders adding Davante Adams and the Eagles adding A.J. Brown, respectively, being in this group isn't the worst thing. Elijah Moore and Michael Thomas now both have Ohio State wide receivers to contend with, as Moore now runs with Garrett Wilson and Thomas now contends with Chris Olave for targets.
But, this doesn't scare me away from Michael Thomas. Michael Thomas was literally the WR1 in all of fantasy football the last time he was healthy for a full season. Granted, that was in 1882, and a lot has changed since then, but "throw the ball to the guy doing the slant" isn't too hard to coach a quarterback to do. I still love Michael Thomas, and his ADP is likely to fly upward now that he has been cleared for offseason practices.
We also have three receivers on new teams, with Drake London getting drafted by Atlanta, Russell Gage doing an NFC South defection from Atlanta to Tampa Bay, and Christian Kirk chasing the bag to Arizona. Gage feels like a WR Purgatory guy, someone who is around WR35 at the end of the season, but finishes around WR40 every week (see also: Tim Patrick, pre-injury). Christian Kirk is a big ol "who knows" but I would draft a lot of guys in tier 9 and tier 10 (Woods, Claypool, Olave, Wilson, Boyd, Hardman, MVS, Watson, DeVante Parker, for example) over Kirk. I'm pretty hands-off on him this season.
As for Rashod Bateman, Tyler Lockett, and Brandon Aiyuk? Lockett and Aiyuk face QB changes, and Bateman will have the WR1 role to himself for the first time in his NFL career. Personally, outside of Michael Thomas, I like Brandon Aiyuk the most in this tier. And not just because I'm a big ol' homer baby. He has shown consistent rapport with Trey Lance in camp, even after Deebo Samuel returned. He also has been better than you remember, as he is 30th in WR yards from scrimmage over the last two seasons, notching 800 yards in both 2020 and 2021, and he has a quarterback upgrade.
Tier 9: Their Team's WR2, or Not. But, Maybe WR1? Or Not.
| | | | | |
| --- | --- | --- | --- | --- |
| WR# | Player | Team | ADP | 12-Team |
| WR43 | Robert Woods | TEN | 104 | 9.08 |
| WR44 | Chase Claypool | PIT | 105 | 9.09 |
| WR45 | Allen Lazard | GB | 106 | 9.10 |
| WR46 | Chris Olave | NO | 110 | 10.02 |
| WR47 | Treylon Burks | TEN | 112 | 10.04 |
| WR48 | Kadarius Toney | NYG | 113 | 10.05 |
| WR49 | Garrett Wilson | NYJ | 115 | 10.07 |
This is the last strong upside tier of wide receivers in the draft, and ideally, you finish your WR room with one or two of these guys in your draft. But, if you have to dive further, only go to tier ten. Robert Woods and Chase Claypool have done it in the league before, but Allen Lazard has only flashed, Kadarius Toney had one good game, and three of these guys are rookies.
Personally, I love Chase Claypool in this tier. Touchdown regression tricked us into thinking that he regressed last year, even though he had virtually identical per-game numbers. Robert Woods is also a good option, should he get a clean bill of health from his mid-season ACL tear.
Allen Lazard is the WR1 in Green Bay. Then again, unless he isn't! It's a mess for the Packers, but at WR45, Allen Lazard is well worth the gamble, here.
Chris Olave, Treylon Burks, and Garrett Wilson were all first-rounders, and if I'm diving this late, I am going to go Treylon, Olave, then Wilson. Burks has the A.J. Brown role to himself in Tennessee, which could be extremely fruitful (should he get his asthma under control). Chris Olave was the WR2 to Garrett Wilson in college, but he and Jameis' big arm are a match made in heaven in New Orleans. Garrett Wilson is tied to the Jets and is the type of player I am fine being wrong on, because even if he's good, I don't know if I can trust it.
Tier 10: Unsettled Situations
| | | | | |
| --- | --- | --- | --- | --- |
| WR# | Player | Team | ADP | 12-Team |
| WR50 | Tyler Boyd | CIN | 121 | 11.01 |
| WR51 | Marquez Valdes-Scantling | KC | 122 | 11.02 |
| WR52 | Mecole Hardman | KC | 125 | 11.05 |
| WR53 | Skyy Moore | KC | 127 | 11.07 |
| WR54 | Christian Watson | GB | 128 | 11.08 |
| WR55 | Michael Gallup | DAL | 130 | 11.10 |
| WR56 | Jakobi Meyers | NE | 134 | 12.02 |
| WR57 | Jarvis Landry | NO | 135 | 12.03 |
| WR58 | DeVante Parker | NE | 139 | 12.07 |
These are the last players you want to draft. And it makes sense, DeVante Parker is the last guy on this list that I want, and he's at the end of Tier 10. So, you should hope to end your WR draft in this group of players.
This is 100% the "I don't know how things will go but why not this guy?" group of players. Tyler Boyd is the best wide receiver handcuff in the league for both Tee Higgins and Ja'Marr Chase, and he has two 1,000-yard seasons under his belt in the two years before the Bengals added Higgins & Chase. His greatest sin is not being as good as Tee Higgins & Ja'Marr Chase. He's still very, very good.
Then, you get the Chiefs guys. Honestly, pick your poison here, or don't. Personally, I don't buy the breakouts from either MVS or Mecole Hardman happening, so I will go with Skyy Moore, who is yet to burn me yet. Is that a bad process? Maybe. Do I care? Maybe not.
Christian Watson, wide receiver for the Packers, is almost an identical clone to Marquez Valdes-Scantling. They have virtually identical height, weight, arm length, and 40-yard dashes, and they have the same issue actually catching the football. If he and Rodgers get on the same page, then he could finish as a top-20 wide receiver, and he is the only guy in this group with that kind of upside.
Michael Gallup is nursing an ACL injury, and I am not particularly keen on starting the season with an injury already on my roster, so I'm out on him. Jakobi Meyers is a pure volume play, and DeVante Parker is better, so I'm out on Meyers and in on Parker.
That leaves us with Jarvis Landry. I'm all the way out on Landry now that Michael Thomas is back. He seemed to be a real-life handcuff for that role in their offense.
So, out of this tier, I would want to draft DeVante Parker, Christian Watson, and Skyy Moore.
Tier 11: (Over?) Hyped Upside
| | | | | |
| --- | --- | --- | --- | --- |
| WR# | Player | Team | ADP | 12-Team |
| WR59 | Kenny Golladay | NYG | 141 | 12.09 |
| WR60 | Van Jefferson | LAR | 144 | 12.12 |
| WR61 | Tim Patrick | DEN | 145 | 13.01 |
| WR62 | Jameson Williams | DET | 147 | 13.03 |
| WR63 | Rondale Moore | ARI | 151 | 13.07 |
First of all, a big ol' rest in peace to Tim Patrick, who is likely out for the season. As for the rest of these guys, you have to really, really, really work hard to find a case for them. Kenny Golladay and Danny Dimes can't get on the same page to save their respective lives, Van Jefferson was leapfrogged on the depth chart by Allen Robinson, Jameson Williams probably won't play this year, and Rondale Moore's role is baffling. If I have to take a guy from this group, I'm snagging Rondale Moore. But, ideally, my roster is full before I get to these guys.
Tier 12: Buried on the Depth Chart
| | | | | |
| --- | --- | --- | --- | --- |
| WR# | Player | Team | ADP | 12-Team |
| WR64 | Julio Jones | TB | 156 | 13.12 |
| WR65 | D.J. Chark | DET | 157 | 14.01 |
| WR66 | Jahan Dotson | WAS | 160 | 14.04 |
| WR67 | George Pickens | PIT | 170 | 15.02 |
I don't want any of these guys, to be honest. I want to be done drafting before I'm trying to figure out if I should pick between Julio or George Pickens. When at full strength, Julio is the fifth option in Tampa Bay (Evans, Godwin, Gage, Fournette), and Pickens is fourth (Diontae, Claypool, Najee… and maybe Pat Freiermuth). There's upside there, but a lot will need to settle down before they can realize it. Dotson is Carson Wentz's third option, at best, and Chark is Jared Goff's fifth when Jameson Williams returns. That's all you need to know. Ideally, you don't touch tier 11 or tier 12 in your fantasy football drafts.
Want more 2022 fantasy football draft discussion? Check out these links!
Discord!
Podcast!
Patreon!
Twitch!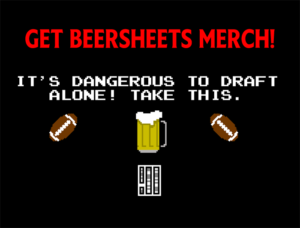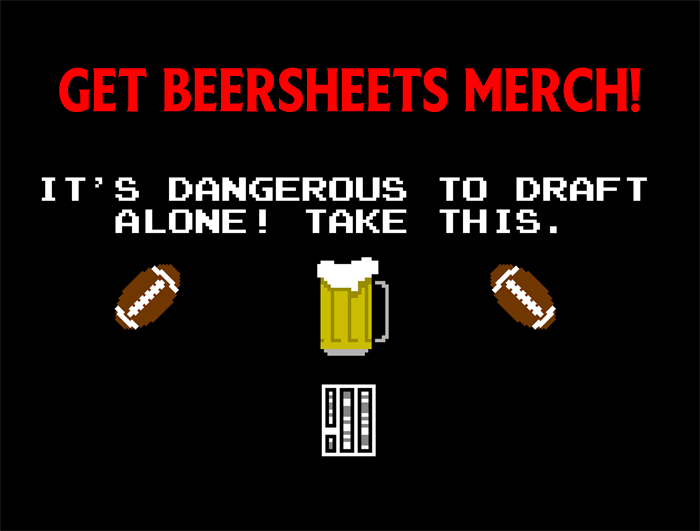 [Image Source: https://upload.wikimedia.org/wikipedia/commons/f/f6/Mike_Evans_vs_Redskins_November_16_2014.jpg, cropped under CC BY SA 4.0]