Now that we've completed the bulk of our player profiles, where we look at fantasy football drafts on a player-by-player basis. Now that that's completed (and you can purchase all 230+ pages of our draft kit for just $7 by sending that to football absurdity at gmail dot com on PayPal), we can turn our attention to the draft itself. I've taken 4for4.com's composite average draft position (ADP) data, which looks at the ADP data for the major sites, crams 'em all together, and gives you an idea of where the overall drafting populace wants to take players. We can then take that data and create reasonable tiers from it, and start to sort out our draft strategy.
Today, we take a look at the ADP data at quarterback and try to sort out what people are thinking when they take players when and where they take them. Tiering is extremely important, and you should decide which tier of player you like, then try to get in on that tier of player. We start with the quarterbacks. If you're in a 2QB league, there are players deeper than this, but if you're in a 1QB league, chances are you don't want to dive deeper than these quarterbacks.
Tier 1: Josh Allen
| | | | | |
| --- | --- | --- | --- | --- |
| QB-# | Player | Team | ADP | 12-Team |
| QB-1 | Josh Allen | BUF | 24 | 2.12 |
Last year, we saw Josh Allen and Patrick Mahomes form their own mini-tier at the top of the draft data. But, with Josh Allen reprising his #1 QB role, and Mahomes slipping down to four last season, Allen has a firm grip on the QB1 ADP slot by nearly a full round. Allen finished as a top-12 quarterback 11 times last season, which tied Tom Brady for the second-most in the league behind Justin Herbert (more on him in a second). Allen also tied with Herbert for second-most top-five finishes in the league, behind (again) Tom Brady. Why isn't Brady tier one? Well, his receiving corps collapsed and he lost three-fifths of his offensive line this offseason. So, he deserves a bit of a tumble down the ADP rankings.
Tier 2: The Contenders to the Throne
| | | | | |
| --- | --- | --- | --- | --- |
| QB-# | Player | Team | ADP | 12-Team |
| QB-2 | Patrick Mahomes | KC | 33 | 3.09 |
| QB-3 | Justin Herbert | LAC | 36 | 3.12 |
| QB-4 | Lamar Jackson | BAL | 46 | 4.10 |
Mahomes, Herbert and Lamar Jackson all go within thirteen picks of each other, and as such, they create the second tier of quarterbacks. There's a key component to all three of these players: they've been QB1 before (Lamar Jackson & Patrick Mahomes) or they virtually tied the #1 quarterback in upside in 2021 (Justin Herbert). Herbert is my favorite in this tier, though I generally don't find myself taking a quarterback this high. Herbert got a boost along the offensive line and an upgrade from Jared Cook to Gerald Everett at tight end, but other than that, the Chargers are basically running it back on offense.
I wish I could say the same for Patrick Mahomes and the Chiefs. Question marks abound in K.C. as the Chiefs lost Tyreek Hill and Demarcus Robinson and replaced them with JuJu Smith-Schuster, Marquez Valdes-Scantling and Skyy Moore. Mahomes finished last year as QB4 thanks to struggles from the offense, so completely revamping the scheme might lead to the same struggles. Still, the offense struggled and Patrick Mahomes was still QB4. While Josh Allen is a lot closer, he's still the best QB in the league, but his fantasy upside might be capped.
Lamar Jackson sometimes falls out of this tier for people, mostly because they think that last season confirmed their priors and that losing Marquise Brown will collapse the offense. While I agree that losing Marquise Brown won't help Lamar Jackson, he was still QB4 last year right up until the game where he was injured in the pocket. This is his relative floor when you consider his rushing upside. Though, I can't blame you if you put him in tier three.
Tier 3: Good or Good For Fantasy Football?
| | | | | |
| --- | --- | --- | --- | --- |
| QB-# | Player | Team | ADP | 12-Team |
| QB-5 | Kyler Murray | ARI | 51 | 5.03 |
| QB-6 | Joe Burrow | CIN | 57 | 5.09 |
| QB-7 | Jalen Hurts | PHI | 59 | 5.11 |
This tier is a mishmash of players who have a lot of talent, but maybe the talent doesn't exactly mesh with what matters in fantasy football. First off the board in this group is Kyler Murray. Murray missed three games last season but averaged 271 passing yards, 30 rushing yards, two total touchdowns, and less than a pick per game en route to his QB4 in points per game finish. There are some question marks with Arizona this season. Namely, what will Marquise Brown replacing Christian Kirk look like, what is the offense going to do for six weeks without DeAndre Hopkins, and what will year two of Zach Ertz look like? There are a lot of question marks for Murray, but he is a player I have seen slip to the sixth round in drafts. If he's still there and Hurts is gone, I'm all over it.
Then, we get to Joe Burrow. Joe Burrow is incredibly good at football. After all, he finished with over 1,000 yards and 8 touchdowns in the last two games of the season. But, those were just two games. He also then took a backseat en route to the Super Bowl, too, passing for over 300 yards just once while throwing five touchdowns in four games. He also doesn't really run. Joe Burrow's skill set doesn't really gel with taking him as a top-half QB starter. He doesn't run, and he doesn't play in an offense that is conducive to letting him throw a ton. The Bengals rode the #31 pace of play all the way to the Super Bowl last year, and it's unlikely that they change a lot about their DNA, given their success.
Then, we get to Jalen Hurts. Is Hurts a great quarterback? To put it mildly, probably not. But does he do a ton of things that lead to fantasy football success? Absolutely, he does. He led the position in rushing yards and rushing touchdowns, with 782 rushing yards, and ten rushing touchdowns, respectively. This is a great floor for his fantasy production, given that his rushing yards and rushing touchdowns are the fantasy point equivalent of an extra 1,955 passing yards and 15 passing touchdowns over the course of a season. I anticipate his rushing touchdowns going down this season because Miles Sanders had zero last season. But still, that's the equivalent of turning Jalen Hurts from a 3,100 yards, 16 touchdowns passer into a 5,000 yards, 30 touchdowns passer. Such is the joy of rushing quarterbacks.
Tier 4: The Last of the Top-Three Upside QBs
| | | | | |
| --- | --- | --- | --- | --- |
| QB-# | Player | Team | ADP | 12-Team |
| QB-8 | Tom Brady | TB | 68 | 6.08 |
| QB-9 | Dak Prescott | DAL | 70 | 6.10 |
Brady and Dak both face similar questions. First, can they continue to produce without stud receivers around them? They're both great quarterbacks, so you can't doubt the talent. But, Tom Brady lost Rob Gronkowski, won't have Antonio Brown anymore, and won't have Chris Godwin for a non-specific amount of time. As for Dak, he lost Amari Cooper and Cedrick Wilson, and won't have Michael Gallup for a non-specific amount of time. Brady bolstered his receiving corps with Julio Jones and Russell Gage, whereas the Cowboys replaced all the outgoing production with rookie Jalen Tolbert and hope and faith that CeeDee Lamb can grow into a true WR1 in the NFL. They also have question marks along the offensive line, with a Ryan Jensen injury bringing Tom Brady down to two-fifths of his offensive line from 2021 returning, and with Dak Prescott losing stalwart right tackle La'El Collins.
But, with all those question marks surrounding Dak and Brady, they're still incredibly talented players (news at 11). They're also the last of the players with a true top-three upside. While the next tier has three QBs who you wouldn't be shocked if they ended up top-three, you'd put their upside as being top-five. Dak, thanks to his rushing ability, and Brady, thanks to his… well, being Tom Brady, are the last guys who have a true shot at finishing at top-three at the position barring some sort of 95th-percentile outcome. They're your last chance at a true league-breaking upside, but their ADP is a little rich, though the next round of QBs nips on their ADP heels with some massive question marks surrounding them.
Tier 5: Top-Five Upside With New Receiving Corps
| | | | | |
| --- | --- | --- | --- | --- |
| QB-# | Player | Team | ADP | 12-Team |
| QB-10 | Russell Wilson | DEN | 78 | 7.06 |
| QB-11 | Matthew Stafford | LAR | 82 | 7.10 |
| QB-12 | Aaron Rodgers | GB | 84 | 7.12 |
Russ, Stafford and Rodgers are all immensely talented players, but their lack of rushing (and other question marks) gives them true top-three upside at the position. But, they all have a solid chance of finishing top-five, and all have the skills and recent success to support that supposition. But, they are all facing new situations that suppress their ADP. First, Russell Wilson moved from the Seahawks to the Broncos. This brings with it some downside (we aren't quite sure if Jerry Jeudy & Courtland Sutton are on the same level as D.K. Metcalf and Tyler Lockett yet) but some definite upside (Nathaniel Hackett spent the last few years in Green Bay). But still, question marks.
Matthew Stafford more-or-less has the same receiving corps, with only Robert Woods & Odell Beckham transmogrifying into Allen Robinson. This one is a big question mark because if Allen Robinson can get back to being vintage A-Rob, then Matthew Stafford has a legitimate 50 touchdown upside between Kupp and A-Rob. If he falters, though, QB11 is still his floor.
Aaron Rodgers' entire situation is a mess, with his first-and-second most reliable weapons both being running backs, and his only returning wide receivers being Allen Lazard, Randall Cobb, and Young Randall Cobb (Amari Rodgers). New to the Packers are Sammy Watkins and rookies Romeo Doubs & Christian Watson. There's a lot to sort out for Rodgers, who will play without Davante Adams for the first time since 2013, but if anyone can figure it out, it's Rodgers.
Russ is, by far, my favorite of these players. He's yet to have a bad fantasy football season in his career, is going at his floor, and is in the best situation of his career. I love his intersection of upside and value, and you should, too.
Tier 6: Trey Lance
| | | | | |
| --- | --- | --- | --- | --- |
| QB-# | Player | Team | ADP | 12-Team |
| QB-13 | Trey Lance | SF | 95 | 8.11 |
This ADP is completely bonkers and is mostly driven by people big braining themselves into thinking that Jimmy Garoppolo was somehow going to snatch victory from the jaws of defeat with regards to the starting quarterback role in San Francisco. This is despite his final press conference in February, despite the fact that the 49ers didn't have him at any offseason practices, and despite the fact that he literally never talked to the new quarterbacks' coach all offseason, and despite the fact that Kyle Shanahan literally said that they were trading Garoppolo. Still, people hold out hope that for some reason, Trey Lance won't be the 49ers' starter in 2022. Well, he is, folks. And there's no reason to take him this late because QB13 is quite literally his floor. Garoppolo, according to PlayerProfiler.com, was the QB15 in fantasy points per game last year, and everyone constantly talked about how not-good Garoppolo was at football. Now, imagine Jimmy Garoppolo, but he can run for about 50 yards per game (like Lance did in his 2.5 games as the starter). That's QB13, at worst. That means that Trey Lance here is going at his absolute floor, and you should snatch him up at this ADP whenever given the opportunity. He's an incredible QB2 by ADP and a quarterback whose potential downside should have you taking a solid QB2 with backend QB1 in his likely range of outcomes. That explains the next tier.
Tier 7: The New Philip Rivers & Ben Roethlisberger
| | | | | |
| --- | --- | --- | --- | --- |
| QB-# | Player | Team | ADP | 12-Team |
| QB-14 | Derek Carr | LV | 99 | 9.03 |
| QB-15 | Kirk Cousins | MIN | 109 | 10.01 |
For years, before the prevalence of the Konami Code quarterbacks, the big quarterback idea in fantasy football was snagging one or both of Philip Rivers and Ben Roethlisberger in the later rounds. They were annually disrespected and annually turned in incredibly solid seasons. As the ravages of time continue unabated, Rivers & Roethlisberger gave way to two more alliterative players, Carr & Cousins. They're virtually the same player, especially over the last three seasons. Cousins barely edges out Carr in final rank (Cousins was QB10/QB11 over the last two years, and finished as a QB1 three more times than Carr over the same timeframe (20 games versus 23 games).
But, all of that changed this offseason, with the Raiders adding Davante Adams to their wide receiver corps. While that could mean that Carr takes a step forward, it could also muss things up. Personally, I'm not too worried about things getting mussed up, but there will likely be a learning curve as things adapt. If you want a decent guy in the same situation who is just there to create a backstop from losing production, then Cousins is your guy. If you want a backstop who could have a bit more variability, but his upside is a weekly starter, then Carr is your guy.
Tier 8: Fantasy QB2s With More Questions Than Answers
| | | | | |
| --- | --- | --- | --- | --- |
| QB-# | Player | Team | ADP | 12-Team |
| QB-16 | Tua Tagovailoa | MIA | 118 | 10.10 |
| QB-17 | Justin Fields | CHI | 124 | 11.04 |
| QB-18 | Deshaun Watson | CLE | 133 | 12.01 |
| QB-19 | Trevor Lawrence | JAX | 134 | 12.02 |
Well, as of the date of publishing this, the gross part of this is out of the way. Deshaun Watson looks to be getting a six-game suspension from the league for his 24 sexual assault allegations. After all, what else are you supposed to do, Ben Roethlisberger set this precedent with *checks notes* one sexual assault allegation. So, I guess, each of these is worth one-fourth of the Ben one? Whatever, if you want to get Deshaun Watson onto your roster, then I won't stop you. But I won't have him on my roster.
Then you get a trio of second or third-year quarterbacks who are yet to put together consistent quality tape. Tua Tagovailoa might be the least good of the three, but he has the best situation, with Miami going out and upgrading essentially everywhere on the offense. He's my favorite of this group, not only because of his development as a player but also because of the situation. That's doubly true when you consider the terrible situation that Justin Fields finds himself in and the just-okay-literally-how-big-are-those-contracts?! situation down in Jacksonville for Trevor Lawrence. I don't want to dive into either Justin Fields, because of his Darnell Mooney and nobody else wide receiver corps, and I don't want to dive into Trevor Lawrence because literally what is happening in Jacksonville? There's to much uncertainty there for me to dive in on T-Law in a 12-team league because his upside is realistically top-ten, so not all that great.
Tier 9: Unsexy QB2s
| | | | | |
| --- | --- | --- | --- | --- |
| QB-# | Player | Team | ADP | 12-Team |
| QB-20 | Mac Jones | NE | 140 | 12.08 |
| QB-21 | Matt Ryan | IND | 142 | 12.10 |
Once you hit Mac Jones and Matt Ryan, you're firmly talking about 2QB league QB2s, because there isn't really consistently weekly upside with either player, but neither is likely to crater. Of these, I'm going with Ol' Faithful, Matt Ryan. Mac Jones is Fine but he's probably finishing the year closer to 20 than 15, so I'll go with Matty Ice in his new digs behind a strong offensive line with Michael Pittman, Jonathan Taylor, Nyheim Hines & Alec Pierce. Mac Jones has… DeVante Parker? Jakobi Meyers? And then 75 tight ends who Bill Belichick spent a lot on, but who haven't provided a lot of results so far.
Tier 10: Banking on Upside
| | | | | |
| --- | --- | --- | --- | --- |
| QB-# | Player | Team | ADP | 12-Team |
| QB-22 | Jameis Winston | NO | 151 | 13.07 |
| QB-23 | Ryan Tannehill | TEN | 157 | 14.01 |
| QB-24 | Daniel Jones | NYG | 160 | 14.04 |
| QB-25 | Zach Wilson | NYJ | 164 | 14.08 |
This group of quarterbacks has a lot of warts. A lot of warts. But, there is also a lot to like here from the position. Daniel Jones is quietly one of the most efficient quarterback runners, and he got Brian Daboll in the offseason to help turn him into not-a-disaster on the football field. Zach Wilson got a lot of upgrades on offense to help make him not a disaster, too, but Breece Hall, Garrett Wilson, C.J. Uzomah, Tyler Conklin, Jeremy Ruckert, and Laken Tomlinson can only help out so much if the problem is between his left ear and his right ear. People want to bank on these guys because finding a new sexy player is more thrilling than diving back into an old flame at the position. But, given their price point, their relative upside, and the fact that I focus on 1QB leagues… no thanks!
Then we get Jameis Winston and Ryan Tannehill. They've both been top-twelve quarterbacks in the recent past. Jameis famously threw for 30 touchdowns (…and 30 interceptions) back in 2019 prior to joining the Saints, and he was QB8 back then. Granted, he had Mike Evans and Chris Godwin and they aren't quite… Michael Thomas, Jarvis Landry, and Chris Olave? What's that, they might just be? Hm. That's interesting, so Jameis Winston could return to his top-twelve glory? That seems like a steal down here at QB22.
And Ryan Tannehill, through all his trials and tribulations, finished as QB12 in fantasy points per game last season. So, really, QB23 is a massive slap in the face for Tanny. Sure, he lost A.J. Brown, but Brown wasn't Peak A.J. Brown last season, and Tanny was still a top-12 QB. That's because Tannehill has a lot of hidden value with his goal line carries, which he turned into 14 rushing touchdowns over the last two seasons. He's an incredible value pick here but is best suited for a 2QB league given his relative upside.
If you want to punt on the position entirely, snagging Tannehill & Jameis at the end of your drafts isn't the worst idea I've ever heard. If you're down this deep and you're in a 1QB league, congratulations, you've dived deep enough. Get one (or two) of these top-25 guys because danger lurks below them in the ranks.
Want more 2022 fantasy football draft discussion? Check out these links!
Discord!
Podcast!
Patreon!
Twitch!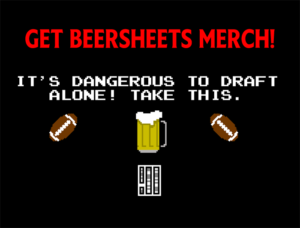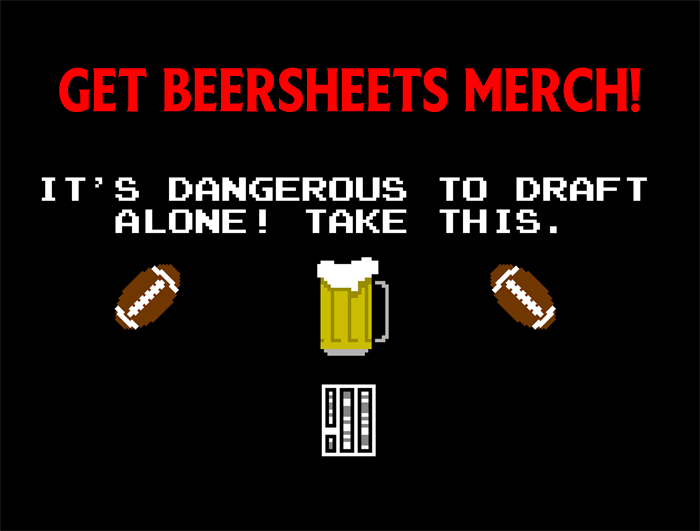 [Image Source: https://upload.wikimedia.org/wikipedia/commons/thumb/e/e6/Josh_Allen_%2843569465444%29.jpg/800px-Josh_Allen_%2843569465444%29.jpg under CC BY SA 4.0]