We did it, everyone! We made it to week sixteen and the fantasy football finals. That means that this is the fantasy football fina—I'm sorry. What? A seventeenth game? In the middle of COVID? Did they at least stick in a second bye to make up for it? No? Just a seventeenth game? Now? Okay. Well. Uh. How's that going for them? Garrett Gilbert and Nick Mullens?! Alright then, it's time for the… fantasy quarterfinals. That means we have to clear our rosters for some hot waiver wire pickups to get us to the fantasy football finals. As always, Waleed Ismail has you covered there.
Players on the Cut List must be on rosters in at least 50% of leagues for consideration.
Quarterback Cut List
Ryan Tannehill, Tennessee Titans (65% rostered)
Tannehill hasn't topped 19 fantasy points since week eight, will be without Julio Jones, A.J. Brown, and Derrick Henry, and he gets the Niners and Dolphins the next two weeks. He was one of my favorite players in fantasy draft season and the architect of a lot of 8-6 or 7-7 teams.
Derek Carr, Las Vegas Raiders (62% rostered)
Derek Carr has more than 12.5 fantasy points just once in his last four games and hasn't passed 20 fantasy points since the week eight bye.
Carson Wentz, Indianapolis Colts (50% rostered)
For the second time in the last month, we saw how quickly and easily the Colts cut Carson Wentz out of their game plan when the Jonathan Taylor Show runs wild. He has just one game above 11.2 fantasy points in the last six weeks.
Wide Receiver Cut List
Chris Godwin, Tampa Bay Buccaneers (99% rostered)
Chris Godwin left Sunday's game and is likely to miss multiple games. His teammate, Mike Evans, also left, but his situation was described as "minor" by the Buccaneers.
Jerry Jeudy, Denver Broncos (83% rostered)
Jeudy bottomed out last week to the tune of zero catches. With Drew Lock likely on the docket going forward, the Broncos likely turn the ball over to Melvin Gordon and Javonte Williams to prevent Lock from, well, turning the ball over.
Courtland Sutton, Denver Broncos (74% rostered)
Sutton's two catches on Sunday match his high-water mark in a game since week eight. His 12 yards are only his third-fewest in a game in that span.
Julio Jones, Tennessee Titans (73% rostered)
Julio reaggravated his hamstring injury, plays on Thursday, and is unlikely to contribute to your fantasy football roster in week seventeen. You can move on from him at this point.
DeAndre Hopkins, Arizona Cardinals (73% rostered)
On Sunday, Adam Schefter reported that it is "unrealistic" to expect DeAndre Hopkins back anytime before the NFC Championship Game. You can safely remove him from your fantasy rosters.
Marvin Jones Jr., Jacksonville Jaguars (55% rostered)
The Jaguars are a disaster. They get the Jets this week, but I'm still not sure if that's a good sign for the Jags or the Jets. Just divest yourself from this passing game.
Allen Robinson, Chicago Bears (53% rostered)
He hasn't had a good game yet this year, will he have one after returning from COVID-19 and getting Wally Pipped by Darnell Mooney? I doubt it. And even if he does, can you stomach starting him to reap the reward? He's the perfect player to drop as a timebomb for someone else to pick up.
Running Back Cut List
Darrel Williams, Kansas City Chiefs (64% rostered)
Williams exists as a pure Clyde Edwards-Helaire handcuff at this point, as he has had 24 touches in the four games since CEH returned from injury.
Mike Davis, Atlanta Falcons (54% rostered)
He stinks and he doesn't touch the football. If you picked up Mike Davis because he had 16 touches and 86 yards in week fourteen, then shame on you. He had 26 touches for 149 yards in the four previous yards combined.
Nyheim Hines, Indianapolis Colts (51% rostered)
Jonathan Taylor has completely taken over this backfield, relegating Nyheim Hines' fantasy football usefulness to pure handcuff status.
David Johnson, Houston Texans (50% rostered)
David Johnson hasn't had an 8+ point half-PPR fantasy day since week one. Please stop with this foolishness.
Tight End Cut List
Pat Freiermuth, Pittsburgh Steelers (70% rostered)
He suffered a concussion in Sunday's game, his second of the season. Monitor this situation closely. He's a cut candidate, but I don't like it. It might be time to set the Muth Looth.
T.J. Hockenson, Detroit Lions (64% rostered)
Hockenson will miss the rest of 2021 after undergoing thumb surgery last week.
Jared Cook, L.A. Chargers (55% rostered)
I don't understand the fascination with Jared Cook. Here's an actual discussion between my league mate (and my action movie podcast cohost) and me during Thursday Night Football:
League Mate: How much are you dropping on Jared Cook?
Me: I'm not, my guy is poop. Don't believe his lies.
LM: I remember that. But the thing is… I do believe his lies (6:18 PM)
…
LM: My new name for Cook is Brickhands Mcgillicutty (8:24 PM)
Do you want more 2021 NFL discussion? Then check out these links!
Discord!
Podcast!
Patreon!
Twitch!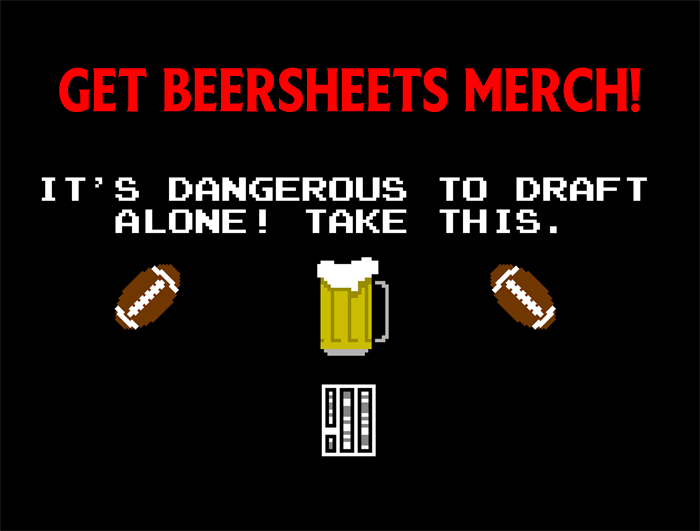 (Header Image Source: https://en.wikipedia.org/wiki/Jared_Cook#/media/File:Jared_Cook.jpg, under https://creativecommons.org/licenses/by/4.0/deed.en and a screen cap from Memento)