The byepocalypse is in the books, and we all survived. Well, most of us. The Krisko household is a little light after my wife streamed Geno Smith. She silently walked out the door halfway through Monday Night Football and I haven't seen her since. I hope she comes home, soon. Anyway, for week eight, we have Lamar Jackson and Derek Carr on bye, two guys who are probably leaving a lot of fantasy football managers in the lurch with their absence. Never fear, we have three streamers, three sleeper quarterbacks available to you in over 50% of leagues. For you deep divers, one of the sleeper quarterbacks is out there in at least 90% of leagues. In this case, it's Keenum, so that's closer to 100% than 90%.
Week 8 Sleeper Quarterbacks
Carson Wentz versus Tennessee (46% rostered)
Don't look now, but Carson Wentz has his Alshon Jeffery in Indianapolis, and that has made all the difference. The Michael Pittman Jr. emergence has brought Wentz with him, as has Wentz recovering from two broken ankles. He has at least 20 fantasy points in two out of the last three games (with one of those in a monsoon), and he's riding a streak of two touchdowns and no picks in four-straight games. He's the QB9 over the last three weeks (mostly thanks to byes), but he's reached the "perfectly cromulent streamer" category. Outside of his two-sprained ankles game (more on that in a second), he averages over 19 fantasy points per game.
This week, he gets the Titans. They miraculously contained Patrick Mahomes last week, but prior to that, allowed at least 18.7 fantasy points to every QB to face them… except Carson Wentz. If you remember, Carson Wentz had two sprained ankles in that game. So I am going to say that we can go ahead and give him a pass for that cratering. Revenge SZN?
Daniel Jones at Kansas City (32% rostered)
The Chiefs can't stop anything right now, with only Taylor Heinicke failing to notch at least 20 fantasy points against them in the last six weeks. Ryan Tannehill did it with Derrick Henry throwing a touchdown pass and with the Titans basically running the ball to kill the clock for the entire second half. So, they don't really stop much of anything. Excepting Taylor Heinicke, they've allowed at least 270 yards to the last four quarterbacks, and multiple touchdowns to the last five.
In steps Daniel Jones. He bottomed out against the Rams after leaving the Cowboys' game with a scary concussion. The haters screamed "same old Danile Jones" against the Rams after he had three picks (it was me, I'm haters). But, last week he ended up with 17 fantasy points against a stiff Carolina Panthers defense. With his multi-talented skillset, Daniel Jones is coming into his own. He has at least 16.5 fantasy points in five-of-six games that he started and finished this year.
Case Keenum versus Pittsburgh (3% rostered)
Case Keenum wasn't exactly inspiring in his first start, throwing the ball at just 6.03 yards per attempt. He also threw the ball 33 times, which is something that I'm more concerned with for week eight. In six games, four quarterbacks reached the 33 pass attempt mark against Pittsburgh. They averaged 297 passing yards, 1.75 touchdowns, and 0.5 touchdowns. They aren't the best pass defense, but they aren't the worst. They're literally smack in the middle (17th in fantasy points allowed to quarterbacks). It's not the best recommendation, but it's Case, Geno Smith (ugh) or Jimmy Garoppolo (gross) down here under 10% rostered.
Want more NFL and fantasy football content? Then check out these links!
Discord!
Podcast!
Patreon!
Twitch!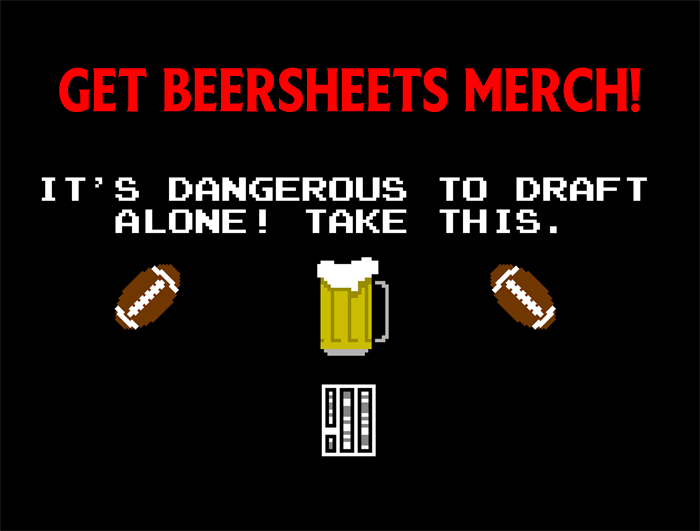 Image Credit: https://upload.wikimedia.org/wikipedia/commons/a/a4/Carson_Wentz_passing_vs_Redskins_2017.jpg, edited under CC BY SA 2.0