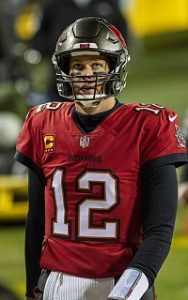 More info is coming out about Tom Brady's superhuman 2020 year. It turns out that his knee tear wasn't the only thing that had to be taped into place. Sources are now saying every single bone in his body had to be adhesively prevented from tearing through his skin. Sources like me.
At the end of the 2019 season, right before Brady flew to China to orchestrate the pandemic, a serious injury occurred. Tom Brady's bones began to pierce through the largest organ in his body (his skin you perv). At first, scientists were confounded. This was because they had mistakenly assumed that Tom Brady's bones had become extra tough because everyone thinks he's so great. It turns out that the lacerations were actually due to Brady's skin becoming even more thin than usual.
"It was rough," said Bucs' team doctor Beyoncé Knowles (no relation), "every single day after practice he'd come into the locker room. I'd take off all his tape and he'd collapse into a giant pile of flesh and gore. Then the next day we'd spend hours slowly sorting through his bones and taping him back into playing form."
Fans and the press had no idea the medical issues TB12 was facing. "It was kinda weird," said Tampa Bay season ticket holder Bob Frapples, "after he threw a long pass, his whole body would just kind of jiggle like Jell-O for a few seconds. But I just assumed he was shimmering like the half-angelic being of light that he is."
Tom Brady is looking to rebound after having 206 off-season surgeries. With the Bucs being the first Super Bowl team to retain all 22 starters, things are looking great for Tampa Bay. Because if anyone deserves something nice in the midst of this pandemic revival, it's the state of Florida.
Tom Brady could not be reached for discussion. But only because I didn't try.
Tape these links into your pipe and smoke it!
Discord!
Podcast!
Patreon!
Twitch!
[Photo credit: https://commons.wikimedia.org/wiki/File:Bucs_WFT_223_(50833097576).jpg and https://upload.wikimedia.org/wikipedia/commons/1/1a/Tom_Brady_2020_playoffs.jpg under CC-2.0]