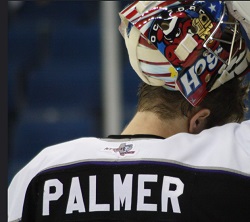 Big to-doin's in Phoenix today. The Arizona GOP has contracted a company named Binary Samurai to go over the results of the 2015 NFL MVP vote.
That vote saw Carolina's Cam Newton win the award for NFL's most valuable player. But this outcome will be reviewed under pressure from top officials. "There were several voting irregularities in the 2015 NFL MVP voting." Commented AZ House rep. Val U. Bull. "For instance, the only people allowed to vote were sports writers. Voting rights only given to people who can prove they are literate? I hope the NFL is ready to eat a whole lot of Jim Crow!"
Rep. Bull represents a group of government brass with nothing better to do. "I heard a big bunch of MVP ballots were smuggled from China." said state senator Vy Brate. "So the Binary Samurai team is going over the ballots with special UV lights that can detect the presence of sweet-and-sour sauce."
Of note is that then-Cardinal Carson Palmer was runner up in this vote. However, when asked if their intents were less than transparent, the Arizona GOP replied,  "accusing us of partisanship is a real non-partisan thing to do, chief!"
However, not everyone is fully on  board with the recount. Arizona republican leader Hal Lowe scoffed at the expense. "Cam Newton got 48 votes. In contrast, Carson Palmer only got one. So I don't see why we have to hire a special company just to count to one."
It was pointed out that several of the officials calling for the recount own stock in Binary Ninja, but this was received with scorn. "Scorn!" said  GOP MVP H.P. Smith, "I subsequently scorn you!"
In addition to UV light, the company in charge of the recount is using other methods to inspect the ballots. Employees dipped the ballots in locally-sourced nacho cheese, then licked them. When asked what this could possibly achieve, said employees explained they had signed a non-disclosure agreement.
More on this story never, because I don't care.
For more Football Absurdity, count these links over and over until you end up with the number you want!
[Image credits: https://commons.wikimedia.org/wiki/File:Pro_Football_Hall_of_Fame_(11282383106).jpg and https://www.flickr.com/photos/les_stockton/4140310388/ under cc-2.0]