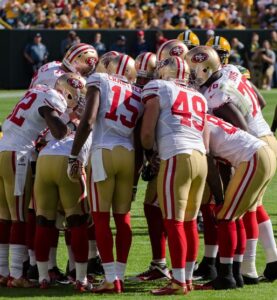 After trading up to the third pick in the 2021 NFL draft, the 49ers seemed honed in on taking a quarterback. Then they were linked to Mac Jones. Then everybody laughed at them. The 49ers then took a walk back and said they were also thinking about Trey Lance. Wednesday saw another stunning backpedal, as team brass announced they were taking a look at the entire field.
"Anyone," said a source with the team who wished to remain anonymous, because he doesn't exist. "We could take anyone in the first round." The source then thought for a few seconds before adding, "well, not Justin Fields."
Questions were then lobbed like grenades as to why the 49ers draft team even traded up. "Seems kind of silly if you didn't know exactly who you wanted," lots of people said.
San Francisco's GM and Coach were not available for comment. Excuses for their absence included "they are studying all night" but also, "they know exactly what they want."
We spent the day interviewing fans outside Levi Stadium, to find out what they wanted. These fans ranged from angry, to understanding, to Korean. We then found out that people had showed up to a concert by K-Pop sensation BTS, which had been canceled.
More on this story never, because the whole thing will be mercifully over!
For more Football Absurdity, narrow all of the links in the known universe down to these three:
[Image credits: https://commons.wikimedia.org/wiki/File:2007_San_Francisco_49ers_offensive_line.jpg and https://commons.wikimedia.org/wiki/File:San_Francisco_49ers_huddle_-_San_Francisco_vs_Green_Bay_2012.jpg under cc-2.0]