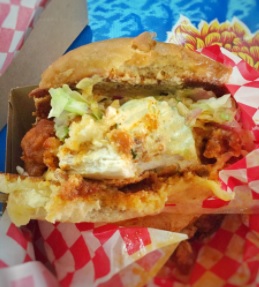 This article brought to you by Laverne's (TM) Steakhouse: Now serving women! Only at Laverne's (TM)!
The anticipation is palpable as fans everywhere gear up for Thursday's NFL Draft. Speculation abounds as to where each NFL team will choose the $4 chicken sandwich they will eat for every meal for the rest of their lives.
For months, the projected number one pick has remained the same (Popeye's). But despite this, a lot of chicken sandwiches have seen their draft stock buoyed in recent weeks. The McChicken sandwich made the greatest leaps on projected boards after running an impressive 3.29-second 40-yard dash during a hurricane.
Still, there are entrees that might not be joining the NFL come September. KFC's Crispy Colonel sandwich was once projected to go in the top 3 spots. However, after clearing a paltry 0 feet 0 inch high jump at the NFL Chicken Combine, it's feared that no team will be enjoying this snack ad nauseum.
If they already know what their selections will be, head coaches are being particularly secret about their intentions. When asked what $4 chicken sandwich he would be selecting at pick 17, Raiders coach Jon Gruden played it cagey. "The what?" He told Football Absurdity reporters camped outside his house, "I don't know of any chicken draft. And, no, I don't have any spare change."
Other coaches have been far more forthcoming. When asked if the Texas toast buns of the Whataburger Honey Barbecue Chicken Sandwich gave it an edge over the Zaxby's Southern TLC, Seahawks coach Pete Carroll had a lot to say. "Let me get this straight," Carroll stated, "you are under the impression that teams will take turns picking a chicken sandwich. Then, they have to eat whatever sandwich they pick for every meal forever? Who let you in this press conference?"
Come draft day, Football Absurdity will be tracking every pick to get fans the nutritional content information they so desperately thirst for.
For more Football Absurdity, cluck these links:
[Image credit: https://commons.wikimedia.org/wiki/File:Fried_chicken_sandwich_with_comeback_sauce.jpg and https://live.staticflickr.com/1381/4722218702_e1a17702d5_b.jpg under cc-2.0]