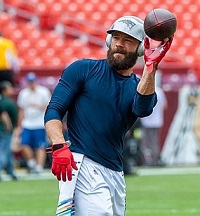 Things went from worse to worserer for longtime Patriot slotman Julian Edelman. The three-time Super Bowl champ announced his retirement after getting released by the Patriots for failing his physical. The big shocker came later that evening when Edelman could not turn on his television.
It was something straight out of a downtrodden first act of a sports movie: Edelman had just settled down to watch the latest episode of his favorite new show: Bob Hearts Abishola. But then he reached for his end table remote to watch the latest Bob Hearts Abishola episode, titled "A Big African Bassoon." But Edelman's TV clicker had vanished, leaving him panicking. If he didn't find it soon, he would miss the cold opening of the Bob Hearts Abishola episode, "A Big African Bassoon," and he would never be able to catch up with the plot.
Just then, things got even worse:  The doorbell rang. The star Patriot receiver would either have to miss more of his beloved Chuck Lorre programming or else risk alienating his mystery visitor. Edelman thought quickly. He soon came to the only possible solution: He would have to kill whoever was behind the door. As quickly as possible.
The Julian Edelman Saga Continues… Below!
The beloved New England pass-catcher frantically searched for something with which to bludgeon his victim. Out of the corner of his eye, he spotted something. Without taking the time to look at it, Edelman picked up the black rectangular object and rushed to his foyer. Swinging open his front door, the children's book author raised his arm to strike.
But there was no one there. Befuddled, Edelman looked around. Finally, he spotted the package an Amazon delivery driver had left at his door. It was the boxed set of Dharma & Greg Edelman had ordered. Uttering a sensible chuckle, Edelman bent to pick it up. He winced as his knee acted up. His knee, by the way, was what caused him to fail his physical and retire. He then saw the object he had intended to use as a murder weapon. It was his TV remote!
Smiling, Edelman returned inside. He turned on his TV just as his DVR fired up to record the beginning moments of his beloved show. Then, everything was fine. Well, he was still jobless. But he had the scripted comedic stylings of Billy Gardell to ease his pain.
For more Football Absurdity, use your laptop remote to click these links. It's called a mouse!
[Image Credit: https://commons.wikimedia.org/wiki/File:Julian_Edelman_2019.jpg under cc-2.0]