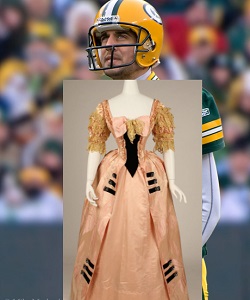 Fresh off his successful hosting of Jeopardy!!!!! Aaron Rodgers expressed plans to create more of a footprint into the game show universe. "I could turn those letters around faster than anyone," Rodgers said to no one in particular.
The current and forever Wheel of Fortune star Vanna White is signed through 2022. However, rumors are flying that the then-65-year-old White will step down rather than renew her contract. "I would make a great replacement," said Rodgers. "I have a lot of experience turning letters around on the Wheel of Fortune board I built in my garage. Also, who rolls the wheel out and who does Pat Sajak's hair? I could do that too!"
Wheel of Fortune and Jeopardy!1!!1! aren't the only prime-time staples Aaron Rodgers is moving in on. "Have you seen that show The Masked Singer? I could do that: I'd dress up as a giant block of cheese wearing a #12 jersey and sing songs about Wisconsin. Nobody will ever guess it's me!"
"Also, have you seen that show The Price Is Right?" Rodgers asked, again to no one in particular. "They have this game called Plinko where contestants drop hockey pucks down a big board. I could be that board! I have a cowboy costume! Check out my Whammy dance!"
We wish Rodgers the best of luck on his future endeavors.
For more Football Absurdity, click these links. One in fifteen clicks will make you bankrupt!
[Image Credit: https://www.flickr.com/photos/mikemorbeck/5429905086 and https://picryl.com/media/ball-gown-affcf5 and https://commons.wikimedia.org/wiki/File:Aaron_Rodgers_2019_closeup.jpg under cc-2.0]