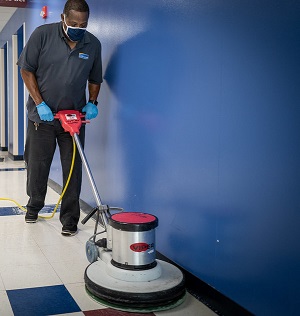 There has been a flurry of Patriots signings within the past 48 hours, and that storm doesn't seem to be waning. Early Tuesday morning, New England reached an agreement to hire the current head of Minnesota's custodial staff, Ezekiel Noscope. This move comes after the Patriots signing Hunter Henry, Nelson Agholor, Jonnu Smith, Matt Judon, and a 6′ 2″ DrayPotle sandwich from Subway.
The most puzzling aspect of the 4-year, $41 million deal is that Custodian Noscope has been consistent, but not exceptional. His only Employee-of-the-Month award came during a February 2017 blizzard. During that blizzard, Noscope was caught unable to drive out of the stadium, and thus was the only employee in the building that entire month. Ezekiel has shown promise at times: He once mopped the bathroom 72 times during Nickel Beer Day. However, he has been unable to sustain the performance for significant stretches of time. For instance, he followed that Nickel Beer Day by immediately taking two weeks off for mental health evaluation.
The Patriots signing is not the only one receiving significant scrutiny. They inked a 3-year, $37.5 million contract with Hunter Henry. That's $16,149.87 for every yard gained in his NFL career. Another Patriots signing is Bleacher Reports' Worst Tight End of 2017 recipient Jonnu Smith.  Smith signed for four years and $50 million dollars. Pats fans are hoping he will top his career-best 448 receiving yards. Hopefully, he'll clear a distance that's at least far enough to get out of the Gillette Stadium parking lot.
Custodial Signing Creates Media Buzz
Paying so much for the Vikings' janitor has media pundits speculating he might play a bigger role in the Patriots organization. Some point out that the Vikes' offense was particularly weak in terms of clean towels. Others are speculating the 62-year-old Noscope will provide some training camp competition for aging QB Cam Newton. We at Football Absurdity will sign off with one final statement. $10 million/year seems a fair price for being the fall guy for the inevitable next time the Patriots are caught cheating.
For more Football Absurdity, click the links below before the Patriots buy them all for way too much money:
[Image credits: https://pixy.org/download/530695/ and https://live.staticflickr.com/65535/50126070953_1756c5d631_b.jpg under cc-2.0]