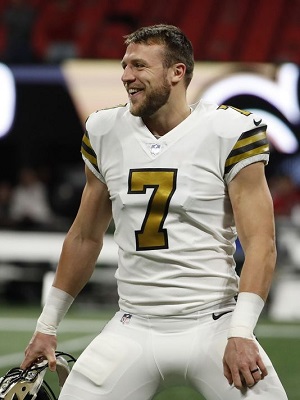 Drew Brees retires and makes huge headlines. A far smaller story is that Taysom Hill renegotiated his contract. The new contract is four years, $140 million BUT the Saints can just void it after paying Hill $12 million this season. Congrats to the NFL accountants for reaching near-Hollywood levels of funny money, this offseason!
Still, the initial sticker shock has Hill scrambling to temper expectations. "Brees retires and now it's so hard," Hill said. "When he came to New Orleans, it was the perfect setup. He was coming off an injury and there were question marks about his height. Heck, the entire stadium had flooded and people were barely paying attention to the Saints." Hill went on to lament his own situation, "I'm taking over an offense that is used to winning. I'm well over six feet tall. Plus, try as hard as I can, I can't seem to get any of my injuries to linger. It's really rough."
In his quest to avoid the spotlight, Taysom has made several suggestions to the front office. He proposed changing the name of the "Mercedes Benz Superdome" to the "So-So Dome Brought to You by the AMC Gremlin." He is also asking that his contract be restructured so that there are ample incentives based on his performance in fantasy football. Hill also requested the team bring in a decent QB for training camp battles, claiming that "even one of those machines that fires footballs downfield would look more accurate than Jameis Winston."
Joe Biden Interferes
Even U.S. President "Cotton-Eyed" Joe Biden seems to be plotting against Hill's wishes. Biden's declaration that all Americans should be eligible for a Covid-19 vaccine in May means there will actually be audiences at NFL games. Tens of thousands of pairs of eyes glaring at Taysom as he looks left, looks right, then just decides to tuck it and run every play. It's practically Lovecraftian levels of horror.
For more Football Absurdity, check out the links below
[Image credits: https://upload.wikimedia.org/wikipedia/commons/6/62/Taysom_Hill_Saints.jpg and https://live.staticflickr.com/2746/4340571323_25dd703f85_b.jpg under cc-2.0]