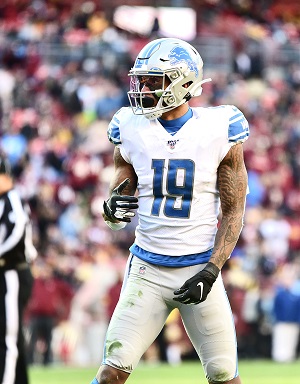 Erectile dysfunction commercials talk about seeing a doctor if you put a pill in your mouth and you have an erection lasting more than four hours. But what if you have a smile on your mouth that lasts for more than four hours? Where did you stick that pill? Kenny Golladay is dealing with tough questions like these after being passed up for the Lions franchise tag.
The Detroit Lions have already downgraded at quarterback after trading Matthew Stafford for Jared Goff. This required taking on an extreme pile of debt with Goff's contract. We here at Football Absurdity are excited for the training camp battle to see who will be the better Lions QB: Goff or that pile. But Lions fans are not so excited. Their offense is undergoing a complete rebuild. In addition, wide receiver Marvin Jones is up for free agency. Analysts are expecting Jones to sign elsewhere, as he was seen hitchhiking on the freeway holding a sign that read, "anywhere else."
Cure Found
At the time of this article's publication, Kenny Golladay has not issued comments on avoiding the Lions franchise tag. However, he did check himself into Detroit's Henry Ford Hospital with facial injuries from being unable to stop grinning. However, before the hospital could administer treatment, Golladay's condition was cured. Learning that anti-Semitic, Nazi-supporting Henry Ford had an actual hospital named after him was enough to wipe the smile off Golladay's face.
Meanwhile, for Golladay, the future seems as wide open as he frequently was. However, CBS Sports predicts he will most likely be catching passes from Mitch Trubisky, Daniel Jones, Sam Darnold, or whomever the Patriots dredge up to be QB. CBS Sports is providing a valuable medical service with this article. Now, if Golladay's affliction resurfaces, he can just read that article and instantly stop smiling.
More on this situation if it redevelops. But it won't.
For more Football Absurdity, franchise tag these links:
[Image credits: https://commons.wikimedia.org/wiki/File:Kenny_Golladay_In_Lions_Uniform.jpg and https://commons.wikimedia.org/wiki/File:Kenny_Golladay.jpg under cc-2.0]