It's deep in February and everyone in fantasy football circles is arguing about whether Devonta Smith is too skinny or if everyone forgot about Rashod Bateman. But, those are rookies coming in at the wide receiver position. We are worried about the already-established guys; the top-ten wide receivers. This is a tough one for me because there are so many guys who should be WR1s this year. D.J. Moore, who I couldn't fit into my top-ten, has the fifth-most WR yardage over the last two years. Sheesh! Let's do our first run-through of the top ten at wide receiver, shall we?
1. Davante Adams, Green Bay Packers (Tier 1)
I think Davante Adams might be the reason why the Green Bay Packers felt comfortable not going with a wide receiver in the 2020 NFL Draft or free agency. The guy is an absolute beast and flipped out for the Packers in 2020, scoring 18 touchdowns and coming in second in wide receiver receiving yards with 1,374… in 14 games. The games are an issue, as he's missed six in the last two years, and a foot injury in 2019 clearly hobbled him. Still, if I had to throw the ball to one wide receiver who had to catch the ball or I would die, I would go with Adams. He ranked first in target share as well as yards after catch, yards per route run, and touchdowns. Just an absolutely bonkers effort out of Adams, and I will rank him first until he shows he does not belong.
2. Tyreek Hill, Kansas City Chiefs (Tier 1)
To be honest, I keep going back and forth between Hill and Stefon Diggs at two, so call them 2a and 2b. Hill gets the nod because of his game-breaking ability and the hyperfocused nature of the superpowered Chiefs' offense into Hill and Travis Kelce. I just can't get over Tyreek hill getting 269 yards and three touchdowns against the Buccaneers in week twelve. From weeks thirteen through seventeen, that same group allowed 572 receiving yards and three touchdowns to wide receivers. That means Tyreek Hill matched the touchdowns and had 47% as many receiving yards as the entirety of the wide receivers that played against TB from the moment he spanked them to the end of the year. That's the kind of game-breaker he is, and given that he ranked had the fifth-most unrealized air yards… he could take another step forward in 2021, in his age 27 season.
3. Stefon Diggs, Buffalo Bills (Tier 1)
Like I said above, it was a tough go trying to sort out Stefon Diggs versus Tyreek Hill, but Hill's offense took precedent. That isn't to say that the Buffalo Bills' situation is terrible. The Bills threw the fifth-most touchdowns last year, just two behind the Chiefs. Here's where things get sticky: Gabriel Davis is good. If you saw the playoffs, you saw the refs not believe consecutive Gabe Davis catches actually happened. The Chiefs don't really have that type of game-breaking in their offense that is ready to emerge. Diggs led the league in receiving yards and receptions but ended with single-digit touchdowns. I fear a slight step back in those categories alongside a Gabriel Davis emergence might be the hair that gets split between Diggs, WR2, and Hill, WR2. I love Diggs and I love Josh Allen, but I had to go with my gut here.
4. Calvin Ridley, Atlanta Falcons (Tier 2)
If you look at the basic fantasy points for Calvin Ridley with and without Julio Jones last season, it looks like Calvin Ridley produced less without Julio. Ridley averaged 17.4 fantasy points per game (PPR) with Julio, and 20.6 without him. That's not entirely true. Without Julio Jones last season, he averaged 7.1 catches for 109.3 yards per game. With Julio, it was a difference in touchdowns (and targets). Ridley averaged an extra three targets per game without Julio Jones but scored half as many touchdowns. There's your big difference. And all this is splitting hairs between WR3 with Julio, and WR6 without Julio. Calvin Ridley is a stud.
5. DeAndre Hopkins, Arizona Cardinals (Tier 2)
Hopkins ended 2020 as the WR5, but Kyler Murray injured his shoulder week nine against the Dolphins and exacerbated that same injury week eleven, which led to a dip across the board for the Cardinals. Kyler's yardage went down by 43 yards per game, and his touchdowns per game went from 1.9 to 1.2. Nuk had a corresponding drop, going from 7.4 receptions for 95.7 yards per game before Kyler's injury, and 78 yards on 6.9 receptions following the injury. Hopkins crossed 60 yards just twice in the seven games after Kyler injured himself. The two clearly weren't on the same page. In the end, Nuk is still one of the best wide receivers in the NFL and I am not going to disrespect him by dropping him out of the top-five. He's too good and will get too much volume in Arizona to be anything different than top-five.
6. A.J. Brown, Tennessee Titans (Tier 2)
The Tennessee Titans didn't pass a lot last year, but when they did, it was usually to A.J. Brown. He had the eighth-highest target share, despite getting just 106 targets. Probably because the Titans threw the ball 32 times per game, which isn't enough to support a robust passing game. It is enough to support a top-six wide receiver, as long as he gets most of the targets. Given that the Titans will be without the services of Corey Davis and/or Jonnu Smith next year (pending free agents), the slice of the pie likely grows for Brown in 2021. No wide receiver broke tackles at a higher clip (with at least 50 targets), as Brown broke a tackle every 5.4 receptions.  There's a chance I'm too low on A.J. Brown, here.
7. Michael Thomas, New Orleans Saints (Tier 3)
I can't dump Slant Boy any further. Michael Thomas played in just seven games last season, and still averaged 8 targets per game. Ironically, he did worse with Drew Brees (3.3 catches for 31.7 yards per game) than Taysom Hill (7.5 catches for 85.8 yards per game). Hill can't do much, but he can throw slants to Michael Thomas. It's entirely possible that we get 10+ targets per game for Michael Thomas with Hill, and it wouldn't even be a big jump forward; he averaged 9.3 targets per game with Taysom Hill in 2020. This could be a bounce-back season for Michael Thomas, or 2020 was a harbinger of things to come. I'm banking on the former, but hedging on the latter.
8. D.K. Metcalf, Seattle Seahawks (Tier 3)
In Metcalf's two NFL seasons, he ranks eighth in yards and twenty-second in receptions, which gives you an idea of his big-play potential. He also ranks eighth in touchdowns over the last two seasons (and he should be tied for sixth if not for a boneheaded play). Metcalf is also just 23 years old and an absolute bear of a man at 6'4" 229 pounds. The Seahawks are hoping to get a little bit more unpredictable in 2021, and firing Brian "Curlz" Schottenheimer should help that out. Metcalf struggled in the last four games, as Russell Wilson forgot how to cook. Prior to that point, he was on an 84-catch, 1,492-yards, 12 touchdowns pace. He needs to get more consistency (he wasn't a top-36 WR five times last year) but that's the only thing standing in his way for fantasy football glory.
9. Justin Jefferson, Minnesota Vikings (Tier 3)
Last season, Justin Jefferson had 1,400 receiving yards. Since the merger, here are the rookies to have at least 1,400 receiving yards: Justin Jefferson. Let's widen the parameters a bit since he's in a class by himself. Guys to top 1,200 receiving yards their rookie year: Anquan Boldin, Randy Moss, Odell Beckham Jr, and Justin Jefferson. That's some pretty good territory to find yourself in headed into your 2021 season. There's definitely room for contraction here; Jefferson's 125 targets are the most for a rookie since Amari Cooper's 130 in 2015. Or, is there? Kyle Rudolph reportedly is unsatisfied with his role in Minnesota, and there isn't much there to contend with Jefferson's existing targets. I like him a lot to take a big step forward in 2021.
10. Keenan Allen, Los Angeles Chargers (Tier 4)
Justin Herbert told Keenan Allen that his job was "to get [him] the ball" on Hard Knocks. And he did just that. The league's metronome, Keenan Allen has had at least 1190 yards or 100 catches in each of the last four seasons. This year, he did it while missing two games—his first games missed since 2016. The injury-prone label is gone, and Allen is ready to roll with Herbert. Allen's games with Herbert paced out to 118 receptions, 1,175 yards, and 10 touchdowns. It would have been Allen's first double-digit touchdown season. Toss in 10 touchdowns on top of his metronomic 100 catches and 1,000 yards and you have the #10 wide receiver on my list. It's called symmetry, folks.
Wide Receiver Honorable Mentions: Mike Evans, Tampa Bay; Chris Godwin, Free Agent; Allen Robinson, Free Agent; Adam Thielen, Minnesota; Amari Cooper, Dallas; D.J. Moore, Carolina
If this has you hankerin' for some fantasy sports, try out Fan Duel! That link lets them know we sent you! It also gets you a 20% deposit match up to $500!
Then, follow Football Absurdity on Twitter!
After that, get free fantasy football advice by joining our Discord!
Finally, if you like what you read here, check out our podcast and our Patreon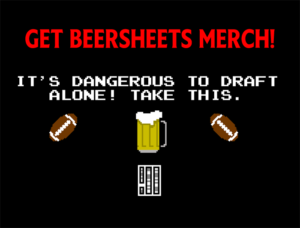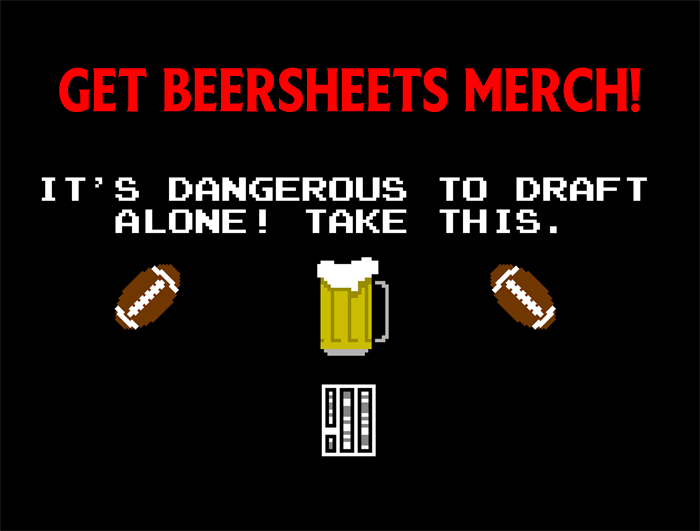 [Image Source: https://commons.wikimedia.org/wiki/File:Nick_Chubb_(42477091350).jpg, cropped under CC BY-SA 4.0]