It's basically useless to call someone a top-ten tight end. When you call someone that, you're acknowledging that they are on the upper edge of a tier of tight end that basically drags all the way down into the deep TE2 ranks. But, it's February, and I don't want to talk about the tight end rookies (Kyle Pitts and the Et Ceteras), so let's take a look at my too-early top-ten tight end list for 2021 fantasy football!
1. Travis Kelce, Kansas City Chiefs (Tier 0)
To be the best, you have to beat the best, and at 31 years old, Travis Kelce broke the tight end receiving yards record, notching 1,416 yards to beat George Kittle's 1,377 yards from 2018. There's no sign of slowing down in Kelce's game, and the TE1 for each of the last five seasons has his spot at the top written in pen. Over the last three seasons, he's finished as the best tight end on the week ten times; he's been outside the top-12 six times in the same timeframe. He's the best of the best and hasn't shown any signs of slowing down. Trying to prognosticate his demise after his best season yet seems foolhardy. He's in a tier all his own as the biggest difference-maker at a position in the game.
He's good.
2. George Kittle, San Francisco 49ers (Tier 1)
Last year I let my 49ers' homerism put George Kittle above Travis Kelce. I have learned my lesson. Kittle and Waller represent the next tier of (still) very elite tight ends. Kittle is a big football oaf and tried to play through multiple injuries last year, including a hit to the knee in the first half of week one that made him not be the same for weeks. That was the theme of the 49ers, whose strength and conditioning staff needs a stern talking-to this season.
Kittle returned from injury to play six games, wherein he posted at least 92 yards in three of them. The other two were 5/55 and 2/39. That 2/39 represented his worst game of the year, and just the fifth time in the last three years that he ended up under 40 yards. Kittle is a constant force for the 49ers, and the only question marks are if the offense becomes too good with Brandon Aiyuk and Deebo Samuel in tow.
3. Darren Waller, Las Vegas Raiders (Tier 1)
Headed into 2020, haters said that Darren Waller would lose targets to Hunter Renfrow, slot WR extraordinaire. It's me, I'm haters. I was wrong about Waller's target load in 2020, and I am not going to doubt him going into 2021. The holder of 2020's best tight end game and the third-best game since 1985 (9/190/3), Waller has some incredible highs in his toolbelt. Unfortunately, he has some lows, which puts him slightly below George Kittle for me. In 2020, he had five games under 40 yards, with just one touchdown in those four games. Luckily, that matched the number of games wherein he passed 100 receiving yards, so it all evens out.
The Raiders' offense has a low floor built-in for Waller, despite a league-leading target count (9.1 targets per game). The Raiders love to dink, dunk, then fire deep. If the firing deep goes to Henry Ruggs, that leaves the dinks and dunks for Waller. It's nice to have a target floor, but his average depth of target just 8 yards downfield was fourteenth among tight ends. Still, we are talking about the difference between elite and elite when splitting hairs between Kittle and Waller. I'd be very happy with him on my team this season.
4. Mark Andrews, Baltimore Ravens (Tier 2)
Mark Andrews, Tight End Four, feels like a fait accompli at this point. In that way, he feels like the new Delanie Walker. Unfortunately, since he is young and with a high-profile quarterback, we don't get to take the annual Delanie Discount. Everything about Mark Andrews ends up between third and seventh, it's wild. Third-highest target share, fourth-most air yards, fifth in red zone targets, and average depth of target. Sixth in touchdowns, fifth in yards per route run, fourth in air yards (and completed air yards), and sixth in unrealized air yards. It's all a package that looks pretty nice as a little discount on the top tier to get you some tight end production.
Andrews finished top-twelve in eight-of-fourteen games in 2020. The Ravens might add another pass-catcher, but that is more an existential issue for guys like Willie Snead and Dez Bryant than anything that worries me with regards to Mark Andrews for next season. Just don't think he has any shot of being top-three without an injury to the guys ahead of him.
5. T.J. Hockenson, Detroit Lions (Tier 2)
Unlike Mark Andrews, T.J. Hockenson does have a shot at finishing top-three through his own merits. Well, his own merits and the Detroit Lions having him, Quintez Cephus, and a Roomba with a trash can on it as receiving weapons entering free agency and the draft. Don't forget about Hockenson, who enters his third year after getting compared to Travis Kelce and Rob Gronkowski in the pre-draft process, and who finished last year as the TE7 in fantasy points per game. Hockenson had 101 targets in 2020, but had an average depth of target of just 7.4 yards. Lots of dump-offs that Hockenson then had to do work with (he had the fourth-most yards after catch among tight ends last year). Hockenson feels like his most likely finish will be between TE4 and TE7, but a failure by the Lions to adequately address tight end could see Hock end with 140 targets and a spot in the top three. Is a step up from the guys below, in that regard.
6. Mike Gesicki, Miami Dolphins (Tier 3)
In each of the last two seasons, I've feared that my rank on Mike Gesicki is far too high. In each of the last two seasons, I missed the mark by just one spot. Hopefully, this means that this year Gesicki ends as a top-five TE. Gesicki once again benefitted from the absence of Preston Williams in Miami, averaging an extra 2.5 targets, 1.5 catches, and 12 yards without Preston. Gesicki also tripled his touchdown rate without Preston Williams. His pace last year without Preston Williams: 71 catches, 850 yards, 9 touchdowns. Not too shabby. If the Dolphins can start to use Gesicki in the slot more often than not (he had a 49.9% slot rate in 2020), things should look up. Gesicki was the #2 tight end in average depth of target last season but ranked third in unrealized air yards. He won at the point of attack, as well, notching the eighth-best contested catch rate. Gesicki is the real deal and has an athletic comparison to Vernon Davis, of all people. He's primed to jump into tier two, we just need him to get there.
7. Dallas Goedert, Philadelphia Eagles (Tier 3)
The Philadelphia Eagles traded Carson Wentz, released DeSean Jackson and Alshon Jeffery, and are gearing up to give Zach Ertz his walking papers. That means they're ready to turn the passing game over to the new era in Philadelphia. That mean's it's J.J. ARCEGA-WHITESIDE TRAVIS FULGHAM Jalen Reagor Time in Philly. His top receiving mate will most certainly be Goedert. Ertz missed four games in 2020, and Goedert turned that into a 4.2 catch, 50-yards line on average; he scored a touchdown every other game in that span, which puts him firmly in the TE6-8 range. Shocker that he ends up in Tier three, which spans from TE6 to TE8. Should he get Ertz's average target volume that he enjoyed in Philadelphia, then it's wheels up on Goedert.
8. Logan Thomas, Washington Football Team (Tier 3)
The converted tight end was one of two tight ends last year to get at least 4+ targets in all sixteen games (and no tight end had 5+ targets in all sixteen games). The Washington Football Team had a dumpster fire passing game last year, starting four different quarterbacks (if you include the playoffs). When the dust settled, Thomas ranked inside the top-12 at tight end more often than not, which is impressive when you consider that he really had trouble cranking over the engine to start the year (14 catches, 106 yards, one touchdown in his first five games). Thomas is likely going to get a bunch of volume again this year as the Washington Football Team offense consolidates into him, Antonio Gibson, and Terry McLaurin for the foreseeable future. He's a lower-end TE1, so it's hard to get excited about him. It's just sort of a "yeah, him too!"
9. Noah Fant, Denver Broncos (Tier 3)
Fant is the guy in Tier 3 who has the best shot of ending up inside the top-five this season, to me. For that reason, it's probably advisable to take him over Logan Thomas and Dallas Goedert. But, at the same time, his floor makes it difficult to trust Fant. The Denver offense is a mess, and a lot of that has to do with the man slinging the ball. Drew Lock can't sustain fantasy production from multiple receivers, and with Courtland Sutton returning and Jerry Jeudy likely gaining efficiency, it's possible the whole passing pie gets a squeeze (and let's not forget Albert Okwuegbunam and Melvin Gordon's pass-catching chops). Fant is a game-breaking talent, and the first tight end since 1973 to have multiple games with 100 yards and a touchdown. His highs are very high, but his team makes his lows very low. He's probably the best upside gamble in this tier.
10. Robert Tonyan, Green Bay Packers (Restricted Free Agent) (Tier 4)
In 2020, Tonyan became the eighteenth tight end to have at least 11 touchdowns in a season. That's an incredible feat. Unfortunately, getting a second 11+ touchdown season is almost as hard as getting one. Only ten tight ends ever have multiple double-digit touchdown seasons, and they're almost all who you would expect: Gronkowski, Gates, Graham, Gonzalez, Clark, Vernon Davis, Kelce, Sharpe, Julius Thomas, and Wesley Walls. Tonyan hopes to make it back into this group this year. But here's the rub: Robert Tonyan now ties 2010 Rob Gronkowski the record for "fewest targets to double-digit touchdowns." Tonyan scored 11 touchdowns on just 59 targets this season. He ranked 24th in tight end targets, between Tyler Eifert and Anthony Firkser. The target volume needs to get an adjustment, or Tonyan risks slipping out of the usable tight end ranks entirely.
Tight End Honorable Mentions: Hunter Henry, Free Agent; Zach Ertz, Philadelphia Eagles (for now); Evan Engram, N.Y. Giants; Kyle Pitts, Rookie; Blake Jarwin, Dallas
If this has you hankerin' for some fantasy sports, try out Fan Duel! That link lets them know we sent you! It also gets you a 20% deposit match up to $500!
Then, follow Football Absurdity on Twitter!
After that, get free fantasy football advice by joining our Discord!
Finally, if you like what you read here, check out our podcast and our Patreon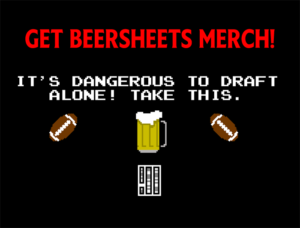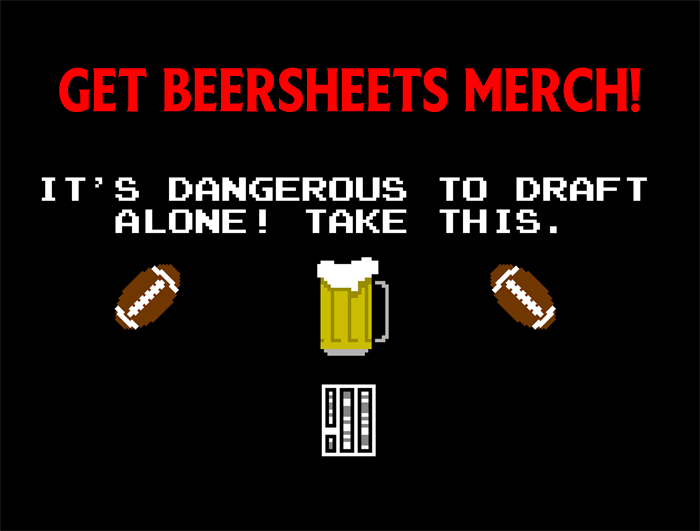 [Image Source: https://commons.wikimedia.org/wiki/File:Dallas_Goedert_TD_catch.jpg, cropped under CC BY SA 2.0]