The 2021 fantasy football top-ten quarterback list was a difficult list for me to make this year. I'm not entirely certain that I am happy with these top ten, but that's the nature of the position. Half the starting quarterbacks in the league have a case to make it as a top-ten quarterback. But, we are a base-ten creature, and we have to cut off somewhere. Let's call this the first iteration of the list, and label it as 1.0. Obviously, things change, and we have a ton of change ahead of us with the draft and free agency. With that in mind, let's take a look at the top-ten quarterback list (1.0) for fantasy football in 2020.
1. Patrick Mahomes, Kansas City Chiefs (Tier 1)
Many might look at his Super Bowl performance and galaxy brain the league's best quarterback out of the #1 slot in their rankings. Not me. The post-merger leader in career passing touchdown rate (6.8%) ended the season with no offensive line and his players dropping everything near them. The Chiefs tried running more this year, which failed. A 5,000 total yard, 40 total touchdown season feels like the floor for Mahomes, who has a 1.0% interception rate over the last two seasons. And his 1.4% career rate? That ties Aaron Rodgers for the best of all-time. Mahomes has all this and he turns 26 on September 17. The sky is the limit for him, and the only question is how he recovers from offseason foot surgery.
2. Josh Allen, Buffalo Bills (Tier 2)
It turns out that throwing the ball to your team, and not the other team, is a recipe for success. Allen had one more pick than in 2019, but he did it on 111 more pass attempts. He is in just his third year, and he took a massive step forward, marking career-highs in touchdown rate, interception rate, yards per attempt, QB ranking, and sack rate while finishing the season as the fantasy football QB1. It turns out throwing to Stefon Diggs is better than throwing to Kelvin Benjamin or Zay Jones. Josh Allen did all this without sacrificing his rushing ability, hitting 400 rushing yards and 8 touchdowns for the third time in three seasons in his career.
His downside might come in the form of a Bills' offensive boon. If they get anything of value out of their running backs next year, his eight touchdowns will come down. He tied with Taysom Hill for the second-most five-zone QB carries. He turned his nine rush attempts at the goal line into seven of his touchdowns.
3. Kyler Murray, Arizona Cardinals (Tier 2)
Kyler Murray ended 2020 as the QB3 in total fantasy points in 2020, but that doesn't tell the whole story. He injured his shoulder in the first quarter of his week eleven game against the Seahawks. He didn't miss any games because of the injury, but it created a huge delineation in his season. In the first nine games, Kyler averaged 264 passing yards, three total touchdowns, a pick and 67 rushing yards. Then, after the shoulder injury, everything collapsed. From week eleven to the end of the season, he averaged 228 passing yards, 1.4 total touchdowns and 0.6 picks per game. He rushed the ball three fewer times per game after his injury, and he lost over a yard per pass attempt after the injury. Should Kyler stay injury-free in 2021, he has a shot at the #1 spot.
4. Deshaun Watson, Houston Texans (for now) (Tier 2)
If I asked you "who led the NFL in passing yards in 2020?" you should know the answer is Deshaun Watson, mostly because of the context clues of this sentence being underneath his name. The (potentially future former) Houston Texan quarterback faced such insane adversity in 2020 that it makes sense that he wants out of Houston. First, he had to play under Bill O'Brien. Luckily, the universe rectified that, as the Texans fired O'Brien after week four. At that point, Watson averaged 273 passing yards, 1.5 touchdowns and 0.8 picks per game. After that point, he averaged 311 passing yards, 2.3 touchdowns, and 0.3 interceptions. Removing BoB lifted a weight off his shoulders.
Watson lost his #1 receiver, Will Fuller, after week twelve, to a P.E.D. suspension. From that point on, Watson averaged more passing yards per game and took a half-a-TD step back. Losing Fuller after Bill O'Brien traded DeAndre Hopkins meant that Watson was passing to a whole new set of receivers, and it didn't matter. His 2021 landing spot, with few exceptions, should not have an adverse effect on his fantasy football value.
5. Lamar Jackson, Baltimore Ravens (Tier 2)
Lamar Jackson went way too high last season, vaulting into the top-20 picks by ADP. This season, he might end up too low at #5, but I'm hedging that by stretching down tier two to include Jackson. There's no denying that his rushing gives him one of the highest-possible floors among quarterbacks (he had 50 or more rushing yards in 13 games last season, including the playoffs), but his passing production causes a ceiling issue when compared to guys like Patrick Mahomes.
Through two full seasons as a starter, Jackson surpassed 275 passing yards just once and 250 passing yards four times. That's a problem, and it comes with the territory of someone who has passed the ball 35 or more times just three times in his career. The Ravens don't care about your fantasy team, but they will let Lamar Jackson do what he does best: run wild. His rushing production will make up for the passing game issues, but he needs to combine them again as he did in 2019 to really make the leap back into the top-three.
6. Dak Prescott, Dallas Cowboys (Tier 3)
Dak Prescott is getting a tier bump down specifically because his foot detached from his leg, and Jerry Jones will likely use that excuse to try to lowball him on a contract offer. Things will get heated between Prescott and the Cowboys… unless they franchise tag him (again). Things will get messy and contentious between Dak and Dallas brass, even if he is a Cowboy in 2021. Prescott was an absolute beast in his four full games played. By "an absolute beast" I mean "playing way over his head to an absurdly historic level." In his first four games, he paced out to 6,760 passing yards, nearly 1,000 passing yards more than the NFL record. We can't expect that in 2021, but we can expect him to build on the 4,900 and 30 he had in 2019. Prescott's ranking has more to do with tempering what might otherwise be irrational exuberance should he sort out his problems with the Cowboys.
7. Aaron Rodgers, Green Bay Packers (Tier 3)
Look, I'm not trying to get hot-takes rolling here, but Rodgers not running anymore is the big difference between a good NFL quarterback and a good fantasy football quarterback. Rodgers finished 2020 as the #3 quarterback, but he had to become the sixth QB to throw for at least 48 passing touchdowns to do so. This was his career-high, and marks the first time he's topped 40 since 2011, and just his second time topping 32 passing touchdowns in his last six seasons.
I'm not saying Aaron Rodgers is bad; the exact opposite. He showed last season that he is very, very good. He just doesn't run anymore (his rushing yards per game have decreased each of the last four seasons). Unfortunately, he faces a shifting quarterback landscape, and an uphill battle to return to the top-five. Still, we learned our lesson about doubting Aaron Rodgers, the football player. Don't get it twisted, his landing at seven is a testament to how good he is. That's simply divorced from fantasy football production when you hardly run anymore.
8. Russell Wilson, Seattle Seahawks (Tier 3)
One of the things I've learned from cooking shows like Kitchen Nightmares and Restaurant: Impossible is that creating a second location usually causes issues with the quality of the first. It's what happens when you expand too rapidly without having the fundamentals in place. That's what happened to Russell Wilson and the "Let Russ Cook" campaign of 2020. In his first eight games, Russ was cooking like a three-star Michelin chef. He paced out for over 5,000 passing yards and 56 touchdowns.
Then, meddling sous chef and Russ opened a second location, and Wilson fell off a cliff. In the second half of the year, Wilson paced out to 3,342 passing yards, 24 touchdowns, and 10 picks. He failed to top two touchdowns in seven of these eight games. While D.K. Metcalf and Tyler Lockett should keep him inside the top-ten, Seattle firing Brian Schottenheimer because he wanted to run the ball less certainly doesn't bode well for Wilson's prospects of ending 2021 as a high-end fantasy football quarterback.
9. Justin Herbert, Los Angeles Chargers (Tier 4)
Tier four kicks off with the first of two sophomore quarterbacks who occupy this tier. Joe Burrow's injury and Tua's general… *gestures to everything* …made putting these two in my top ten quarterback list relatively easily. Herbert struggled down the stretch last season, but he broke the rookie quarterback passing record and fell just 38 yards short of the rookie passing record (and he did it in just 15 games, so he should have had the record). Twelve rookie quarterbacks notched over 20 passing touchdowns in their rookie year, and only three (Dak Prescott, Gardner Minshew, and Justin Herbert) did it with an interception rate below 2%.
There's a new offense in town thanks to the ousting of HC Anthony Lynn, but Herbert has so much weaponry that that shouldn't be a problem in 2021. He finished last season as QB9 in fantasy points per game, so it stands to reason that coming right back and doing what he did last year would end him in basically the same spot. Should the Chargers add another pass catcher in the draft or via free agency, and Herbert takes a step forward, then he should do great in 2021. After all, he learned quickly what his job would be with Los Angeles, and he expressed it on Hard Knocks: "get [Keenan Allen] the ball." If he can keep that rolling, he is a lock for the top-six and is a candidate to be 2021's Josh Allen.
10. Jalen Hurts, Philadelphia Eagles (Tier 4)
This one is on a wing and a prayer, and a small sample size overreaction. Hurts started four games this season (and famously finished just three of them). In those four games, he finished as a top-twelve quarterback three times. The one time he didn't was the time he got pulled. Herbert, who lit the NFL on fire, was a QB1 just 60% of his games; if you can't do the math on Jalen Hurts, he hit that number 75% of the time. He has some work to do in the passing game, but he's a dual-threat QB who should light fantasy leagues on fire now that the Eagles have traded Carson Wentz.
Quarterback Honorable Mentions: Ryan Tannehill, Tennessee; Tom Brady, Tampa Bay; Taysom Hill, New Orleans; Joe Burrow, Cincinnati; Kirk Cousins, Minnesota
If this has you hankerin' for some fantasy sports, try out Fan Duel! That link lets them know we sent you! It also gets you a 20% deposit match up to $500!
Then, follow Football Absurdity on Twitter!
After that, get free fantasy football advice by joining our Discord!
Finally, if you like what you read here, check out our podcast and our Patreon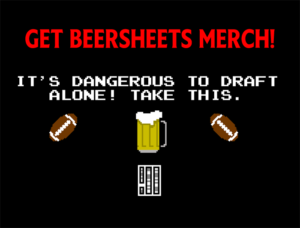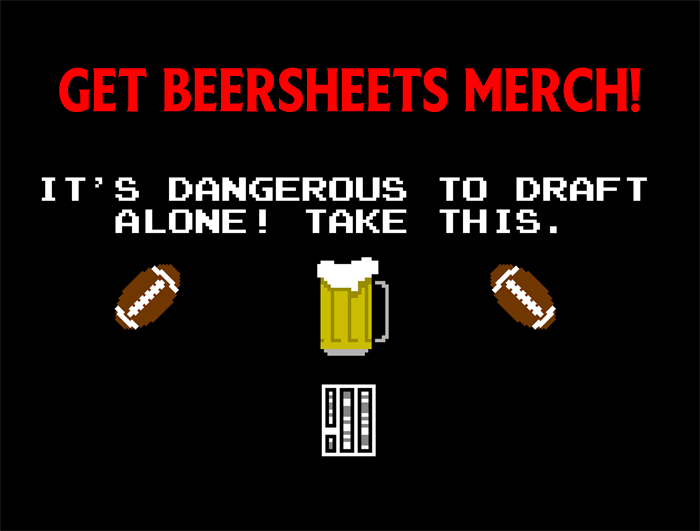 (Source: https://upload.wikimedia.org/wikipedia/commons/thumb/e/e6/Josh_Allen_%2843569465444%29.jpg/800px-Josh_Allen_%2843569465444%29.jpg under https://creativecommons.org/licenses/by/4.0/deed.en)