We have hit the week of Thanksgiving Day games, and it's time to figure out if your fantasy football team is a contender or a pretender. For some of us, it's time to smile through tears, and start our best lineups knowing we won't taste glory. For the rest of us, it's time to sift through the wreckage of your week eleven squad to figure out who to drop to add… Taysom Hill? Woof, that' can't be right. Here is the week twelve cut list. To make this list, a player must be on rosters in at least 40% of leagues.
QB Cut List (1QB only)
Joe Burrow, Cincinnati Bengals (73% rostered)
He's out for the year. But don't take my word for it.
Drew Brees, New Orleans Saints (72% rostered)
He's up to an injured shoulder, a collapsed lung, eleven broken ribs, and whenever they look, they find more. He's on IR for at least three weeks on IR. Recent reports are that the "realistic target" for Brees to return is week fifteen.
Tua Tagovailoa, Miami Dolphins (41% rostered)
I get it. He runs, he's exciting, people call him Drew Brees mixed with Russell Wilson. But he hasn't been good for fantasy football yet. We also saw the worst possible thing for starting him in fantasy going forward this week: a short leash. The Dolphins benched him for Ryan Fitzpatrick. While Brian Flores contends that isn't permanent, I'm not rostering a guy with that short a hook.
WR Cut List
Marquise "Hollywood" Brown, Baltimore Ravens (83% rostered)
He's looking more like Marquise "Wherever in Eastern Europe Steven Seagal Makes His Movies" Brown these days. Did I include his nickname just to make that joke? I did. Brown has just six catches for 55 yards and one TD over his last four games. He hit full ignominy this week, notching zero catches on three targets. Just rid yourself of the headache at this point.
Travis Fulgham, Philadelphia Eagles (78% rostered)
On the podcast, we coined a phrase to describe "a player who burst onto the scene out of nowhere to great fantasy football acclaim and glory due to a decimated depth charts, a player who will inevitably collapse under the weight of limited target volume back to fantasy football irrelevancy." We called it "Fulghaming," and he's coming through on that. He has two catches for sixteen yards and no touchdowns… in the last two weeks, combined.
Officially, don't drop him. But he is on notice. Next week is his last chance game, if he doesn't come through against Seattle, he never will again.
A.J. Green, Cincinnati Bengals (50% rostered)
With Joe Burrow's injury, the entire Bengals offense is going to take a huge step back. Green has six catches for 60 yards in his last three games, and Ryan Finley won't make that any better.
Michael Gallup, Dallas Cowboys (44% rostered)
He averages fewer than 30 yards per game in the post-Dak Prescott Era. Gallup is the main loser in the massive stepdown from Prescott to Andy Dalton (and Ben DiNucci, and Garrett Gilbert).
T.Y. Hilton, Indianapolis Colts (40% rostered)
Last call on T.Y. Hilton, who I've been screaming about for over a month now. His high point on the season is 69 yards in week five, one of three times he's topped 50 yards this year. The Colts put up 34 points and he had 36 yards. Just cut bait on him, already.
RB Cut List
Mark Ingram, Baltimore Ravens (55% rostered)
He has nine touches for 31 yards in his two games since returning from injury. This is Dobbins' backfield now, and will be for the time being. Especially since Mark Ingram hit the COVID-19 IR and will miss at least the Thanksgiving Day game.
Adrian Peterson, Detroit Lions (54% rostered)
AP was a hot pickup-and-play due to his matchup and D'Andre Swift's injury. He finished with eight opportunities for eighteen yards, which put him over 100 yards for his last four games… combined.
Rex Burkhead, New England Patriots (46% rostered)
He tore his ACL and is out for the year.
TE Cut List
Jared Cook, New Orleans Saints (84% rostered)
Cook has six targets for 36 yards and no touchdowns over his last three games. The Saints offense just doesn't flow through him anymore.
George Kittle, San Francisco 49ers (65% rostered)
His roster percentage likely stems from people stashing him on IR, but he just isn't coming back this year.
Keep in mind that all of these drop candidates are recommended drops, they are merely candidates to clear out space on your roster. Second quarterbacks and second tight ends should be the first to go to make room for the hot new running backs or tight ends you want to get on your roster. Good luck with all your waiver wire moves in week 12!
If this has you hankerin' for some fantasy sports, try out Fan Duel! That link lets them know we sent you! It also gets you a 20% deposit match up to $500!
Then, follow Football Absurdity on Twitter!
After that, get free fantasy football advice by joining our Discord!
Finally, if you like what you read here, check out our podcast and our Patreon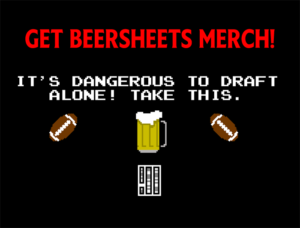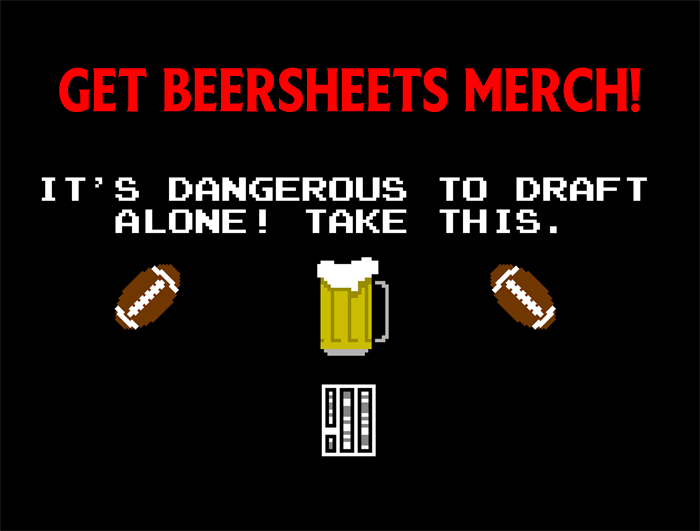 [Photo Credit: https://en.m.wikipedia.org/wiki/File:Marquise_Brown.png under cc-2.0]