Eleven weeks into the NFL season and we're really starting to break some hearts and shatter some dreams. This column started the year very AFC heavy, and justifiably so as the conference has a couple of strong teams and the rest are meandering for draft position. The NFC playoff picture is shaping up and is much more uncertain. THe real certainty is that no one really wants to win the NFC East. The Eagles sitting at 5-5 technically makes them 'in the thick of it' for the playoffs. But, as I type this, someone on the Philadelphia Eagles is probably getting injured. I am sorry Philly, it's over. The season is a lost cause. 
Philadelphia Eagles, Sorry For Your Loss
A recent Super Bowl rematch will always draw some excitement but this game was a futile dud of offensive productivity. The Eagles lost when their defense shut Brady down and forced Julian Edelman to dust off his collegiate QB skills. The Philly defense did all they could to keep the game close but tragically when they do their job well, their offensive line gives it all back.
New England's defense visited Wentz in the backfield on the regular. He was sacked five times and turned it over once, for good ol' times. Now, Carson didn't have his top two wide receivers playing due to injury. At this point in his career, Wentz should be used to playing injured or throwing to someone in recovery, so that's no excuse. The deductible for the Philadelphia Eagles insurance has to be astronomical.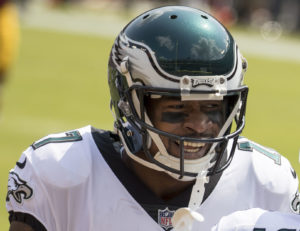 At one point, the Eagles were up 10-0 in the second quarter. Unfortunately for them, the Pats started to inch their way back into this defensive lockdown. Wentz eventually stood at the podium postgame to go over his trademark, "man they are a good team" compliment. One has to love how he raises his eyebrows after every loss as though just learning those guys also like to play competitive football.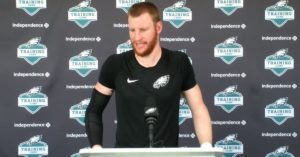 The Eagles sit at 5-5 and that is the appropriate term. They sit. There is nothing about this team that moves, runs, or jumps without landing on the injury list for weeks at a time. Some will say, this team is my sleeper to make something happen as the season closes. I concur. They will lay down, all the way. Who likes a mid-first-round draft pick?! Oh, you do Philly, you do! Go grease the light poles and slide down to the level your team likes to play.
Every week, Mike Maxwell writes a team's obituary. Last week, Mike Maxwell told the Indianapolis Colts "Sorry For Your Loss"
For free fantasy football advice, join our Discord and follow us on Twitter
(Image Sources: https://www.flickr.com/photos/number7cloud/39392724284, https://upload.wikimedia.org/wikipedia/commons/1/1d/Alshon_jeffrey_eagles2017.jpg, https://www.bleedinggreennation.com/2019/8/3/20752972/philadelphia-eagles-carson-wentz-preseason-reps-miles-sanders-offense-updates-quotes-conference
under https://creativecommons.org/licenses/by/4.0/deed.en)