The tenth week of the NFL season didn't disappoint. That is, unless you ran my fantasy team or picked the Saints in a cakewalk against the Falcons. Woof! There were definitely some games out there that knocked the wind out of the playoff push. Last week ended with some dramatic foreshadowing down in America's heartland. Full disclosure, once we closed the previous Super Bowl, I picked these guys to make it for the AFC. There's been no easy road this year in Indianapolis, and I should tell y'all, it's over. I am sorry for your loss, Indianapolis Colts fans.
We had high expectations for the 2019 season in Indy. That was even after the mental strain of the league's top neckbeard retiring. Brissett came in like a pro and pushed on and the Colts were in the thick of it for more than half the season. They even knocked off the Chiefs and Texans. I know, I know that's not saying much in January but in the regular season, that means something!
Who would have thought that week ten the Indianapolis Colts were on a collision course with the buzz saw that is the Miami Dolphins? Hot off their breakup revenge win over Adam Gase and the Jets, the 'Fins went toe-to-toe with the much battered and injured Indianapolis team in week ten. Let's be honest here. Whenever your team is suiting up Brian Hoyer, the odds are that it's over before they stop selling beer.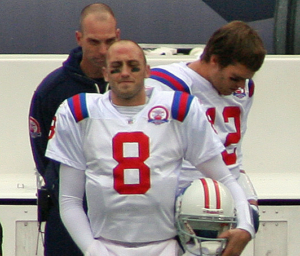 The Colts were held scoreless in the first half by a Miami defense that is starting to get a little swagger in their game. Hoyer's three picks led to thirteen points for Miami. The 2019 Dolphins may be inept, but they're certainly no morons.
Gone are the days where the young Colts defense would scare the daylights out of opposing offenses. The lone Miami offensive score came from the nimble feet of 36-year-old Ryan Fitzpatrick. Perhaps there was a cheerleader holding a sheet cake in the back of the endzone and that help Fitzmagic hustle his way in for the score. 
The Colts limp into week eleven at 5-4 and are right in line for that stellar 9-7 finish so many teams love to have. This has been a rough season for Indy and there's no shame in the performance. Many, myself included, thought the Colts could be making a Super Bowl run this year and now, nothing. That's a tough pill to swallow, even if you're Jim Irsay.
Every week, Mike Maxwell writes a team's obituary. Last week, Mike Maxwell told the Detroit Lions "Sorry For Your Loss"
For free fantasy football advice, join our Discord and follow us on Twitter
(Header Image Source: https://www.goodfreephotos.com/united-states/indiana/indianapolis/colts-stadium-before-the-game-in-indianapolis-indiana.jpg.php)