Waleed is currently hooting and hollering and wolfing down his lasagna masquerading as a pizza and a hot dog covered in peppers and olives over the Bears losing to the Patriots, so it's on me to take over this week's iteration of the waiver wire piece. There's a lot going on here this week, with major injuries and benchings all around the NFL. To make this list, a player must be available in at least 50% of leagues. I already told you who to cut over here, so let's get started on where you go to replace those players you shuffled off your roster. Before you ask, Michael Carter is the priority add, but he is on rosters in 66% of leagues and is therefore ineligible for my criteria.
Like Waleed, I'll order these in my preferred order by position. Unlike Waleed, I will outline this to you right now (this is a cheap shot at him, from my standard role as the editor).
Quarterbacks
Daniel Jones, Giants (41% rostered)
Jones is the only QB on this list that I would add in a 1QB league, and only if I'm especially desperate (well, I'd stream Andy Dalton but more on that in a second). Jones bonked the terrible Jags defense on the head this week and gets the Seahawks next week before his bye, then the Texans and Lions. It's a juicy stretch coming up, with a Bye in there. If you need to replace Matt Ryan, then I hate to say it, but Danny Dimes might be your guy.
Andy Dalton, Saints (3% rostered)
Andy Dalton has a nice string of matchups coming up after slicing and dicing the Cardinals for 6 passing touchdowns (two were pick-sixes, but still) and 361 yards. His next two games are beautiful matchups, taking on the Raiders and Ravens, who both rank inside the top six in fantasy points per game to opposing quarterbacks.
Taylor Heinicke, Commanders (2% rostered)
Heinicke gets the Colts and the Vikings in the next couple of weeks, before taking on the Eagles. If you need a second QB in a 2QB league, then the 14.44 fantasy points he had in week seven are a good baseline for what to expect for weeks eight and nine. Just drop him before week ten because things will get messy.
P.J. Walker, Panthers (1% rostered)
Reporters asked the Panthers brass who might be starting in week eight, and they basically said, "might as well be P.J. Walker, I guess?" In 2QB leagues, people get desperate. And desperate times call for desperate measures… like P.J. Walker.
Sam Ehlinger, Colts (0% rostered)
The last three guys felt like a countdown to Sam Ehlinger. The Colts benched Matt Ryan for Sam Ehlinger, who is, to put it mildly, very bad. He's a poor man's Taysom Hill, doing enough and going by-hook-or-by-crook to get production in his time in college, and it's highly likely that the Colts undo this sooner rather than later. Still, with byes in a 2QB league, you need to add everyone with a pulse.
Running Backs
Gus Edwards, Ravens (43% rostered)
Gus Bus is the priority sub-50% add this week. The Ravens will be without J.K. Dobbins for the foreseeable future, and both Kenyan Drake and Justice Hill reminded us that they were Kenyan Drake and Justice Hill. Bus had 16 carries for 66 yards and two touchdowns. He is the top add of the week after previously showing that he could handle the load at a highly efficient clip in the past.
D'Onta Foreman (49% rostered) & Chuba Hubbard (36% rostered), Panthers
Chances are that only one of these guys is available in your fantasy league after the great gold rush that happened after the 49ers traded for Christian McCaffrey on Thursday Night. But, you should get one (or both) of them onto your fantasy rosters. I prefer Foreman of the two since he was good for the Titans last season, and Chuba has never performed well. Foreman had over 100 yards and Hubbard and the score while splitting snaps near-evenly (prior to Hubbard's injury that according to the Panthers, he could have returned from, if the game had not been a blowout).
Jerick McKinnon, Chiefs (8% rostered)
With Isiah Pacheco already sitting at 50% rostered, I am hoping you want to add another part of the Chiefs' backfield. McKinnon once again topped 40% of snaps in week seven against the Niners, in a game where the Chiefs were mostly winning, so it wasn't due to a negative game script. McKinnon is more of a "stash and see" given the Chiefs' lead back (Clyde Edwards-Helaire) struggling to maintain relevance.
Tyler Allgeier, Falcons (40% rostered)
Has Tyler Allgeier taken over to be the lead back in the Falcons backfield over the last three games, without Cordarrelle Patterson? Yes. He has 44 carries in three games. Has he been really bad with the carries? Also, yes. Patterson is just chasing volume and hoping that you get a touchdown. He's also a short-term play until Cordarrelle Patterson returns from IR.
Latavius Murray, Broncos (40% rostered)
Murray played about 39% of snaps in this one and finished with 10 touches for 23 yards. That's not an inspiring line, but Mike Boone, who he vanquished (and who suffered an injury) had just 9 snaps. The Broncos went and signed Marlon Mack off the 49ers' practice squad, and Melvin Gordon solidified his role as the RB1 in this room. So, this is basically getting the guy leading the way as the second RB in the Denver backfield.
Wide Receivers
Wan'Dale Robinson, Giants (29% rostered)
Wan'Dale Robinson (a former Sicko Stash of the Week) has double-digit fantasy points in back-to-back games for the G Men, and he did it in this one on 8 targets, which he turned into 6 catches for 50 yards. Robinson is the most talented receiver on the Giants' roster, so he should be due for a number of big games going forward, especially with the Texans and Lions on the horizon. You can add him and throw him right into your lineup if needed.
Joshua Palmer, Chargers (20% rostered)
Joshua Palmer didn't play this week (because of a concussion) and won't play next week (because of the pesky bye week), but Mike Williams won't be playing anytime soon. Brandon Staley described the situation as an injury that will cost him, "weeks, not days" and there is no timetable for his return from the high ankle sprain. Palmer fits the Mike Williams role better than any other player on the Chargers, and if you don't need someone to play in week eight, he's your best add-and-stash (though you can probably wait for waivers to clear because of the looming bye week). Palmer was getting more involved prior to his concussion (taking advantage of a Keenan Allen injury), getting 18 targets for 12 catches and 81 yards in weeks five and six.
Zay Jones, Jaguars (18% rostered)
Zay Jones had ten targets in week seven, which gives him at least eight targets in four-of-six games this year, and an average of 5 catches for 49 yards. This one also wasn't a situation where Jones was the fallback of a desperate offense, as Travis Etienne and Christian Kirk both had big days. It appears as though Zay Jones has been elevated to the WR2 on the Jaguars, and you should go out and add him. He has a tough matchup in week eight (Denver) but gets the porous Raiders pass defense in week nine.
Parris Campbell, Colts (5% rostered)
Before week six, Frank Reich said that he wanted to get Campbell more involved. Campbell then had 23 targets, 17 receptions, 127 yards, and two touchdowns in the last two games. The only problem? The Colts turned to Sam Ehlinger at quarterback, which pretty much means that the whole passing game is about to take a nose dive.
Darius Slayton, Giants (2% rostered)
Slayton notched 3 catches for 58 yards and a touchdown, on six catches in week seven. Despite his disappearing act in week six (one catch for 18 yards), he has at least 13.9 PPR points in two of his last three games, and the Giants are likely looking for some sort of stability at WR behind Wan'Dale as the boom-bust receiver. Slayton has tasty dates with Seattle, Houston, and Detroit coming up. He has the bye tossed in there, but during other players' byes, Slayton could very much save your week.
Marquise Goodwin, Seahawks (1% rostered)
Goodwin stepped in admirably to fill in for an injured DK Metcalf in week seven and should have some relevance as long as Metcalf is out. Unfortunately, this is a pickup with an indeterminate end date, so I can't prioritize it, but you should still toss a low FAB offer out on Goodwin just to see what happens next week in Seattle. Don't expect him to be anything more than a boom-bust WR3 unless something change, but you should still have that profile on your fantasy football roster.
Tight Ends
Cade Otton, Buccaneers (14% rostered)
As long as Cam Brate is on the shelf, then you should have Cade Otton in your lineups. Throwing to tight ends seems to be the only thing that works on a consistent basis for the Buccaneers, as Brate and Otton have combined to average over 7 targets over the last four weeks. It's not a very straightforward statistic since Brate worked in and out of the lineup with injuries, but if Brate is to miss yet another week, it's wheels up for Otton in week eight. Otton gets the porous Ravens' defense in week eight.
Greg Dulcich, Broncos (12% rostered)
Dulcich has played two games and has two double-digit PPR days. In week six, it came on the back of a touchdown. In week seven, it came because Brett Rypien got too scared to wait for Courtland Sutton or Jerry Jeudy to get open, so he threw the ball to Dulcich nine times. Either way, not even Travis Kelce has 100% a career double-digit PPR rate like Dulcich! He gets the Jags in week eight, who went so far as to try to blind Daniel Bellinger to stop him from producing, and then he takes a quick vacation to Byeville. If you don't trust him against the Jags (who allow the eleventh-fewest fantasy points to tight ends) then don't pick him up!
Want more 2022 fantasy football discussion? Check out these links!
Discord!
Podcast!
Patreon!
Twitch!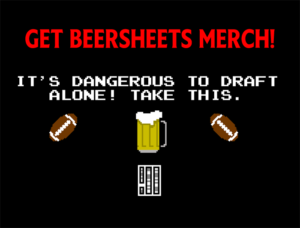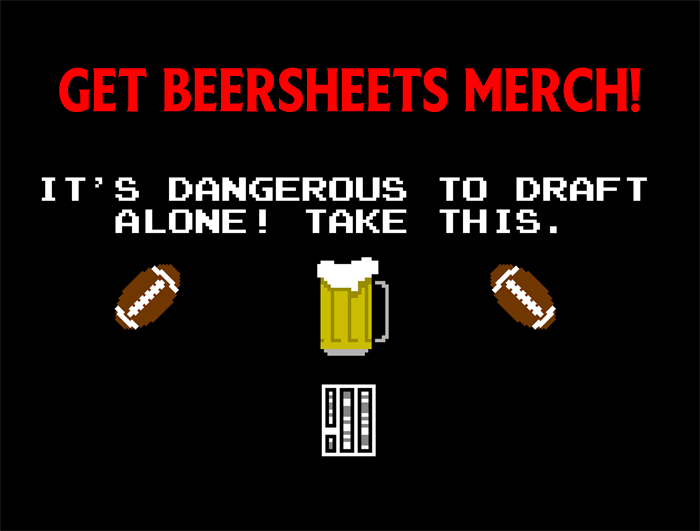 [Image Source: https://commons.wikimedia.org/wiki/File:Shoes_in_telephone_wire.jpg under CC BY SA 2.0]