Everything with humanity is invented. Not just football and languages, but our preference for things like the base-ten counting system. The base-ten system is our way of counting; grouping things into groups of ten. But, we love to group things into ten. And boy, am I glad that ten tickles our brains just right. Could you imagine how long it would take me to write this if it was a base twenty-three system? It would be chaos. And does twenty-three sound like an arbitrary number? Well, ten is, too. It's just been arbitrary for longer. Now, let's take a look at the top-ten wide receivers for 2022 fantasy football, and it's ten because our brains want to believe that means that they're good, and it holds special significance… for some reason.
WR1: Cooper Kupp, Los Angeles Rams
It was difficult to decide between Kupp and Jefferson for the top spot; I just knew that the question marks surrounding Davante Adams and Aaron Rodgers had more to do with this top spot than Cooper Kupp. BUT that isn't to say that Cooper Kupp isn't deserving of the top spot. Kupp had just one game under 90 receiving yards, and with 16 games of 90+ yards, he is the single-season record holder for that feat, usurping Antonio Brown's thirteen such games. He also tied Michael Irvin and Calvin Johnson with 11 100+ yard games. Kupp is simply a consistent brutalizing force for the Los Angeles Rams Super Bowl Champion offense.
WR2: Justin Jefferson, Minnesota Vikings
If I had to pick the next guy to break out to 2020 Stefon Diggs levels, where he gets a high number of valuable downfield targets, and he catches a ton of them, I would go with Justin Jefferson. The sophomore wide receiver notched 1616 yards last year, after totaling 1400 in his 2020 rookie campaign. He is the first wide receiver to notch over 3,000 receiving yards in his first two seasons, and the first to notch 2,800 receiving yards. He broke Odell Beckham's record of 2755 receiving yards in his first two seasons. Even better? He's not only top-ten in air yards, he's also top-ten in yards after the catch. The sky's the limit for Jefferson, and he's a shoo-in to break the record for most yards in the first three seasons of a WR's career; he needs just 44 yards per game to get that record.
WR3: Davante Adams, Green Bay Packers (for now!)
Davante Adams is where you have to start whenever you're making a list of best NFL wide receivers. If you start anywhere else, you screwed up. But, this isn't just a game where we evaluate skill levels. We also have to look at the situation around the player. Adams is third because there's a very real possibility that he's the only talented wide receiver in Green Bay next year getting targets from Jordan Love. There's only so much that Adams can do with that, especially after building a fantasy football career around having a mind meld with Aaron Rodgers. Should Rodgers and Adams stay in Green Bay, or go somewhere as a package deal, then he leapfrogs back up to the WR1. For now, he stays at three.
WR4: Ja'Marr Chase, Cincinnati Bengals
Ja'Marr Chase might be too low here, and I concede that point. He was Joe Burrow's handpicked WR1 from their time at LSU, and they barely missed a beat getting Ja'Marr Chase 100 yards and a touchdown in his first career game. Chase will need to clean up some of his inconsistency, but with Tyreek Hill's inevitable aging curve hitting, there's not anyone else I want trying to get a touchdown on first and ten with 80 yards to go. Every play has a chance at scoring. He has a chance at breaking into the Justin Jefferson Club and notching 3,000 yards in his first two years. Given that Chase had 13 touchdowns this season, averaging 100 yards and a touchdown isn't outside the realm of possibility for Chase.
WR5: Deebo Samuel, San Francisco 49ers
49ers fans have taken to calling Samuel their WRB1, but there's one thing I know about the Swiss Army Knife that stirs the 49ers' offensive drink (whoops mixed a metaphor there): he's Good at Football. Samuel averaged a first down after the catch in 2021, notching 10.0 yards after the catch per reception, and he did it with an average depth of target 8.4 yards downfield. Not only that, but he rushed for 365 rushing yards and eight rushing touchdowns this season. He's also the 21st player since 2000 to run, throw, and receive a touchdown in the same season. Samuel is simply a Jack of All Trades, Master of All.
WR6: Tyreek Hill, Kansas City Chiefs
Tyreek Hill is still Tyreek Hill, but his booms and busts are not getting supplemented by middling games, which boost his value. In 2020, Hill finished the year with 5 top-5 finishes, two other WR1 weeks, four WR2 weeks, two WR3 weeks, and just two bust weeks. In 2021, Hill flipped it, finishing with five top-5 WR weeks, one other WR1 week, and eight weeks outside the top-36. That left just three weeks as a WR2 or WR3 for Hill, who transformed into a crazy up-and-down wide receiver. In the end, you were better off not starting him half the time.
WR7: Stefon Diggs, Buffalo Bills
People like to talk about how Stefon Diggs struggled in 2021, but I would love to have my WR1 struggle like Diggs struggled: he finished the year with 100+ receptions, 1200+ receiving yards, and 10+ touchdowns. All those figures were top-two in those categories for his career, so if that's a step back, I'll take it. Diggs is 28, tied to the best quarterback in the NFL, and he has a connection with him that should persist for several years. Allen2Diggs belongs in the same conversation as Rodgers2Adams and Mahomes2Hill.
WR8: Diontae Johnson, Pittsburgh Steelers
Diontae Johnson doesn't get out of bed unless he's guaranteed ten targets, getting 22 double-digit target games in the last two seasons. He's a high-volume receiver and the #1 option in the Steelers' offense that will have some turnover in it next season. There's no Big Ben, so this ranking is open to some serious changes going forward, depending on who is under center. There are a few options that could make him go lower, and two of them are already on the roster. If the Steelers make a splash for Aaron Rodgers, Diontae goes in the top-five. If they make a splish for Jimmy Garoppolo or Kirk Cousins, then he stays pat. If they don't get anyone, then goodbye Diontae Johnson: Top Ten Wide Receiver.
WR9: A.J. Brown, Tennessee Titans
This time last year I was gearing up to get spicy to put A.J. Brown as my (temporary) fantasy football WR1. But, his knee issues persisted, then he got hurt again, then Ryan Tannehill was bad, and everything fell apart. Luckily, I had hedged my enthusiasm so I didn't look insane for having him ranked that high. But he still sorta earned being ranked very high. A.J. Brown had nine or more targets in eight games last season, and he had at least 90 yards in five of them. Brown has all the talent in the world, it's just a matter of staying healthy and Tannehill helping to get the offense's head screwed on the right direction (and the Titans not giving every conceivable touch to Derrick Henry).
WR10: Keenan Allen, Los Angeles Chargers
Keenan Allen is simply a metronome of WR10 production. Year in and year out, you can wind up Allen and get 6-7 catches for 70-75 yards per game, which he's averaged in each of the last five seasons. Allen also has either six or eight touchdowns in each of his last six years. Wind him up, watch him go, and enjoy your top-ten WR numbers on a weekly basis.
Honorable Mentions:
D.K. Metcalf, Seattle; Jaylen Waddle, Miami; CeeDee Lamb, Dallas; DeAndre Hopkins, Arizona; Calvin Ridley, Atlanta
Do you want more 2022 NFL discussion? Then check out these links!
Discord!
Podcast!
Patreon!
Twitch!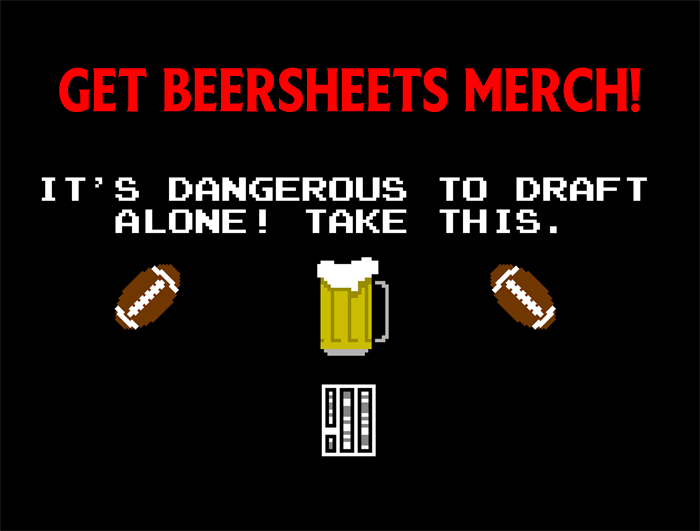 [Image Source: https://upload.wikimedia.org/wikipedia/commons/5/51/Cooper_Kupp.jpg, cropped under CC BY SA 2.0]