In online Major League Baseball circles, there's an acronym that fully encapsulates the volatility of projecting young pitchers to future success. They call it "TINSTAAPP" (pronounced tins-tap), and it stands for There Is No Such Thing As A Pitching Prospect. Trying to hug these players and refusing to move on from them in order to get established players is the path to ruin, as the theory goes. Their hit rate is extremely low, and you're better off letting someone else try to develop them. There is no such thing as a pitching prospect. It has a nice ring to it. But what about fantasy football? What about running backs? What about the vaunted category of a Bounce Back Running Back?
Today, I propose TINSTAABBR, or tin stabber. With tin stabber, I propose the following: there is no such thing as a bounce-back running back. Yes, I took license with the B in back. Tin-stab-berb sounds nowhere near as cool as tin stabber.
To give proper context to my thought process for this, I need to ramble on some more in this prelude. I don't pretend to be an investor, but there's an investment term called the "falling knife." The falling knife, in short, is something that is dropping precipitously. Trying to catch it before it hits the ground presents a great risk to yourself. You could get in on a dip, for example, at $15 a share on a stock that bottoms out at $2 a share. That's "trying to catch a falling knife."
You could pull it off, but it's a high-risk behavior that will more than likely end up with you cutting your hand on the blade. That philosophy is one I thought I wanted to take with running backs headed into the 2020 season, but I created exceptions to the rule. "Oh, Todd Gurley might take a step back but look at the value. If he doesn't take a step back, look out!"
To start this project, I simply googled "2020 bounce back running backs." I collected preseason articles from Dynasty Nerds, Rotowire, Pro Football Focus, Razzball, MSN, The Fantasy Authority, Bleacher Report, and Rotoballer. I then looked at the articles and stripped out anyone who wasn't a true bounce back (how can David Montgomery bounce back, he's a sophomore?, how does Kareem Hunt bounce back, his problem is volume?). I then only went with players that appeared in multiple articles, to narrow down the list. That left me with a list of five players you're probably thinking of: Todd Gurley, David Johnson, James Conner, Le'Veon Bell, and Chris Carson. Mark Ingram and Leonard Fournatte also went in this range, and arguably were falling knife running backs, but not players anyone thought would bounce back this season.
These five running backs pretty much made up your RB2 ranks this season, with all five going between RB15 and RB3. They all went between picks 31 and 48, so round three and four. Ben Gretsch looked at this and calls it the "Running Back Dead Zone." This is taking that theory one step further: it is a dead zone because it is where we take our falling knife running backs that end up injuring us. You can see one trend to these players: guys who have fallen from extremely great heights, but people still latch onto 2018 and before as their upside. That's the "falling knife" and the reason they're called bounce backs. But I must once again remind you, TINSTAABBR.
So, let's see how the falling knife running backs fared this season. As I said, they all went between RB15 and RB23. Four of the five finished in the RB2 range (James Conner finished as RB25, so I am being generous there). The fifth, Le'Veon Bell, fell all the way down to RB64 in the final rankings. Bell represented the worst-case scenario of these falling knife backs; they don't bounce back and they continue to fall.
What of the rest of them? The other four finished in the RB2 range, so a decent value (average finish: RB20.5). Here's the rub, though. Only David Johnson returned any sort of value by finishing as more valuable than his draft price. Even then, he went as the #23 running back off the board and finished as RB18. Not exactly world-killing value. That's the story of all of these guys that don't crater like Le'Veon Bell. Of the four bounce back running backs, Chris Carson returned exact value whereas James Conner and Todd Gurley both dropped eight spots in the ranks. If it were an RB-only draft, they both lost nearly an entire round worth of value.
Consider, then the other players available in 2020 between Chris Carson and David Johnson: A.J. Brown, Jonathan Taylor, and Calvin Ridley. D.K. Metcalf, Darren Waller, and Stefon Diggs all went in the round after David Johnson. That's a meaty group of (mostly) wide receivers, with Jonathan Taylor standing out as the upside back in that tier.
So, there you have it. Don't draft bounce back running backs. There's No Such Thing As A Bounce Back Running Back. Well, there are bounce backs, but you have to control for injury when considering them (2021 Christian McCaffrey, for example). If you want to bank on a bounce-back running back solely on the reasoning that "he did it before" or some splits and extrapolated touchdown production, you're going to have a bad time. These backs finish at-or-near ADP, as a matter of course, unless they crater. Upside running backs, wide receivers, and tight ends going in their average draft range are better bets than a bounce-back running back. There's no upside to taking bounce back running backs.
Because TINSTAABBR.
If this has you hankerin' for some fantasy sports, try out Fan Duel! That link lets them know we sent you! It also gets you a 20% deposit match up to $500!
Then, follow Football Absurdity on Twitter!
After that, get free fantasy football advice by joining our Discord!
Finally, if you like what you read here, check out our podcast and our Patreon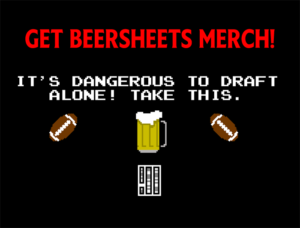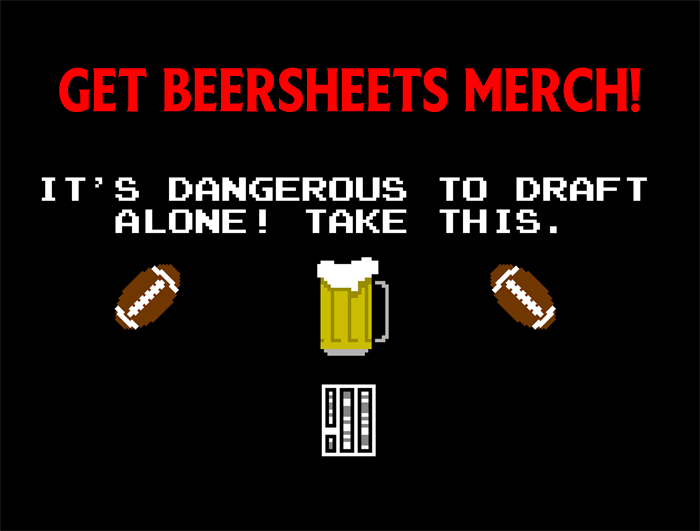 [Image Source: https://commons.wikimedia.org/wiki/File:LeVeon_Bell_(cropped).jpg, cropped, under CC BY SA 2.0]