The Indianapolis Colts' starting quarterback didn't suddenly retire right before the season. So, from that standpoint they already had a better 2020 than 2019. Still, they had a pretty good year! They made it all the way to the playoffs, where they took the Bills down to a last-second hail mary before falling in the Wild Card Round. What should we remember about this iteration of the Indianapolis Colts as we prepare for our 2021 fantasy drafts?
What to Remember from the 2020 Indianapolis Colts Season
Let's just get Jonathan Taylor out of the way first. The Indianapolis Colts threw their rookie running back into the fire after losing Marlon Mack for the season in week one. He ended up with 101 rushing yards on 26 rushes in week two, but then had just 432 total yards in the next seven games combined. The final season numbers get wallpapered over by a hot finish against the Jaguars (254 total yards), but Taylor struggled at points in his rookie year. He ended up averaging 97.8 total yards per game. If you don't count the week seventeen game against one of the worst run defenses in the league, he averaged 86.7 yards per game. Still great, but that one game added 11.1 yards per game to his average. He's set to be a top-12 back in all formats in 2021 but remember that split.
Between Trey Burton, Jack Doyle and Mo Alie-Cox, we wildly played whack-a-mole with the Colts' tight end de la semaine in 2020. We kept trading off who we thought was the most valuable. But, on a per-target basis, Mo Alie-Cox was one of the most efficient tight ends in the league. He ended up with just 38 targets last season but ranked first in yards per target and second in catch rate. He also ranked top-ten in true catch rate, yards per reception, yards per route run, and fantasy points per target. Should the Colts clean up that tight end room and lean into Mo Alie-Cox, the afterthought third-year tight end could return great value in 2021.
Philip Rivers' arrival in Indianapolis heralded a major improvement among the Colts' position players. This was especially true of Nyheim Hines. Hines ended the season as a top-20 running back due to his passing game prowess. Hines ranked third in running back targets, and the Indianapolis Colts ranked fifth in running back target rate. When all was said and done, Nyheim Hines ended with a 14% target share. Throughout his career, the #1 targeted running back received, on average, 14.1% of his targets. That doesn't seem to have changed in 2021.
We thought that T.Y. Hilton was back. Unfortunately, he was not. From weeks we through 16, Hilton averaged 4.8 receptions for 81.6 yards per game, while scoring four touchdowns in five weeks. That paced out to a vintage Hilton 1,306 yards (and 13 touchdowns). Unfortunately, outside of those games, he topped 55 yards just once and averaged 44.6 yards per game on 6.9 targets. The vintage T.Y. Hilton wasn't really back, he just played the Texans twice and two of the worst pass defenses in the league (the Raiders and Titans). He turns 32 next season, and I wouldn't use a draft pick on him in 2021.
If you remember one thing about the Colts' playoff game, it's probably Michael Pittman running roughshod all over the Buffalo Bills' defense. The rookie wide receiver ended up with 101 yards on 11 opportunities in the game. Pittman didn't really wow too much during the year, averaging three catches for 39 yards during the regular season. But you can't forget the injury he suffered in week three, which led to compartment syndrome. The rookie underwent surgery to alleviate the internal pressure on his leg to prevent him from losing it. Tyler Lockett went through the same thing in 2019 before he cratered. I'm willing to give the kid a mulligan on his rookie season, considering partway through it he wasn't 100% certain to still have a leg at season's end.
If this has you hankerin' for some fantasy sports, try out Fan Duel! That link lets them know we sent you! It also gets you a 20% deposit match up to $500!
Then, follow Football Absurdity on Twitter!
After that, get free fantasy football advice by joining our Discord!
Finally, if you like what you read here, check out our podcast and our Patreon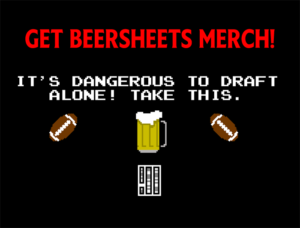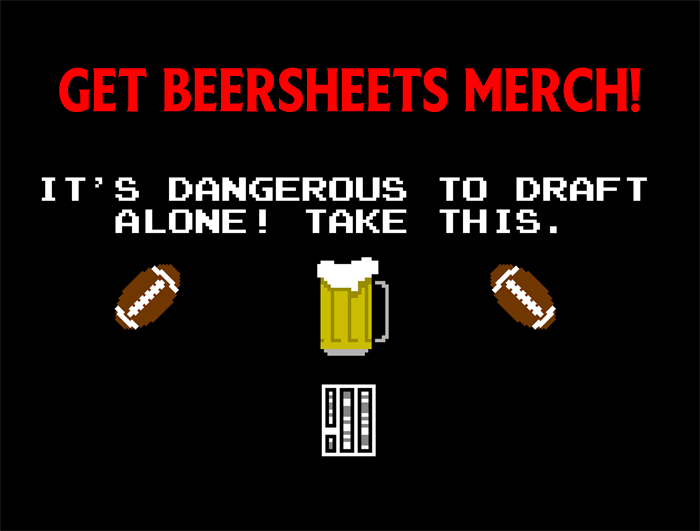 (Header Image Source: https://www.flickr.com/photos/keithallison/29791415287 under CC BY-SA 4.0)