Well, the mad lad went and did it. Tom Brady sent the free agency world ablaze on Tuesday, announcing in the morning that he would no longer be on the Patriots through social media. By the evening, we had a bit more information. First, the fake accounts came, and definitely didn't get me. Don't you dare say I was taken in by a fake Adam Schefter. How dare you? By the evening, the blue checkmarks started to let us know, and before the night was out, the official NFL account informed us. Tom Brady, the face of the Patriots for so long that there are literally adults who don't remember the pre-Brady time, will play for the Tampa Bay Buccaneers in 2020. How much is Brady making? What does this mean for the Patriots, and for the Buccaneers? More importantly, what does this mean for your fantasy football teams?
Tom Brady's Contract
According to Ian Rapoport on NFL Network, Brady's contract with Tampa Bay is a one-year deal. He's set to make "around" $30 million per seasons, though specifics were not provided.
[Update: Tom Brady's contract is a two-year deal, with $50 million guaranteed and another $9 million in incentives, per ESPN's Adam Schefter].
Tom Brady in Tampa Bay
I'll get this out of the way. I'm… concerned. I don't want to get political but remember recently a certain high-profile politician insisting everything is fine, repeatedly and loudly, and that we are overblowing things. Well, now the Dow Jones tumbles a point every time someone leaves the house, and we are officially in a pandemic. That's sort of how I feel about the people wallpapering over the Tom Brady-Bruce Arians mismatch for 2020. Arians has always had big-bodied, strong-arm quarterbacks. His motto was "no risk it, no biscuit." He found success with guys like Big Ben Roethlisberger, Andrew Luck, and Jameis Winston. Tom Brady does not fit that mold, not at all. At least, not anymore.
Tom Brady's Arm Is A Concern
People are citing things like Tom Brady's QB rating between 10 and 20 yards. Okay. Sounds great? He just rarely did that in 2019. Tom Brady's average depth of target was 9.2 yards down the field, meaning that vaunted 10-20 yard QB rating means almost nothing. He hardly threw it downfield, at least compared to Jameis. Winston's target distribution is in gold, Brady's in green: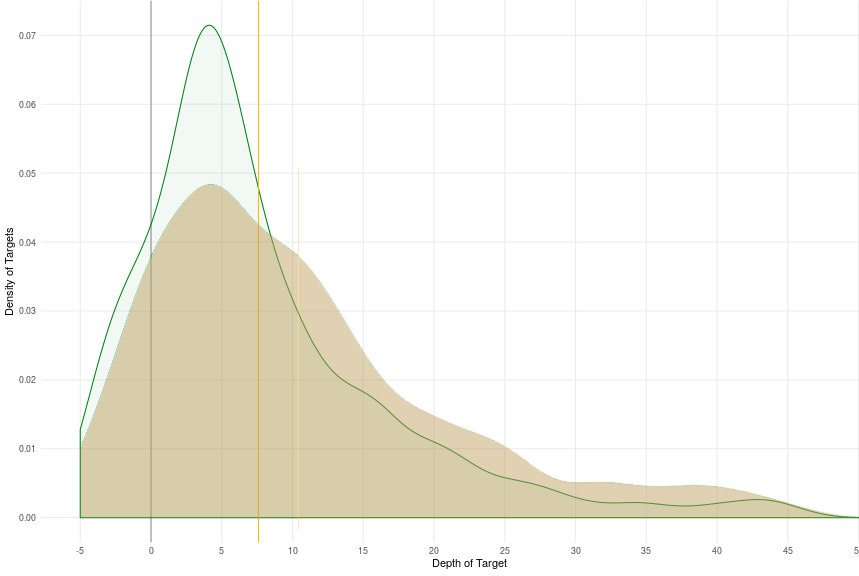 Now, a lot of people have been trying to defend Brady by saying that he didn't have the weapons to throw deep and that explains the quick strike offense. I have an alternate theory: Brady doesn't have the arm to throw deep anymore, at least not all game. It explains why he falls off a cliff for fantasy football seemingly every December. His arm fatigues. There's nothing wrong with that, but it happens. It happens in-game.
Here is a chart of his 2019 pass accuracy by depth (first quarter):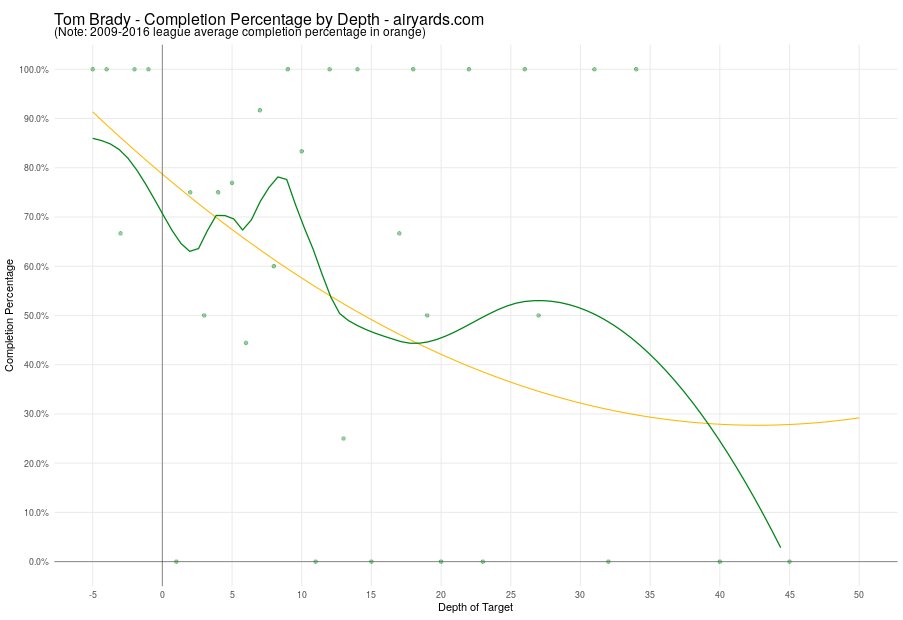 Here it is in the fourth quarter: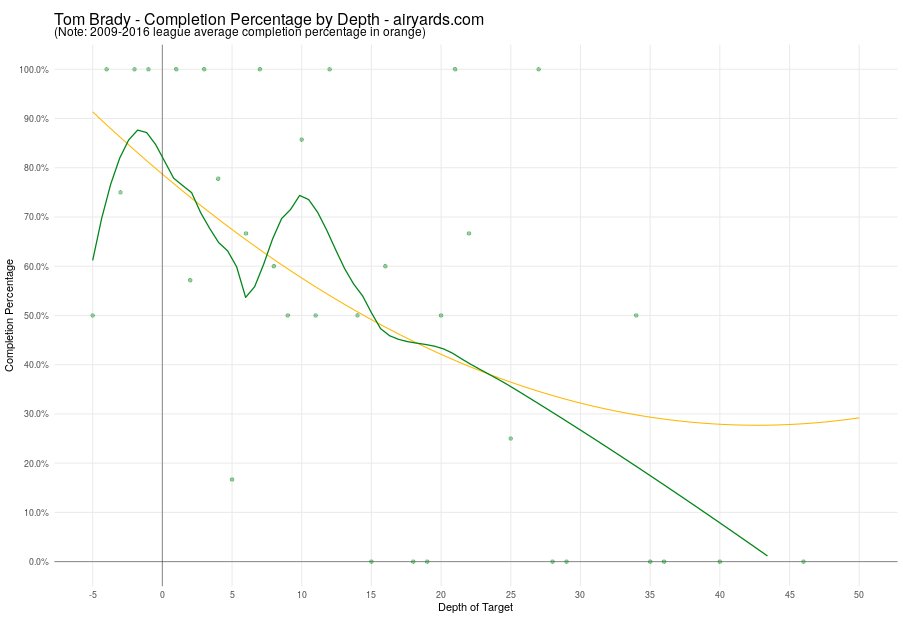 That's… Not good.
What this Means for Fantasy Football
I'm concerned about Mike Evans, whose 15.3 average depth of target was the highest among all wide receivers with over 90 targets. It feels insane that people want to say to not worry about Mike Evans. He is exactly the type of guy you should worry about! Now, it's too fresh to see where he slips, but he is likely going to stay as a middling WR2 in my rankings. His cohort, Chris Godwin, however, is going to feast. Chris Godwin played slot receiver for the Bucs last year over 50% of the time. People are falling all over themselves to figure out who will be Brady's slot receiver because Godwin doesn't match the profile of a Wes Welker or a Julian Edelman. He's a locked-and-loaded top-five WR next year.
We then get to the miscellaneous members of the Tampa Bay Buccaneers. Ronald Jones II better learn how to catch really quick, or he's getting replaced. Ah, who am I kidding? He's getting replaced in the draft. Please, kindly ignore my Ronald Jones II sleeper piece from about a week ago. Then, we have O.J. Howard. Brady has cooked with tight ends before, but Bruce Arians never used tight ends. It will be a real conundrum for draft stock. Monitor Howard's draft stock and if it gets anywhere north of the eighth round, punt on it. Eighth or later makes for a nice hedge to price in his downside.
As for Tom Brady, he falls in that QB9 to QB15 range where you want two of those guys on your roster. The weaponry will likely carry him and wallpaper over any faults, but they still exist. If he gets off to a blazing fast start, trade him to the guy in your league who bets on 43-year-old QBs.
What This Means for The New England Patriots
The Patriots are in scramble mode and might be starting Jarett Stidham next year. Or Cam Newton. Maybe a rookie? Who knows. That team is going to be a mess next year unless Belichick pulls another Matt Cassel rabbit out of a hat.
If this article has you hankering for some fantasy sports, try out Fan Duel! That link lets them know we sent you! It also gets you $5 bonus cash to play with if you make a deposit.
Then, follow Football Absurdity on Twitter!
After that, get free fantasy football advice by joining our Discord!
Finally, if you like what you read here, check out our podcast and our Patreon!
(Header Image Source: https://www.playitusa.com/wp-content/uploads/2019/10/Austin-Hooper-2019-Fantasy-Outlook-1280×720.jpg under CC BY-SA 4.0)