The NFL calendar says we just finished week fourteen, but this really feels like Christmas to me. I am a deflated Chicago Bears fan and well, we have nothing to play for anymore. I mean 2019, gone. 2020 draft, gone. 2021 draft almost gone too (Gase we love you so, so much). This past week, on the third straight national game, the Dallas Cowboys rolled over for their opponent to scratch their tummy. The math says they are alive, but their three-game skid in December tells me this team is a shell of its hype. I am sorry for your loss Cowboys, but your season is over. 
The Dallas Cowboys entered the game at 6-6 which for 2019, is exceptional for the NFC East. Dak managed to throw for over 300 yards on a tough Chicago defense. Alas, it was all for nothing as the Cowboys defense was mesmerized by the twinkle in Mitchell Trubisky's eyes.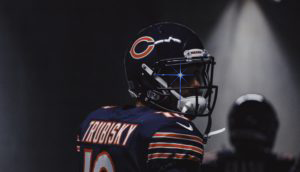 The opening drive was impressive. Zeke rushed for 75 yards and pushed in for the TD. That sort of offensive productivity scared the crap out of Jason Garrett so he chose to go the opposite way and let Zeke finish his fifth straight game under 100 yards rushing. I get it. Dak does that hip-shaking warm up a few weeks ago and the coach wants to see that go live. 
The Cowboys are a roller coaster team whose games are as choppy as their entire season. They controlled the first quarter with a TD and a red zone interception, but then waited until garbage time to make a respectable box score.
Dallas brought their trademark screendoor defense as Mitch Trubisky had his best day in 2019. Mitch threw for three touchdowns then scrambled for a score on his own to toss some salt in the wounds. 
Fun fact: (former) Cowboys kicker Brett Maher has missed ten field goal attempts this season. The most in the NFL. Pretty sure he'll be joining Cody Parkey as your server at TGIFridays pretty soon. 
Prescott was able to salvage his stats in the fourth quarter but at that point, it was purely to help the fantasy football industry. The Cowboys are technically in first place at 6-7 but this backward slide is not going to end with a miracle finish. Jerry Jones can stammer post-game for a couple more weeks but the fact they didn't run away with this dumpster fire division is a reflection of the hollow roster he has lined up.
We can end 2019 by confirming that the Cowboys are not 'America's Team.' Well, maybe they still are. After all, they are their own hype machine and love living in the glory days of decades past.
Every week, Mike Maxwell welcomes another team to the offseason. You can see the rest of his Sorry For Your Loss obituaries here.
For more football with a dose of absurdity, follow Football Absurdity on Twitter or get free fantasy football advice by joining our Discord.
(Header Image Source: https://www.flickr.com/photos/keithallison/38021450692)