Week 7 in the NFL caught a little bit of the college homecoming vibe in Chicago when Sean Payton brought his physically bruised Saints team to the emotionally bruised Chicago Bears. Coming off being embarrassed in London, the Bears were at home, against a team missing three key offensive starters. The irony is that Nagy called only seven running plays while the Bears fan base was running for the hills, (or maybe just the 2020 QB draft pool). I am so sorry for your loss Chicago Bears fans. Your season is over. 
Wait, aren't the Bears 3-3?! That's not terrible?! In the NFC North this year it is. There is no way they can get past the Packers or Vikings. The Lions probably will split the season with them. The only time Trubisky looked good this year was against Washington, the most inept franchise in decades. 
The Bears ran the ball seven times. The rest of the time their offense was in the hands of a quarterback who looks like he struggles to spell his own name. I could understand passing the ball 54 times if GM Ryan Pace actually drafted Patrick Mahomes or Deshaun Watson like he could have.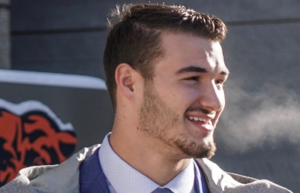 He should start playing in a suit to develop a reel for his
inevitable job as a sideline reporter in two years
Credit has to be given to Tramon Williams for calling out how to beat the Bears. 'We knew if we could make [Trubisky] play quarterback, we would have a chance." Who wouldn't do that? Trubisky has enough football experience to garner the title of QB intern. 
Teddy Bridegwater and Latavius Murray had a mini Vikings reunion in the Chicago endzone all game, combining for four touchdowns. On the other side, the Bears are still waiting to cross over 300 yards of total offense this season in any game. 
Doctors, fans, and scared parents are all calling for the end of kickoffs and punts in football. Please don't do this because you'll end up removing about 40% of Chicago's scoring potential. 
Trubisky was quick to comment after the game. "We just have no rhythm," He said. "It's not about pointing fingers. We're struggling as an offense." Which is completely true. It reminds me of when I got a flat tire and admitted that my car was struggling with driving. Fortunately, I was able to find a replacement within a day. I didn't get stuck with that blow out for two more years.
The bar was raised on Chicago and Trubisky at the start of the season, and justifiably. It is his third NFL season, (and only his fourth post-high school season). Flash-in-the-Pan Coach Nagy was able to move the team forward with some innovative schemes. It appears he's fallen in line as a Bears coach where he has a stellar defense propping up a paper thin offense. 
As a Bears fan, you look for answers. GM Ryan Pace made this team. So you either applaud him for getting Mack, or blame him for trading up for a guy who would need to hold Daniel Jones's clipboard in NY right now.  
We are a little over a week from Halloween and I'm pretty sure anyone with a 10 jersey is adding a clipboard to their costume.
For more Mike Maxwell, get on his Twitter
[Photo Credit: https://www.flickr.com/photos/glaciernps/4427396831 under https://creativecommons.org/licenses/by/4.0/deed.en)]