The Tampa Bay Buccaneers thought they would be a team in transition this season. After all, Tom Brady retired, Chris Godwin tore his ACL, and Rob Gronkowski is on the verge of succumbing to his back issues for the second time. But, then Tom Brady returned and everything changed. After all, when you have the best quarterback of all time, your window extends slightly. There were rumors of power battles with Bruce Arians, but he stepped down, which… just fully solidifies those rumors. The Buccos tooled up for another run at the Lombardi, with three fantasy-eligible players among their seven picks in the draft. What can we expect from the seven newbies in Tampa?
FULL TAMPA BAY BUCCANEERS DRAFT RESULTS
| | | | | |
| --- | --- | --- | --- | --- |
| Rd. | Pick | Player | Pos. | College |
| 2 | 33 | Logan Hall | DE | Houston |
| 2 | 57 | Luke Goedeke | OL | Central Michigan |
| 3 | 91 | Rachaad White | RB | Arizona St. |
| 4 | 106 | Cade Otton | TE | Washington |
| 4 | 133 | Jake Camarda | P | Georgia |
| 5 | 157 | Zyon McCollum | DB | Sam Houston St. |
| 6 | 218 | Ko Kieft | TE | Minnesota |
| 7 | 248 | Andre Anthony | DE | LSU |
Round 3, Pick 91 Overall: Rachaad White, Running Back, Arizona State (6'0" 214 lbs)
Depth Chart:
RB1:       Leonard Fournette

RB2:       Rachaad White


RB3:       Giovani Bernard
RB4:       Ke'Shawn Vaughn
TALENT
White is a lot of fun to watch and he can line up all over the place, and do pretty much anything you ask of him. He has great hands, he's shifty and versatile, and he breaks and snatches ankles en route to the end zone. White fights through holes which helps make up for his good-not-great speed. He doesn't really burst through the hole, either. He's somewhere on the D'Andre Swift spectrum, but he's not quite D'Andre Swift. Though, he is a lot like a D'Andre Swift backup who used to play in Green Bay. White reminds me a lot of Jamaal Williams, but he really reminds me of Kenyan Drake or David Johnson; a guy who is best-suited catching passes but who can also carry the ball enough to call him "well-rounded."
2022 OPPORTUNITY
The Buccaneers had a problem last season when they needed to spell Leonard Fournette. If Ronald Jones was on the field, he wasn't going to catch the ball. And then, if Giovani Bernard was on the field, he wasn't going to run the ball. So, the Buccaneers went out and got themselves a running back who can do both, and who could spell Leonard Fournette for long stretches should Fournette succumb to injury in 2022. It's just smart roster construction on their part, which will give them play-to-play flexibility, as well as game-to-game support in the backfield.
That having been said, I fully expect Fournette to be the major side of this platoon, likely snagging about two-thirds of the touches and snaps out of the backfield. Because of that, Rachaad White starts his career as a late-round dart throw in moderate depth-to-deeper leagues.
2022 FANTASY FOOTBALL OUTLOOK
It's hard to fully step away from rookie running backs behind just one guy. After all, one misstep and suddenly Rachaad White is getting fifteen touches per week with Tom Brady's offense. Because of this, in deeper leagues, you can throw White on your bench to wait-and-see. However, until we see how things shake out, there are about 40-50 running backs I'd rather have than Rachaad White.
TALENT
2021 OPPORTUNITY
2021 FANTASY FOOTBALL OUTLOOK
Round 4, Pick 106 Overall: Cade Otton, Tight End, Washington (6'5" 247 lbs)
Depth Chart:
TE1: Rob Gronkowski (maybe)
TE2: Cameron Brate

TE3: Cade Otton


TE4: Ko Kieft
TALENT
When I first saw Cade Otton play, he impressed me. He's a good and smart route runner, with good hands, and a knack for finding holes in zones. Unfortunately, he plays a lot smaller than his height and weight would suggest, with linebackers and stronger safeties manhandling Otton both before and after catching the football. But, he does still have enough deep speed and underneath shiftiness to offset this issue. Because of this, you have to account for Otton on all three levels.
All told, he is a good tight end, but not great. He could develop into a part of The Tight End Blob in just a couple of years. But for now, there's nothing transcendent about his game.
2022 OPPORTUNITY
There's currently one person on planet earth who knows how many opportunities Cade Otton might have this season, he's currently somewhere in the middle of an Axe Body Spray cloud near the DJ booth at a club. Rob Gronkowski's maybe-retirement casts a questionable air over everything the Buccaneers might do this offseason. For now, we have to wait and see for the Buccaneers. But, one thing is clear: unless Otton gets a ton of touchdowns, he won't get enough targets to matter.
2022 FANTASY FOOTBALL OUTLOOK
Two tight ends broke through last year as rookies, seemingly breaking the conventional wisdom surrounding tight ends. All it took was a generational tight end in Kyle Pitts, and a very, very good tight end in Pat Freiermuth scoring seven touchdowns for multiple TEs to get fantasy relevance. Unless you know something about Cade Otton that the rest of us don't, you can safely ignore him for your 2022 redraft leagues.
TALENT
2021 OPPORTUNITY
2021 FANTASY FOOTBALL OUTLOOK
Round 6, Pick 218 Overall: Ko Kieft, Tight End, Minnesota (6'5" 265 lbs)
Depth Chart:
TE1: Rob Gronkowski (maybe)
TE2: Cameron Brate
TE3: Cade Otton

TE4: Ko Kieft
TALENT
I will admit to the fact that I had never heard of Ko Kieft before the Buccaneers called his name in the 2022 NFL Draft. Despite sounding like he should have gone to college on Coruscant, not in Minnesota, Kieft has some talent. Unfortunately, it's not talent that we care about in fantasy football. In 2021, he played in thirteen games and caught just seven passes for 101 yards and a touchdown. Kieft is a blocking tight end, (and might be the best in this class), and he showed very little regard for sullying his hands by letting them touch a football. He should be a good addition to the Buccaneers, but he isn't a player we care about for fantasy football.
2022 OPPORTUNITY
A lot of players would have to straight-up die, not just on the Buccaneers, but in the world writ large, before we cared about Ko Kieft for fantasy football this year. He will likely be a blocker first and foremost, meaning any production will be ancillary.
2022 FANTASY FOOTBALL OUTLOOK
Please, don't do it.
TALENT (fantasy football only)
2021 OPPORTUNITY
2021 FANTASY FOOTBALL OUTLOOK
Do you want a Five Goodell grade? Then check out these links!
Discord!
Podcast!
Patreon!
Twitch!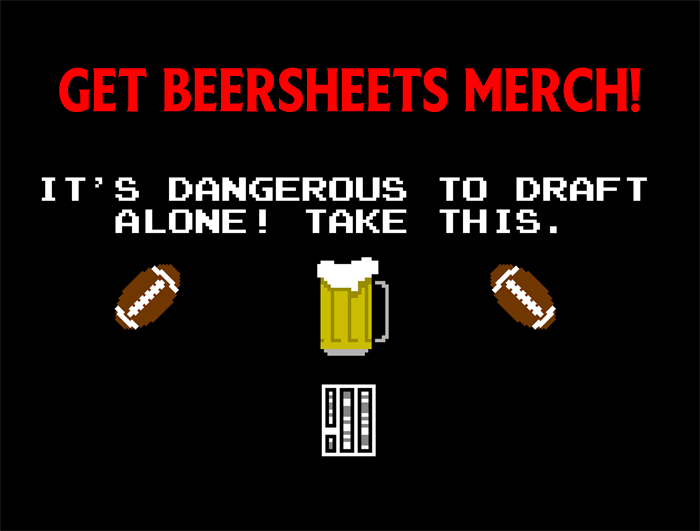 (Header Image Source: https://live.staticflickr.com/2662/4013883239_58498797b9_k.jpg by Jennifer Snyder, on Flickr under https://creativecommons.org/licenses/by/4.0/deed.en)