The Atlanta Falcons are a team in transition. After Calvin Ridley ate a year-long suspension for gambling, Atlanta struck out on Deshaun Watson, Matt Ryan forced his way out of town, and they cut Mike Davis. This left their offense as Cordarrelle Patterson and Kyle Pitts, with a dash of Marcus Mariota thrown in for good measure. They rectified this by snagging a player at every fantasy football-eligible position in the 2022 NFL Draft. Let's take a look at their 2022 fantasy football prospects!
FULL ATLANTA FALCONS DRAFT RESULTS
| | | | | |
| --- | --- | --- | --- | --- |
| Rd. | Pick | Player | Pos. | College |
| 1 | 8 | Drake London | WR | USC |
| 2 | 38 | Arnold Ebiketie | DE | Penn St. |
| 2 | 58 | Troy Andersen | LB | Montana St. |
| 3 | 74 | Desmond Ridder | QB | Cincinnati |
| 3 | 82 | DeAngelo Malone | DE | Western Kentucky |
| 5 | 151 | Tyler Allgeier | RB | BYU |
| 6 | 190 | Justin Shaffer | OL | Georgia |
| 6 | 213 | John FitzPatrick | TE | Georgia |
Round 1, Pick 8 Overall: Drake London, Wide Receiver, USC (6'4" 219 lbs)
Depth Chart:

WR1:     Drake London


WR2:     Calvin Ridley (suspended)
WR3:     Auden Tate
WR4:     Olamide Zaccheaus
TALENT
Drake London is so much fun to watch and is probably going to be an absolute mainstay in the top-fifteen WRs for years to come. The easy comparison when you watch him play is crosstown Angelino Keenan Allen. London is big (6'4") and uses every bit of his size and speed to wreak havoc underneath, where his absolutely pillowy soft hands take over. Catching the football seems secondary to him, and getting open seems to be his singular focus on every single play, no matter what it takes. He's exceptional at working defenses into letting him get open. He's best suited in the NFL as a strong possession receiver like Allen, or Michael Thomas because he does not have great long speed despite thriving as a downfield weapon at USC.
2022 OPPORTUNITY
Other than Kyle Pitts, who is getting targets on the 2022 Atlanta Falcons? Nobody other than Drake London, that's who. London is a shoo-in to end up top-three in rookie wide receiver targets this year, and should easily end up in the 120-target range. There are few rookie wide receivers who come into the league with this type of opportunity ahead of them. The only downside to all this opportunity is that it comes at the expense of being a part of a pretty bad Atlanta Falcons offense. The offense will have a new quarterback in 2022 (Marcus Mariota… or maybe the next guy) but the Falcons had the fourth-fewest yards per game last season, the fourth-lowest time of possession, and the seventh-fewest points in the NFL. It's not a good squad, but Drake London could help turn that around.
2022 FANTASY FOOTBALL OUTLOOK
Well, I want to hedge my bets a bit with Drake London, but given his FantasyPros Expert Consensus Rank since the draft (WR48, three slots behind Garrett Wilson), it's hard to say that I'm anything but all-in on London. I also fear that the WR48 ADP will end up getting cut nearly in half, with Wilson ending up in the middle-to-late 20s at the position when the draft season rolls around in earnest. Still, getting a guy who is basically a lock to get at least 120 targets is something you want to make sure you do in the middle rounds of your draft. I have no problem taking London around round seven or round eight to make sure you get ahold of that massive target volume that he is likely to see in 2022.
TALENT
2021 OPPORTUNITY
2021 FANTASY FOOTBALL OUTLOOK
Round 3, Pick 74 Overall: Desmond Ridder, Quarterback, Cincinnati (6'3" 211 lbs)
Depth Chart:
QB1:      Marcus Mariota

QB2:      Desmond Ridder


QB3:      Feleipe Franks
TALENT
The easy comparison here is Colin Kaepernick. Ridder is big and lean, and while he isn't exceptionally elusive as a runner, he carries big strides that allow him to swiftly consume open field. Ridder also has the big arm, looping delivery and scattershot accuracy, and decision-making that defined the Colin Kaepernick Era in San Francisco. Ridder trusts his accuracy more than he really should, and his absolute fastballs slam off of receivers' hands, which makes it seem like it's the receivers' fault, but it's not. Ridder is best described as a jet ski driver with a sightless rifle. Because of this, he's extremely up-and-down and the net result is a guy who got by on exceptional athleticism at the college level and who will need a lot of coaching to become anything. But, he could become the best quarterback in this class when all is said and done.
2022 OPPORTUNITY
If you told me, "the Atlanta Falcons took Desmond Ridder in the third round," I would have been excited for them, but a little confused. After all, the quarterback brain geniuses said that over three quarterbacks could go in the first, with some thinking Ridder would be among them. Obviously, that would pull the rest of the quarterbacks up. Except, that's not what happened. Ridder was the second quarterback off of the board, a feat that usually happens inside the top-ten picks. That's not only a testament to this class, but a testament to Ridder's potential upside.
The only question here is if the third-round rookie gets a chance to learn from Marcus Mariota, or if he gets to compete for the job outright. The Falcons said that Ridder, "fell into [their] lap," in the third round. That doesn't tell me that they have a set goal or objective for Ridder his rookie year, also them being The Atlanta Falcons tells me that. Likely we will have to wait and see for Ridder's 2022 opportunity.
2022 FANTASY FOOTBALL OUTLOOK
If Ridder gets the starting nod, he's a must-roster player in deeper leagues. His dual-threat skill set makes him an intriguing fantasy football commodity because he can run with the best of them. Unfortunately, I think that the talent of the players around him and the talent inside of Desmond Ridder limits his upside for 2022 fantasy football… if he gets the nod.
TALENT
2021 OPPORTUNITY
2021 FANTASY FOOTBALL OUTLOOK
Round 5, Pick 151 Overall: Tyler Allgeier, Running Back, BYU (5'11" 224 lbs)
Depth Chart
RB1:       Cordarrelle Patterson
RB2:       Damien Williams

RB3:       Tyler Allgeier
TALENT
I watched Allgeier after watching Kevin Harris, and Kennedy Brooks (lower-tier running backs), and all I can say about Allgeier is wow, he is much better than them. Tyler Allgeier is a battering ram, and he's built to stick around as a battering ram for a while. Allgeier is fast, powerful, elusive, can make a guy miss in a phonebooth, and most of all: he's strong. He plows through tacklers with ease and easily slips off would-be tacklers. Allgeier also has amazing body control and proprioception, which allows him to constantly shed tacklers and fight for extra yards. Allgeier has talent that will play anywhere, and he has a good chance to be a repeat of a 2021 rookie… Javonte Williams.
Now, I'm not saying that Tyler Allgeier is Javonte Williams. However, Allgeier does all the things that had people getting all hot and bothered over Javonte, as he was among the leaders in all of college football in broken tackles and yards after contact.
2022 OPPORTUNITY
Look at that depth chart and tell me who is keeping Allgeier off the field. Patterson is a gadget guy in his 30s, and Damien Williams couldn't find touches in Chicago last year after failing to top 150 touches at any point in his career. Oh, and he's also in his 30s. The depth chart is two old part-time running backs and Allgeier. It's hard to find a not-already-starting rookie running back in a better situation than Allgeier from a depth chart standpoint. But, like London, the Falcons' offense might limit him.
But then again, maybe it won't? After all, Allgeier wants to bash through people en route to the end zone; he wants to punish people for the mere thought of trying to tackle him. And HC Arthur Smith had a guy like that in Tennessee named Derrick Henry. Much like I'm not saying Allgeier is Javonte, I'm also not saying that Allgeier is Henry. But what he is is a guy with all the opportunity to produce once the depth chart clears up.
2022 FANTASY FOOTBALL OUTLOOK
Allgeier is likely going to be an afterthought in fantasy football drafts. He doesn't have great draft capital, he's buried on the depth chart, and he has the Atlanta Falcons stink all over him. But, we would be remiss to ignore Allgeier as a draft-and-stash player, because he could take hold of this backfield sooner rather than later. And, we got all excited about Mike Davis here, for some reason. Allgeier is already better than Mike Davis, so we should get excited about Allgeier, too.
TALENT
2021 OPPORTUNITY
2021 FANTASY FOOTBALL OUTLOOK
Round 6, Pick 213 Overall: John FitzPatrick, Tight End, Georgia (6'7" 250 lbs)
Depth Chart
TE1:        Kyle Pitts
TE2:        Anthony Firkser
TE3:        John FitzPatrick
TALENT
Uh oh, tight end controversy in Atlanta? After taking an absolute bonafide stud in Kyle Pitts in the draft last year, the Falcons follow that up with another stud muffin in the massive John FitzPatrick. That's right, if you want to see all the hype surrounding FitzPatrick just check out this hot, hot hype piece from the Atlanta Falcons: "FitzPatrick isn't the flashy tight end. He's the guy who does the dirty work. He's your blocking tight end. Remember what [Lee] Smith was for the Falcons? That's what FitzPatrick was for Georgia. Brock Bowers and Kyle Pitts? They bring the flash, the lightning. FitzPatrick and Smith? They're the thunder." That's right, don't expect FitzPatrick to be as flashy as, uh… Brock Bowers. But I'm sure this is great for Tyler Allgeier.
2022 OPPORTUNITY
He's a blocking tight end!
2022 FANTASY FOOTBALL OUTLOOK
See above! No thanks!
TALENT (Fantasy-relevant)
2021 OPPORTUNITY
2021 FANTASY FOOTBALL OUTLOOK
Do you want a Five Goodell grade? Then check out these links!
Discord!
Podcast!
Patreon!
Twitch!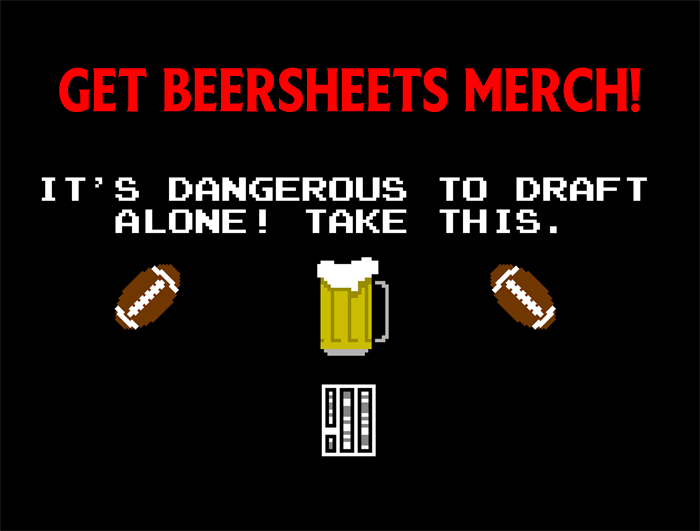 [Image Source: https://commons.wikimedia.org/wiki/File:Marine_Parkway_Bridge_Falcons_(18169671119).jpg, cropped under CC BY SA 2.0]