During a time when being frugal anywhere possible is the prudent thing, an RB35 average draft price tag for a burial plot feels like a solid deal in the fantasy football "hills to die on" marketplace. While I'm not suggesting this is some remarkable opportunity for return on investment, it is hard to argue against Tampa Bay Buccaneers RB Ronald Jones II as anything other than a rock-solid value at his position as we enter the 2021 fantasy football season. But, that does not seem to stop people from trying.
Somehow the rhetoric in the fantasy diehards space reached a point where simply pointing out that Jones II is actually not that bad means anyone who holds this stance is some disconnected ardent defender of his with no footing in reality. This author finds themselves embroiled in the thick of this debate and heck, here we are I guess. I am cheaply dying on a bargain hill. If building a reasonable case for the affectionately nicknamed RoJo not being awful means I am a nutjob sycophant then this ought to be the most pedestrian hype piece to ever bless this website. Here is why RoJo should be considered as a solid contributor for your fantasy foo–
"But the coaching staff has never trusted him. You cannot count on him."
Wh– what's that you say? I mean, I guess that was once true, but Ronald Jones II has come a long way! There are a few reasons why this idea about him is a bit of a cop-out and we really need to talk about it. Let us stroll down memory lane for a while.
Now, coming into the league in 2018 as the 38th overall pick in the NFL Draft, the former USC Trojan was seldom used, only found himself third on the team's depth chart by season's end, and managed to muster up a measly 20.7 PPR points for the year. While that's not exactly the type of production one would hope for out of such a high draft pick, this piece from the Tampa Bay Times should help to jog memories as to what was going on during that time. Jones II was very young, quite raw, and needed time to improve significantly in multiple facets of the game.
Translation: Jones II has always been a developmental project in the NFL. 2018 OC Todd Monken, and by extension, Head Coach Dirk Koetter said as much.
Exit Monken/Koetter at the conclusion of 2018, enter HC Bruce Arians in 2019 (i.e. a completely different coaching staff being in charge). Year Two saw a frustrating split of the team's running back workload with RB Peyton Barber under the new regime (172 and 154 rushing attempts respectively per Pro Football Reference) culminating in Jones II finishing RB25 overall (166.3 PPR points) and RB34 on a per-game basis (10.3 PPR PPG) per FantasyData.
That sort of discrepancy between overall finish and points per game is certainly suboptimal, the three fumbles that lead to Jones II being benched in favor of Barber at times were not great, and nine starts in 16 games does not inspire a ton of optimism but it's not the end of the world; Jones II did take a fairly substantial step forward in due fairness. So where did we go from there?
Hello the 2020 NFL season. The late-preseason addition and presence of former Jaguars RB and fantasy star Leonard Fournette in the backfield led many to be nervous about RoJo's prospects, but look at what happened. He out-touched, outperformed and generally outplayed Fournette across theboard in the running game en route to finishing RB20 overall (186.3 PPR points), RB23 on a per-game basis (13.3 PPR PPG), and closing the gap between overall finish and week-to-week output we saw from the year prior. How's that for improvement?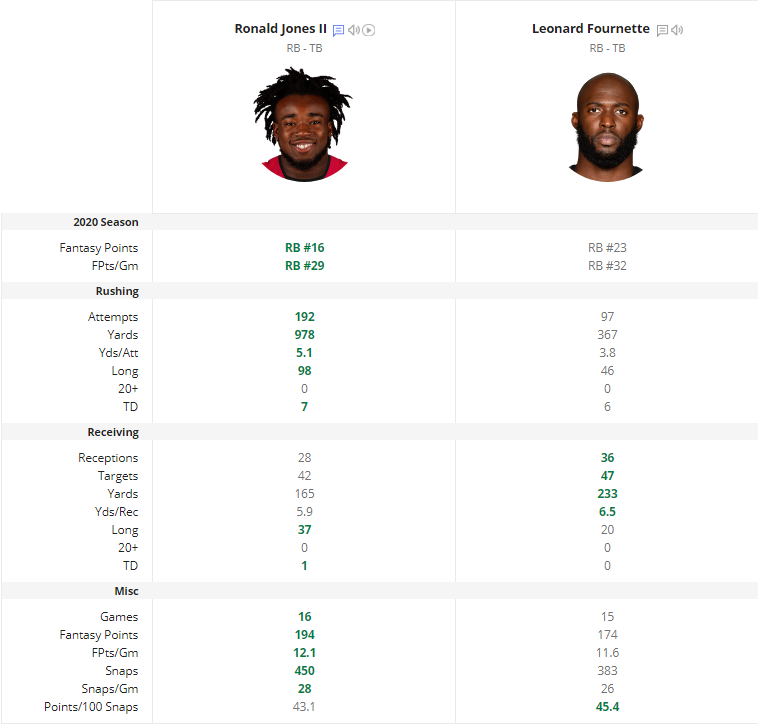 Do Not Fear Playoff Lenny
Much is made of the postseason run from "Playoff Lenny" but if memory serves only the regular season matters for fantasy football, and RoJo was the guy you wanted to have on your team in 2020. Hell, were it not for a quad contusion late in the year, and a broken pinky three weeks prior, that very easily could have been "Playoff Ronny". Relative to where he was coming into the league as an unpolished product, the annual leaps we have seen from Jones II are notable. For additional context, let us revisit this alleged "trust" factor and view his overall total touches year-over-year since 2018:
RoJo vs. His Counterparts
| | | | | | |
| --- | --- | --- | --- | --- | --- |
| Year | Jones Touches | Opportunity Share | Counterpart | Touches | Opportunity Share |
| 2018 | 23 | 23.2% | Peyton Barber | 263 | 68.5% |
| 2019 | 212 | 46.9% | Peyton Barber | 178 | 39.2% |
| 2020 | 234 | 60.2% | Leonard Fournette | 141 | 45.1% |
Moreover, with the help of Stathead, we know that RoJo is good! He ranks 21st in rushing yards per game (56.7), 17th in yards per attempt (4.68), 13th in rushing TDs (13), and 17th in PPR points (352.6) since 2019. Consistency was an issue up until last season (30th in PPG/12 games under 10 PPR points), Jones II did reach the top 36 in weekly scoring in 10 of 14 games (71.4%) last season per FantasyData.
Does any of this necessarily make you, the reader, believe that Ronald Jones II is a world-beating standout primed to set the league on fire in 2021? Probably not, but that was never the point. The fact of the matter is that the notion he is bad, cannot be trusted, and has not proven anything is patently ridiculous. As was said up top, this is a truly lukewarm hype piece; nothing said here was supposed to inspire a massive shift in your feelings, but those people who are adamantly opposed to the idea that RoJo has shown he has what it takes to be a quality fantasy asset are wrong.
Yes, Tampa Bay retained the services of Fournette. Yes, the Buccaneers brought in veteran RB Giovani Bernard and will presumably look to use him in a complimentary pass-catching role, but give credit where credit is due. This player has blossomed and come a long way from where he started. He already showed that he can outplay Fournette. And hey, he's only 24 as of August 3! Do not fade, do not misconstrue, and do not besmirch the name of RoJo.
Do you want more 2021 fantasy football discussion? Then check out these links!
Discord!
Podcast!
Patreon!
Twitch!