The tension of the NFL regular season really is coming to a close. Week 15 had some beautiful knockout punches to the postseason hopes of some high profile franchises for the shield. I know many Rams fans held on to their bandwagon tickets from last year. However, I never believed in Jared Goff's resurrection, Young McVaynstein's brilliance, or a scrap yard defense littered with former Pro Bowlers. Dallas leveled the Los Angeles Rams this weekend and that loss shook the fan base to their core. I mean they won't run across the stadium and become Chargers fans because they're not morons.
I am sorry for your loss, Rams fans, but your season is over!
The L.A. Rams brilliant glow now sits a full year in the rearview mirror. The Rams needed help from multiple teams, and deities, to keep their playoff hopes alive and received aid from neither.
Amazingly, they let Goff throw 51 times while ignoring the run game, as they rushed the ball just thirteen times. The Rams' play-calling seems to stem from buyer's remorse as they try to force greatness from their overpaid QB.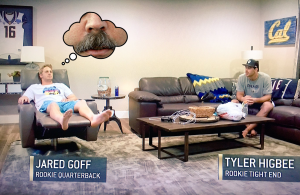 Gurley's availability has been a season-long question mark that plagued the Rams' playoff legitimacy. Sure, he's been one of the most overworked backs in the league before this season and he has knee issues. But, without him carrying the offense, defenses treat Goff like a slightly more functional Mitchell Trubisky. 
The Cowboys brought one of the most productive offenses into the matchup and made the Ghosts of Defensive Greats Past beg for mercy. They gave up over forty points., and two drives of ninety yards or more. That's a kick in the jingle bells the Rams didn't expect on national television. 
Technically, the Rams have a better record than the Cowboys. Unfortunately, they aren't playing in the recreational division of the NFC East. This means the Los Angeles Rams have to bend the knee to both the Seattle Seahawks and the San Francisco 49ers.
There's a steady trend that if your team loses the Super Bowl, you're likely to miss the next playoffs and have a rough season. That seems to be the case with the Rams, and the problems might stem from Jared Goff and Sean McVay. Call me old fashioned, but I'd prefer my quarterback to be more on point than his coach's beard. Who knows, maybe next year Goff can ask LeBron and Anthony Davis to run some post routes?
Every week, Mike Maxwell welcomes another team to the offseason. You can see the rest of his Sorry For Your Loss obituaries here.
For more football with a dose of absurdity, follow Football Absurdity on Twitter or get free fantasy football advice by joining our Discord.
(Header Image Source: https://pixabay.com/photos/los-angeles-rams-american-football-4548728/ under https://creativecommons.org/licenses/by/4.0/deed.en)