Week four is in the books and we are beginning to see who came to play in 2019. This weekend's slate of games had some great highlights but nothing caught my attention more than the first half clinic Marcus Mariota put on the Atlanta Falcons. He threw for three touchdowns before the Falcons defense could even be embarrassed they were losing to a team in pastels. I am so sorry for your loss Atlanta but your season is over. Can the Atlanta Falcons make the playoffs? Nope.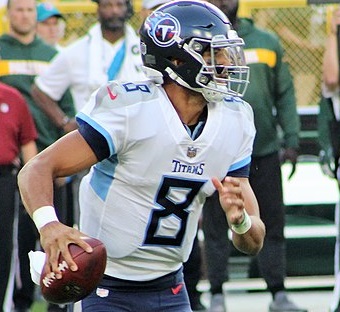 You gave up three passing touchdowns
to a running QB (that can't even run)
The Atlanta Falcons are again scratching their heads how they lost to an equally dysfunctional opponent. The dirty birds are once again on track to lead the league in apologizing to their fans for games they should've won. Getting taken to school by a quarterback that probably won't be resigned in the off season is a knockout punch to a former league MVP like Ryan.
Matt Ryan threw for a stellar 397 yards and NO TOUCHDOWNS. Somewhere in America is a fantasy roster with him and Fournette going crazy. This Falcons offense has been officially endorsed by many faith based groups as they tend to move it well but really identify their style by little to no scoring at all. 
Ito Smith broke into the end zone in the first quarter for the only Atlanta TD of the game. The Falcons ended the half down fourteen and with their own fans booing them. Woof. Getting booed at home is something that is typically reserved for Cleveland or the Jets. It has to sting knowing there's no comfort coming their way losing at home, especially with Chik-Fil-A being closed on Sundays.
The Falcons now have a full week to get adjusted to sitting at the bottom of the NFC South. Atlanta drafted as 'Matty Ice' but he sure has matured into the hungover dad just wishing he could throw Moana on the TV and wake up when it's over. 
2019 is all but done for you Atlanta, probably best to tune in to Saturdays not Sunday for a while.
Follow Mike Maxwell on his Twitter
For free fantasy football advice, join our Discord