There's only one full week left in the 2019 NFL season and it has been a memorable one, to say the least. December sorted out the remaining pretenders from contenders and the last of the west coast buzz is starting to fade. At the start of the month, there was an equal MVP buzz between Lamar and Russell Wilson. After some lackluster playing from the great northwest, it's all Lamar on that front. The Seattle Seahawks limp into postseason play after choking on a cakewalk against Arizona.
I am sorry for your loss Seattle but your season is over!
I know, I get it. Seattle is making the playoffs, how can this be over? How about the way Philly can't keep a WR healthy the Seahawks are dropping running backs off at the injury list store on the regular. Wilson and company have been playing well throughout the year.
Unfortunately, the bodies are piling up on the sidelines to the point where Pete Carroll called up his favorite fourth-and-goal decoy, Marshawn Lynch.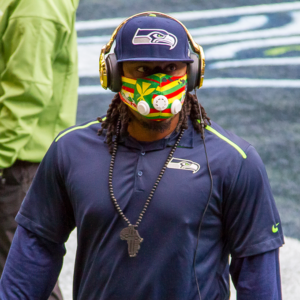 The Seattle Seahawks lined up against the Cardinals in week fifteen. Arizona's been playing, like, well, a 5-8 mixed bag. Kyler Murray isn't the second coming of Mahomes but he's providing some hope for the retirees and recreational golfers out there in Arizona. Actually, the end of season glow in the desert is almost all due to the rise of Kenyon Drake. Drake snatched the RB1 duties from David Johnson. Then, he solidified it. Drake ran all over the second team Seahawks defense for 166 yards and a couple of scores.
Any day you can slow Russell Wilson is a good day. The fact the Cardinals sacked him five times tells a big story. Did Wilson turn 40 overnight? Has he come down with Todd Gurley's arthritis? Maybe Russ needs Eminem to name drop him again to boost his morale. Chandler Jones sacked him four of the five times.
Unfortunately for Ciara, the two will need to marry
if he intends on being on top of Wilson that much.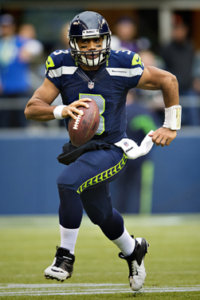 The Seahawks now play a finale that has the divisional crown on the line. Next man up is all and well for teams to embrace but at this point; Seattle's next man up is taking a break from Skittles commercials. Can the Seahawks keep their run going? Like a Pete Carroll Super Bowl goal line choice, I pass. 
Every week, Mike Maxwell welcomes another team to the offseason. You can see the rest of his Sorry For Your Loss obituaries here.
For more football with a dose of absurdity, follow Football Absurdity on Twitter or get free fantasy football advice by joining our Discord.
(Header Image Source: https://commons.wikimedia.org/wiki/File:Russell_Wilson,_Marshawn_Lynch_with_Lombardi_Trophy_(cropped).jpg, edited under https://creativecommons.org/licenses/by/4.0/deed.en)
(Additional Image Sources: https://upload.wikimedia.org/wikipedia/commons/5/55/Marshawn_Lynch_vs._Rams_2014.jpg, edited & https://commons.wikimedia.org/wiki/File:Russell_Wilson_vs_Vikings,_November_4,_2012.jpg, edited https://commons.wikimedia.org/wiki/File:Russell_Wilson_vs_Vikings,_November_4,_2012.jpg)