When I put together BeerSheets years ago, it was with a simple goal; to create a comprehensive draft aid that I could print out and bring with me to a live draft. I wanted all of the information I could need on a single sheet of paper, in a format that I could easily follow, that would be constantly useful as the draft came up. When I shared the draft aid on Reddit a lot of people asked if I could do the same for their league, and over time BeerSheets evolved into what it is today.
BeerSheets are a snapshot of expert input. In addition to player name, team, and bye week they contain the FantasyPros ECR, the projected tier a player is ranked, last year's weekly performance, and a projected value. They are not intended to be the exclusive, definitive draft guide that you should rigorously follow, but instead should be considered a foundation from which to build your draft strategy. I highly recommend taking the sheet and making it your own; mark out the players you want to avoid or target, add notes on preferred strategies, and then mock draft until you're comfortable with your approach.
You can request a BeerSheet here or use the link in the site's header.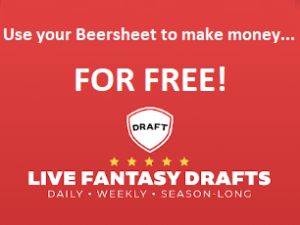 Incidentally if you're looking for a great place to mock, I highly recommend using DRAFT to get some practice in. Draft allows you to compete against real opponents for as little as $1 and avoid wasting your time with opponents who drop out or make joke mocks. I use it for all of my mock drafting now. Use code ABSURDITY to get a $3 ticket once you make a deposit.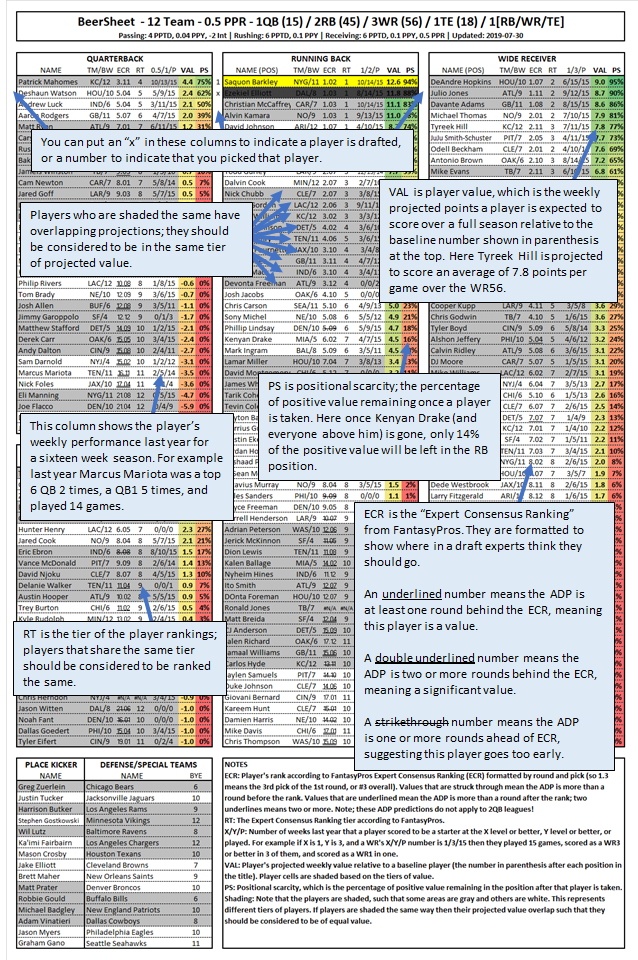 An example BeerSheet with an explanation on all the columns.
So how do I use it?
When drafting with BeerSheets I use the following process:
Look at the positions to determine which player value tiers (players shaded the same) are the highest.
When there's an overlap, look at which players in the same value tier may be available at my next pick.
Choose between positions by comparing ECR and positional scarcity.
Choose a player based on ECR, historical performance, and my own personal preference.
This process is not absolute, especially in the later rounds. BeerSheets is only a snapshot of expert consensus and projections, not a mandate. Feel free to ignore what the sheets say and pick a player you're personally very high on; this is especially true near the ends when it will be two full rounds before you pick again.
Example Draft
Probably the easiest way would be to go over a few rounds. For example let's say that you have the 6th spot in a 12 team, half PPR draft. The teams ahead of you drafted four running backs and Patrick Mahomes. Assuming you can stop laughing at the guy who drafted a QB in the first round, you need to make a pick.

Round 1, Pick 6. Click on the image for a larger picture. The TE position was shifted over so you can see everything in one row.
The first thing we need to do is look at the values for each position, keeping in mind that players who are shaded the same should be considered to have overlapping value. We see that the QB position has a low value; between 2 and 2.4 points per game. We can safely ignore it for now. The RB position looks very promising, with a tier that spans from Dalvin Cook to David Johnson. We also see that the top three WRs are tiered together; DeAndre Hopkins, Julio Jones, and Davante Adams. Finally Travis Kelce is in his own tier at 7.9 points per game. In this case we would go WR for several reasons:
The WR value tier (players shaded the same) appears to be higher than the RB value tier, with the bottom WR player (Adams) roughly equal with the highest level RB (Johnson).
The RB value tier spans into the second round, suggesting that we would be able to get a player of equivalent projected value later on.
ECR has Johnson, Hopkins, and Adams essentially the same although Johnson is grouped with the ECR Tier 1 players while the others are ECR Tier 2.
Based on the data available I choose Davante Adams. While he and the other WRs in his tier are close in projected value, Adams was extremely consistent with the most WR1 games and scoring as at least a WR3 in every game he played. On to round 2.

Round 2, Pick 7. Click on the image for a larger picture.
As expected the rest of the top value tier WRs went along with many RBs and Kelce. Looking at the values we again see that the highest QB value tier (2.0 to 2.4 points per game) and TE tier (2.9 to 5.6 points per game) are below the WR (7.8 points per game) and RB (7.4 to 7.7 points per game). Going by the sheets we once again need to decide between RB and WR, with our options being Todd Gurley, Dalvin Cook, and Tyreek Hill. All of the players appear to be very close in value, while ECR puts Gurley and Cook ahead of Hill (but in the same ECR tier). Things appear close enough that we can use the last piece of information; positional scarcity.
Positional scarcity is an indication of how depleted each position is by showing the percentage of positive player value left after a player (and all the players above him) are drafted. At this point we see that the positional scarcity is 77% for Tyreek Hill, 59% for Gurley, and 55% for Cook. Since Cook and Gurley are shaded the same and therefore in the same value tier, we focus on the 55% value since it's the lowest. We see that based on PS that the RB position is getting depleted faster than the WR position, so we focus on drafting a RB.
Now the choice becomes do we draft Todd Gurley or Dalvin Cook? One could make the argument by the sheets that Todd Gurley is the obvious choice, as he was a RB1 12 weeks last year. However what the sheets don't tell you is that Gurley is dealing with arthritic knees, and that Dalvin Cook is on an offense that appears poised to run the ball heavily. Personally I would draft Gurley, but nobody would be faulted for going for Cook instead.
I hope this has been helpful. The most important thing to remember about BeerSheets is that it's a tool that works best when you combine it with your own personal research and findings. There is nothing wrong with "reaching" for a player you like, or ignoring someone that the consensus says is a value. What matters is that at the end of the draft you have a team you're happy with.
If you have any questions feel free to message me on Reddit, or contact me on Twitter.